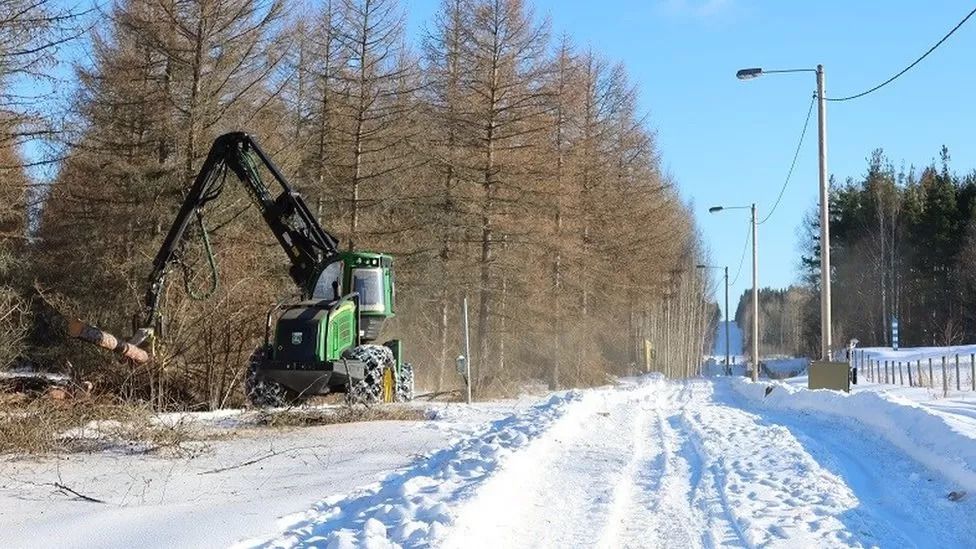 Finland starts construction of Russia border fence
Finland has begun constructing a 200km (124 mile) fence on its border with Russia to boost security.
The Border Guard said it will be 3m (10ft) tall with barbed wire on top.

Finland shares the longest European Union border with Russia, at 1,340km (832 miles). At present, Finland's borders are secured primarily by light wooden fences.

Finland decided to build the fence due to a rise in Russians seeking to escape conscription to fight in Ukraine.

The Nordic country also moved closer to joining the Nato alliance on Tuesday. Its parliament started debating a bill to speed up the country's bid, with a vote expected on Wednesday.

Work on the fence at the Imatra border crossing started on Tuesday with forest clearance, while road construction and fence installation are planned to start in March.

Night vision cameras, lights and loudspeakers will be installed in certain sections of the fence.

A 3km pilot project at Imatra is expected to be completed by the end of June, the Border Guard said.

Finland passed new amendments to its Border Guard Act in July to allow the building of stronger fences. The current wooden fences are mainly to prevent livestock crossing the border.

Since Russia's full-scale invasion of Ukraine, Finland has sought to strengthen its eastern border. In September, large numbers of Russians started fleeing to Finland after President Vladimir Putin ordered a mobilisation of reservists to fight in Ukraine.

Following Russia's invasion on 24 February last year, both Finland and Sweden decided they wanted to join Nato as soon as possible, after being neutral for years.

But Helsinki faces fewer diplomatic hurdles than Stockholm, and the Finnish government wants to move forward even before Finland's general elections in April.

Only Turkey and Hungary have yet to approve the Finnish and Swedish bids to join the defensive bloc.