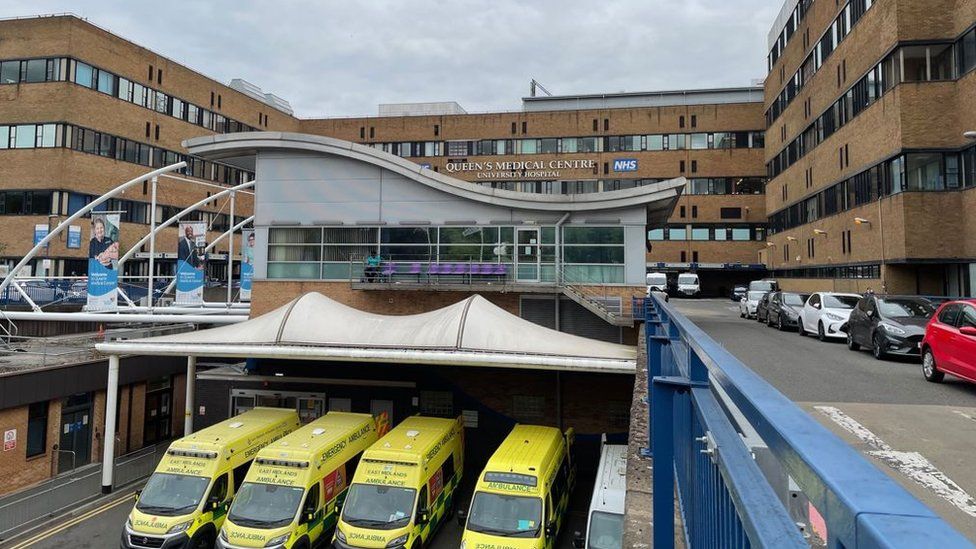 Families in Nottingham maternity inquiry hit out at review
Dozens of families have written to the government expressing concern over a review into failing maternity units in Nottingham. A letter states a review into failing maternity services in Nottingham is moving like treacle.
A probe into Nottingham University Hospitals Trust is under way after dozens of babies died or were injured.

But families say the review is "moving with the viscosity of treacle".

They have called for Donna Ockenden, who led the inquiry into the UK's biggest maternity scandal, to take charge of a review.

'Answer is Donna Ockenden'


In a letter to Health Secretary Sajid Javid, a group of 100 people raised concerns with the current thematic review, which has been commissioned by the local clinical commissioning group (CCG) and NHS England, and NHS Improvement.

According to the CCG, the review will look at themes and trends and put in "place detailed and measurable actions so improvements can be made fast".

But families have questioned the independence of the review and the experience of the team to handle a probe of this magnitude.

It is chaired by Cathy Purt, a long-time NHS manager who the families believe has no experience of running complex inquiries or maternity services.

The letter states: "If families are to be safeguarded, real intervention is required.

"The review so far has been less than impactful, understaffed and moving with the viscosity of treacle."

The families say the "answer is Donna Ockenden", who led the inquiry into the maternity scandal at Shrewsbury and Telford NHS Hospitals Trust.

Sarah Hawkins, who was awarded a £2.8m settlement after her daughter was delivered stillborn after mistakes at Nottingham City Hospital in 2016, said a review by Donna Ockenden would lead to many more affected families coming forward.

"I am confident that we will get into the thousands of families," she said.

Her husband Jack Hawkins added: "We need urgent change to how maternity is working in Nottingham. There are still babies coming to harm.

"Donna Ockenden knows what she's doing. She's got huge wealth of experience and expertise.

"This current team is not going to deliver what is needed."

The number of families taking part in the review has increased from 84 to 461 in a month, the BBC has learned.

Maternity units run by the trust - which oversees care at Nottingham City Hospital and the Queen's Medical Centre - have been rated as inadequate by the Care Quality Commission (CQC) since 2020.

An inspection found "serious concerns" and that some staff "did not always understand how to keep women and babies safe".

Following a reinspection last month, the CQC issued a warning notice to the trust, highlighting concerns over triage services and increases in stillbirths.

At a meeting with families last week, the review team said 179 families, about half those who had been in touch at the time, had still to be contacted.

The review is expected to be completed on 30 November 2022.

A spokesperson for the review [at NUH] said: "We would like to thank all the families who have come forward so far. Families and partners will be updated shortly."

A spokesperson for the local CCG, NHS England and NHS Improvement [which commissioned the Review at NUH] added: "The ongoing thematic review has a dedicated team who are ensuring that the experience of women and families is heard.

"We will continue to monitor the progress of the review and ensure that any necessary improvements to maternity services are put in place."

Rupert Egginton, acting chief executive at the trust, said: "We are doing everything in our power to ensure patients using our maternity services get the best care."