An Old Bailey judge has asked prosecutors if they stand by convictions of Extinction Rebellion protesters after a second successful appeal in two days.
Judge Mark Dennis QC demanded the review after a protester won his appeal against obstructing a road.

Crown Prosecution Service lawyers must return to the Old Bailey on Thursday to set out their position.

The judge's call comes after a Supreme Court ruling on protest rights.

Robert MacQueen, 65, from Haslemere, Surrey, was convicted of blocking the road in Whitehall in October 2019, during a London-wide Extinction Rebellion protests targeting government buildings.

But on Wednesday Judge Mark Dennis QC overturned the conviction after the Crown Prosecution Service offered no evidence to counter the appeal.

The day before, the judge quashed the conviction of Emma-Rose Goodwin, 47, from Exeter.

Prosecutors had offered no evidence in court after it emerged that the arresting officer - the key witness - was in Romania.

A third appeal has been adjourned and seven more cases are due to go before the judge.

Quashing Mr MacQueen's conviction, Judge Dennis said there seemed to be a "fundamental problem" with the cases.

He asked prosecutors to review all the remaining cases where a protester argued they had "lawful excuse" to occupy a road.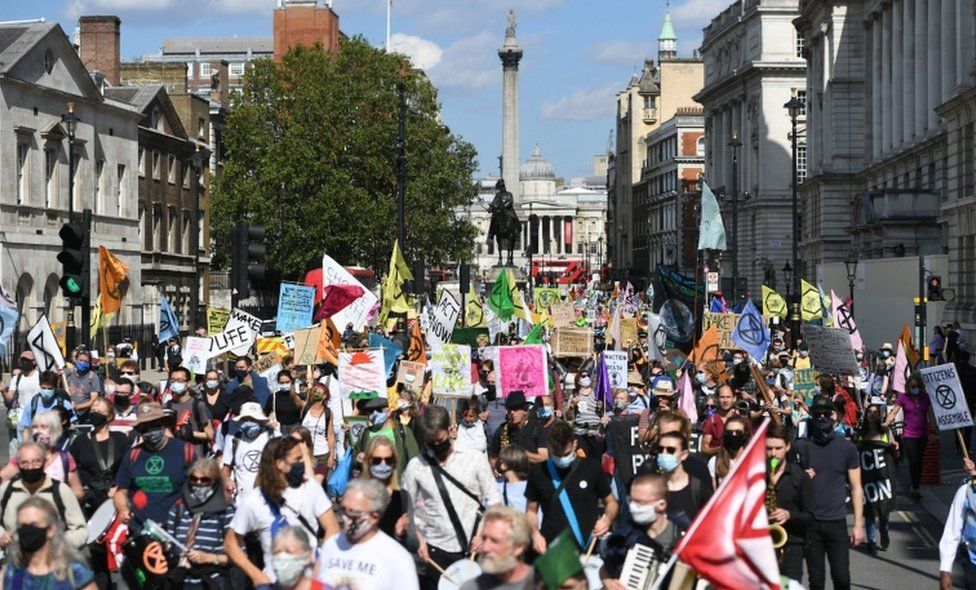 Whitehall protests: XR supporters targeted government buildings

He said that prosecutors seemed to be arguing that a protester could not lawfully lie down in the road in any circumstances - and they had not "grasped" the importance of a recent Supreme Court ruling.

In that judgement, the UK's highest court ruled that demonstrators who had blocked a road at a military arms show should not have been convicted of obstruction because their right to temporarily and peacefully protest should have been taken into account.

Judge Dennis said that given the importance of that ruling, prosecutors needed to clarify where they stood on the eight cases still to be heard this week and next.

In July, another XR defendant was the first to benefit from the Supreme Court's ruling when he was found not guilty of blocking a road during a September 2020 protest.

City of London Magistrates' Court acquitted Ben Benatt, an environmental scientist, saying that it was not proportionate to give him a criminal record given his right to peacefully demonstrate, the limited nature of the disruption he caused and his genuinely-held beliefs.

The tactics used by XR followers of unpredictable and uncoordinated road occupations have heavily influenced the government's current proposals to redraw protest laws.

Ministers want to make it easier for the police to intervene and break up a static demonstration where it causes a public nuisance.