Former cabinet minister Michael Gove has brushed off accusations from a Downing Street source who last week described him as a "snake".
A No 10 insider criticised Mr Gove for telling Boris Johnson to quit.

Mr Gove - who was sacked as levelling up secretary for urging the PM to go - told the BBC's Chris Mason he was not a snake but "a regular guy".

He said he remained "an admirer of Boris himself" and hadn't given the insult "a second's thought".

"Ultimately all sorts of spicy salacious things are said, you just have to put that to one side," he added.

Describing his sacking in an interview with the BBC's political editor, Mr Gove said the prime minister had been "very equitable, very polite".

He said he had told Mr Johnson on Wednesday, amid a wave of ministerial resignations prompted by criticism of Mr Johnson's leadership, that it was time to go.

"A political reality had emerged... if you lose the support of your party you have to recognise that," he said.

"Boris took a different view and I respect that."

Although other cabinet ministers also told Mr Johnson to resign, Mr Gove was the only one to be sacked.

Mr Gove has had a fraught relationship with the prime minister - and was responsible for scuppering Mr Johnson's leadership campaign in 2016, when he said Mr Johnson was not the right person to be prime minister.

He said at the time: "I came [in the last few days], reluctantly and firmly, to the conclusion that while Boris has great attributes he was not capable of uniting that team and leading the party and the country in the way that I would have hoped."

Asked by Chris Mason if he thought his sacking last week was revenge, Mr Gove said he didn't know and that it was the prime minister's right "to decide who was on his team".

On the likelihood of his returning to a government post, Mr Gove said he would "work with anyone" and would do "anything I can to support making economic opportunity more equal".

The Surrey Heath MP has stood to be Conservative Party leader twice before - but he is not running in the current race and has instead thrown his support behind contender Kemi Badenoch.

He said Mrs Badenoch, who worked with him at the Levelling Up Department, was "bright, brilliant and brave... undoubtedly a phenomenon".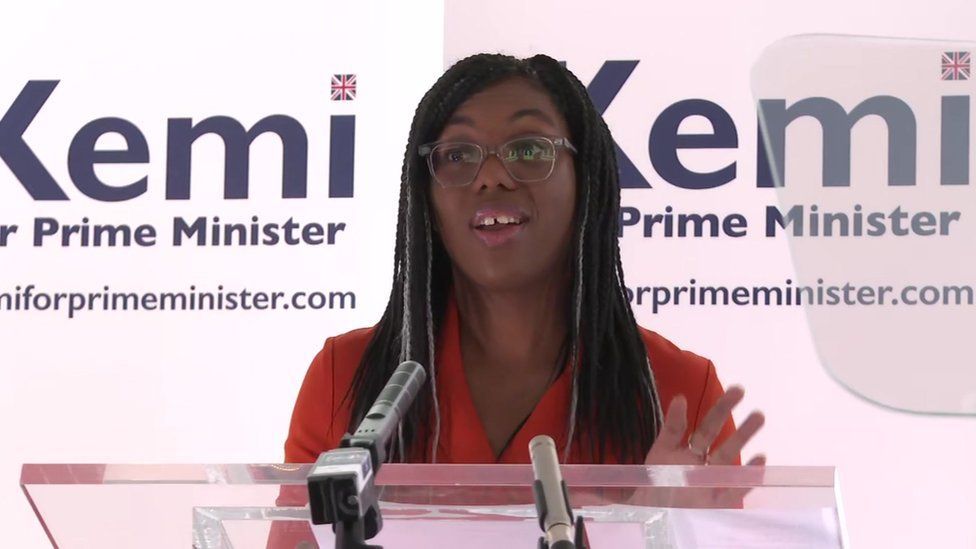 Mrs Badenoch is one of 10 candidates running to replace Boris Johnson as Tory leader and prime minister.

To progress in the contest, the contenders have to secure the backing from at least 20 MPs by 18:00 BST on Tuesday,

They will be further whittled down in a series of votes among Conservative MPs.

The party membership then vote on the final two and a winner will be announced on 5 September.
Watch: Michael Gove asked: 'Are you a snake?'