If you've been waiting ages for an online order to arrive, you're not alone.
Companies including ASOS, H&M and JD Sports have been getting hundreds of tweets asking: "Where's my stuff?"

A lot of anger seems to be aimed at courier Evri, with some complaining of packages stuck at depots for a week or more.

It says it's delivering more than 3 million parcels daily and working to get items to people before Christmas.

But quite a few customers say they've not been among those lucky ones and have faced "unacceptable" waits for items.

A common complaint is that Evri's tracking tool says their order has been delayed - followed by no further updates for days.

Others have complained of paying for next-day delivery and not getting it.

And a few say their items have been marked as lost after going missing - only for their replacements to suffer a similar fate.

'Incredibly frustrating'

Lucy Hall, 29, from South London, says her parcel containing her Dad's Christmas present has been stuck outside a depot for the past week and a half.

She placed the order on 23 November.

"I knew it was Black Friday coming up so it might arrive a bit later," she says. "I got a confirmation email straight away from the seller so I thought it was all fine.

"Then two days afterwards I saw a message saying Evri had the parcel - then I knew it wasn't going to go well."

Lucy would like sellers to declare which courier they work with - and says she would avoid buying from those using Evri in future online shopping.

"I don't know if I'm ever going to get this parcel," she says. "I've not been able to speak to a real human being just to explain what has happened.

"I'm now thinking am I going to lose money if I have to buy it twice, or should I wait and risk my Dad not getting a Christmas present?

"It's incredibly frustrating and it's extra stress I don't need."

What does Evri say?

Evri - which used to be known as Hermes - told BBC Newsbeat it was "sorry customers in certain local areas are experiencing short delays in receiving their parcels".

It said the delivery sector was experiencing higher than normal demand "driven in part by the Royal Mail strikes".

Couriers for companies such as Evri have not gone on strike, but it's thought more sellers are using them while postal action continues.

Evri also says it's experiencing "final-mile staffing shortages" - a lack of drivers - in some areas.

Customers have complained that Evri's online help service is no use, and that getting hold of staff by phone or e-mail is extremely difficult.

Evri says customers with concerns about a delivery should contact the seller first.

The company adds that its local teams "are working hard to ensure that any delayed parcels will arrive before Christmas".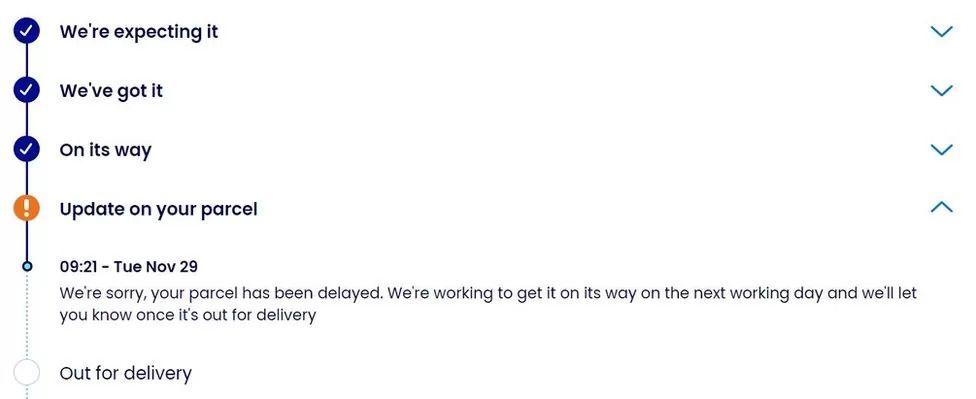 Lots of customers say they've been seeing this message
What do retailers say?

BBC Newsbeat approached some major companies to ask what was going on with deliveries.

Of those who replied, most said the sheer number of orders received during Black Friday was causing delays.

JD Sports said carriers were seeing "higher than expected volumes" as a result of Royal Mail strikes but most of its deliveries were making it "within expected timelines".

The company asked those with any concerns to contact its customer care team.

That's also the advice from ASOS, where customers will currently see a warning on its website advising them to allow an extra 72 hours for parcels to arrive.

Clothing retailer H&M declined to comment and The Hut Group, which includes brands such as MyProtein and Cult Beauty, has yet to provide a response.

BBC Newsbeat also sent questions to PrettyLittleThing and BeautyBay but hasn't heard back.

What else can you do?

Citizens' Advice - which gives independent guidance on various topics - has a guide on your options if you don't receive something you've ordered.

It also has a few tips to help people ensure deliveries are as pain-free as possible before you've placed an order.

* Check delivery information before you order

* Ask a neighbour or friend to accept a parcel if you're not in

* Check reviews before you order. Sites such as Trustpilot provide this service

Many retailers offer multiple delivery options, with some charging more to use different, quicker services.

You might also want to get more organised this year.

With more postal strikes planned this month, the Royal Mail has urged people to send Christmas post early.

If that is putting pressure on other delivery firms, you might not want to leave your online shopping to the last minute this year.