A magistrate has said he quit after being left unable to check vulnerable people were being protected when energy firms sought warrants to force-fit prepayment meters.
Robin Cantrill-Fenwick said changes to the court system meant magistrates "were doing nothing more than rubber stamping" warrants.

He said the lack of scrutiny is putting vulnerable households at risk.

Ofgem has told suppliers to suspend force-fitting pay-as-you-go meters.

The energy regulator made the announcement after The Times exposed how debt agents for British Gas had broken into vulnerable people's homes to fit meters. Ofgem has also opened an investigation into British Gas.

Energy suppliers can apply to a court for a warrant to force-fit a prepayment meter for customers in arrears.

However, they are required to have exhausted all other options first and should not do so for vulnerable customers such as the elderly and those with young children.

Mr Cantrill-Fenwick, a former Justice of the Peace, told BBC Newsnight: "When I started, the energy companies would come to court and we would be able to question the applicant.

"We could establish whether there might be young children in the premises or people who were clinically vulnerable. We could, and would sometimes, decline a warrant."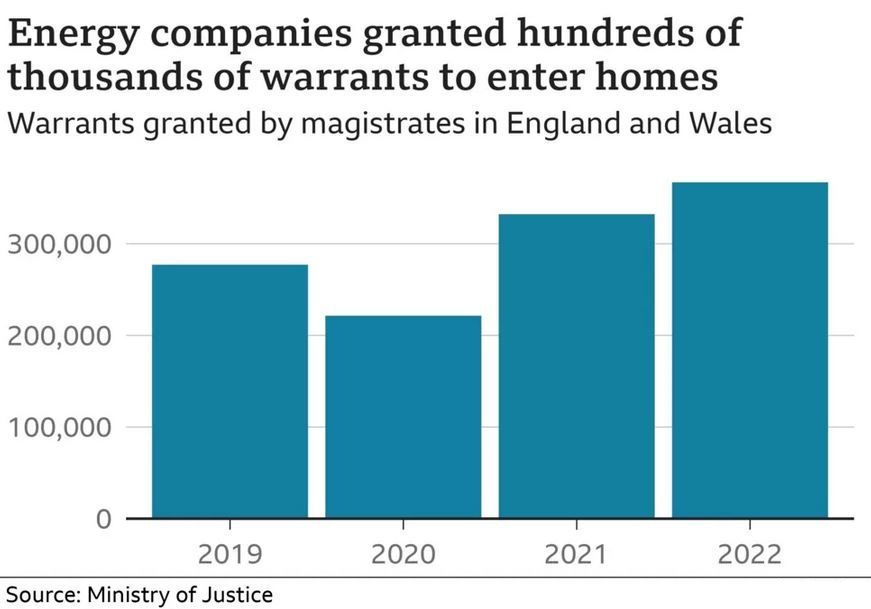 But in 2019, a new online and telephone application system for magistrates came into force. And while the number of warrant applications jumped the number of refusals plunged.
In 2019, warrant applications reached 278,966 and 1,824 refusals were granted, according to the Ministry of Justice. In 2022, applications for warrants hit 367,140 and there were just 56 refusals.
"Over time the process changed. Rather than looking at individual applications, we would just get a list of addresses," said Mr Cantrill-Fenwick.
"The person applying on behalf of the energy company would read out a template statement saying 'we've done our job' and there was nothing we could do."
Household energy bills have soared in recent months, firstly as economies reopened following
Covid
shutdowns and then as Russia's war in Ukraine caused disruption to global supplies.
Higher energy prices have pushed up inflation which in the UK stood at 10.5% in December, close to a 40-year high.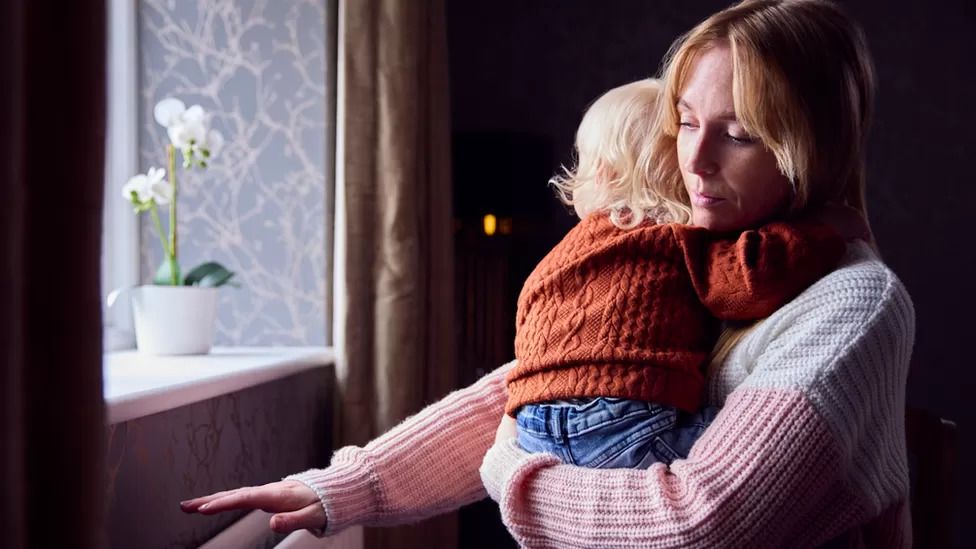 Mr Cantrill-Fenwick said: "Energy companies are making far too many warrant applications when they should only be used very exceptionally."
Caroline Flint, former shadow energy secretary who now chairs the Committee on Fuel Poverty, said that while she would welcome a change in the law allowing forced installations: "I think the courts need to look to themselves on this as well."
She said: "From the reports that I've read, it does suggest that the information that is being given by the energy [firms] to the courts - which is to assure them that they have gone through the processes of trying to work with these families and showing due diligence - that due diligence hasn't been followed.
"I think there is a question about just how these warrants seem to be being waved through."
A spokesperson for the Judicial Office said: "Magistrates deal with cases based on the evidence and the relevant legislation. The only applications that are dealt with in bulk are ones that are uncontested.
"Individuals who wish to contest or challenge an application still have the opportunity to have their case considered by magistrates.
"If an application is contested, the warrant will not be granted by the magistrate and the magistrate will list the case for a contested hearing to determine whether or not it should be granted."
Mr Cantrill-Fenwick, who is a member of the Liberal Democrats, had been a magistrate for six years before stepping down in August.
"If you are a person who is in acute financial distress and a court is going to consider granting power to enter your home, you want to know that the court has given it serious consideration, and none of that is true anymore," he said.
"I simply got to a point, I just couldn't imagine going into a court and putting my signature to one of those warrants. We were doing nothing more than rubber stamping."
'I was so scared'

A few months ago, Sarah (not her real name), who has long-term health problems and mobility issues, woke up in bed to the sound of men's voices.

"It was just terrible, I was so scared," she told Newsnight. "I thought someone had broken in to take something. I went downstairs and there were two men in my living room and more outside."

The men were installing a prepayment meter on behalf of her energy company after she had fallen behind on her bills.

"Now even when the doors are locked, I don't feel like I'm safe," she said. "I just think someone else is going to come into my house. It feels like it was invaded."

Sarah wanted to be anonymous because she doesn't want her energy company to know who she is so Newsnight has not been able to put her claims to them. She is also ashamed about how much she is struggling financially.

"I can't work because of my health problems and it's getting harder and harder to pay bills," she said.

"A lot of people may be in a good position income wise, but life doesn't always come that way for some. We don't deserve to have strangers come into our homes."