Unions could be sued if they do not provide minimum levels of fire, ambulance and rail services, under planned anti-strike laws.
Voluntary agreements would cover other sectors including health, education, other transport services, border security and nuclear decommissioning.

The measures will not resolve the current wave of strikes.

Unions have condemned the restrictions and threatened legal action, while Labour says it would repeal them.

Business Secretary Grant Shapps said the measures were being introduced to "restore the balance between those seeking to strike and protecting the public from disproportionate disruption".

The legislation is expected to be published next week, with MPs debating it for the first time the week after. It will apply in England, Scotland and Wales - but not in Northern Ireland.

It is likely to face significant opposition in the House of Lords, as only transport strikes were mentioned in the Conservatives' 2019 manifesto pledge to introduce minimum service levels.

The Times newspaper quoted a government source saying striking workers who defied minimum service rules could face dismissal for breach of contract.

But a business department source told the BBC it was "not our intention to penalise individuals".

Under existing laws, people who take illegal strike action can already be sacked.

The business department also called on the unions to cancel upcoming strikes in a bid to resolve the current disputes "constructively through dialogue".

It said it would invite unions to meet for "honest, constructive conversations" about what was "fair and affordable" in public sector pay settlements for 2023/24.

But a number of unions have cast doubt on their continued involvement in the independent pay review process.

Gary Smith, GMB general secretary, said: "There are huge questions over the NHS Pay Review Body, as ministers' actions have consistently undermined its independence. The process needs real reform."

'Shoddy hurdles'

Labour's deputy leader Angela Rayner described the minimum-service proposals as "unworkable and unserious from a dead-end government".

"At every stage the government has sought to collapse talks and throw in last minute spanners. Now the prime minister is wasting time on shoddy hurdles that even his own transport secretary admits won't work," she said.

Ministers have said they will consult on and then set an "adequate level of coverage" for the fire and ambulance services and on the railways. For the other sectors, the government says it expects to be able to reach voluntary agreements.

A wave of industrial action is affecting sectors from the health and postal services to driving examinations, as people seek pay rises that keep up with the fast-rising cost of living.

Rail workers in the RMT and other unions have taken part in a series of large-scale strikes over more than six months, with Thursday marking the sixth day of action since last summer by members of Aslef, which represents most train drivers.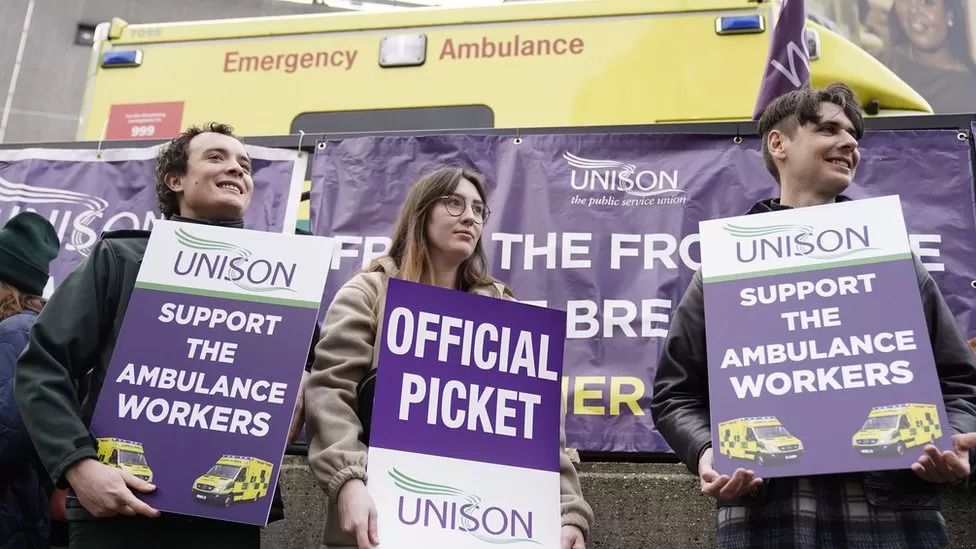 TUC general secretary Paul Nowak condemned the proposed bill as "wrong, unworkable, and almost certainly illegal".

"This is an attack on the right to strike. It's an attack on working people, and it's an attack on one of our longstanding British liberties.

"This government has gone from clapping key workers to threating them with the sack if they take lawful action for a pay rise. It will only push more people away from essential jobs in public services," he added.

Royal College of Nursing general secretary Pat Cullen said: "Safe staffing levels that are set in law are what we want to see year-round not just in these extreme circumstances.

"We've long campaigned for governments to be accountable for safe and effective staffing levels in NHS and social care to prevent one nurse being left with 15, 20 or even 25 sick patients... Today's highly unsafe situation is what is driving our members to say 'enough is enough'."


Measures 'don't work'

Earlier, Mick Whelan, the general secretary of Aslef, said he did not think new legislation would make life harder for his union.

He suggested it would lead to unions having to organise more strikes locally, instead of nationally.

Mr Whelan said: "There have been minimum [service] levels in European countries for several years. They have never been enacted because they don't work."

He added that employers could already sack workers, if they went on strike for more than six weeks.

Matt Wrack, general secretary of the Fire Brigades Union, said the UK already had some of the most restrictive anti-union laws in the western world.

He accused the Conservatives of being "clearly hellbent on criminalising and victimising trade unions with this threatened onslaught on the right to strike".

"The Tories are badly misjudging the public mood with these attacks on the pay and conditions of key workers, who kept Britain going during the pandemic," he added.
WATCH: Business Secretary Grant Shapps announces anti-strike laws
Watch: Starmer: We will repeal Tory anti-strike legislation