Emma Raducanu has been voted as the BBC Sports Personality of the Year, with Tom Daley second and Adam Peaty third
Emma Raducanu is the BBC's Sports Personality of the Year for 2021, capping a year of unprecedented sporting success for the tennis star who told the show she was simply "a 19-year-old from Bromley … that's who she is, nothing else to it."

The US Open champion received the award in quarantine in Abu Dhabi, where she is recovering from Covid-19. She beat Tom Daley and Adam Peaty into second and third place, while England's men's footballers were named team of the year and Gareth Southgate the coach, as a triumphant period for British sport across the board was commemorated at a ceremony in Salford.

Collecting her prize remotely, Raducanu wheeled the camera-shaped trophy from beneath her Zoom screen in celebration. "It's such an honour just to be amongst these nominees, to win … it's pretty amazing to me. I watched this growing up, so I'm really happy to join the past winners and I'm really happy for British tennis too. This past year has been absolutely insane."
Raducanu was strong favourite for the award from the moment she emerged from qualifying to storm through to the latter stages of competition at Flushing Meadow in September. Winning the US Open title in a thrilling final against fellow teenager Leylah Fernandez only cemented the prospect. It was the kind of sporting fairytale that comes around once in a generation.

In any other year, many of the shortlist of contenders would have been staunch favourites to win the prize. Raheem Sterling was England's leading scorer as the men's football team made it to their first international final since 1966. More than that, he had grown up in the shadow of Wembley and overcome family trauma – and attacks from some sections of the media – to find success. Tom Daley won gold for the first time at his fourth Olympics in Tokyo, after using his figurative platform to stand up for LGBTQ+ equality.

Dame Sarah Storey became the most successful Paralympian of all time in Tokyo, Adam Peaty Britain's most successful swimmer, and Tyson Fury rounded out the shortlist, after his trilogy fight with Deontay Wilder went down as one of the greatest title bouts of all time.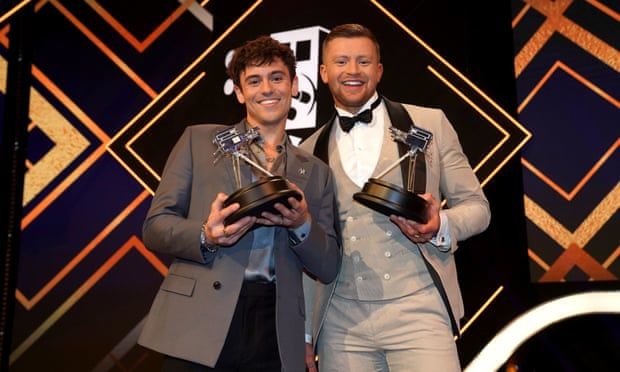 Tom Daley (left) was second, with Adam Peaty third in the voting.

While there were loud rounds of applause inside the Salford Media City studio, the ceremony was completed without a studio audience, after BBC producers took the decision to impose Covid precautions a week before. There was access for 50 special guests, including the families of the shortlisted stars, and red carpet duties were still performed beforehand. But inside there was a more intimate sense to the occasion.

While Sports Personality of the Year celebrates superhuman sporting achievement first and foremost, it has become expert at telling human stories. Just as with the BBC's other sequin-dotted success, Strictly Come Dancing – the show is expert at drawing universal themes from individual experience.

It happens almost incidentally at times, as with the moment Daley's husband, Dustin Lance Black, observed the power of connection between the athlete and his father, Robert, who died when Daley was 17. "I think Tom was going to stay strong until he had achieved what he and his father had dreamed of," Black said. "That gold medal."

Storey talked of the "intrinsic motivation" that she gained from her early years in training and making the right cup of tea to entice her parents out of bed to give her a lift; Peaty of the transformative effect of becoming a father; and the inspirational story of Arsenal's Jen Beattie, who took home the Helen Rollason award as a result of her advocacy for sufferers of breast cancer, which she was diagnosed with in 2020.

The most moving moment came with the award of the Unsung Hero prize to Sam Barlow of Hull for her leadership of the movement FitMums. She spoke of the death of her husband from cancer in 2020, a man who "would walk if he couldn't run, and coach if he couldn't walk".

She paid tribute to her organisation's volunteers and insisted that "whatever happens, have hope". Yet more than her ability to find light in darkness, it was the uproarious celebration that exploded in her sitting room when she was announced as the winner that will linger in the memory. Spoty can do laughs as well as tears.