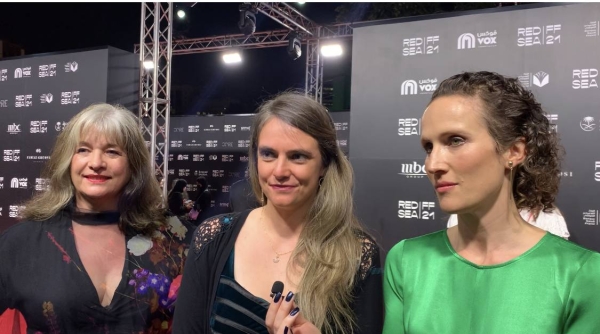 Eminent British filmmakers unveil plan to share Saudi life with international audience
Two eminent British female filmmakers - Georgina Paget and Thembisa Cochrane - unveil their ambitious plan to share Saudi life with international audience with undertaking joint projects.
Speaking to Saudi Gazette, they revealed that they will shoot their first Saudi joint venture film, written and directed by well-known Saudi woman director Ahd Kamel, in Jeddah in 2022.

"We are keen on exchanging our international experience with Saudi women. We are excited so much to see that Saudi Arabia is changing tremendously and we would like to be part of that monumental change with sharing stories and inspiring Saudi women," they said.

Paget and Cochrane are producers of "The Colour Room," a British drama film, which was screened at Red Sea Gala Theatre here on Sunday evening. Kerry Fox, main actress of the film, also accompanied them to attend the Red Sea International Film Festival.

Paget and Cochrane said the film is made by women. "We are the producers and its Script Writer Claire Peate and Director Claire McCarthy are also women, and the story is also about women. If women have dreams and they have the willingness to realize these dreams with actions with the support of other women and members of the society, they can achieve beautiful things for everybody," they said.

The British producers said it is fabulous to see many young Saudis coming forward to filmmaking industry. "It is incredible to be in the middle of a Saudi audience who are laughing and crying as they are actively engaging with films. The young volunteers are also very helpful to all those coming from outside the Kingdom, with enthusiastically guiding us all around."

They heaped praise on the young filmmakers from Saudi Arabia and other countries in the region for their passion in filmmaking industry. "It is wonderful to see many young women directors from the Kingdom and the Arab region as well. A lot of films about women from the region and the international scenes are being screened at the festival," they said.

On her part, Ahd Kamel told Saudi Gazette that the new film "My driver and I" tells the story of unusual friendship that she had with her Sudanese driver and its impact on her life. Referring to the Saudi project, Paget and Cochrane said that they are going to make the film in Jeddah in 2022.

The film sheds light on a young woman growing up in Jeddah in 1980s and 90s and becoming an artist focusing a little bit on the life of the Director Kamel herself who wrote the script and becoming the director too. "In the process of making preparations for the shoot, we are learning more about Saudi society as it is complex like any other society with consisting of people of all kinds. We learn more about each other apart from sharing the Saudi life with the international audience too," they said.

The Colour Room is a ceramicist biopic, which highlights the pivotal idea that the modern woman is forward-looking and not backward-looking. The film is inspired by the life of history-making British ceramicist Clarice Cliff.

The film, directed by Claire McCarthy from a screenplay by Claire Peate, highlights the women's struggle to be heard within what is otherwise a feel-good story of talent triumphant. Bridgerton star Phoebe Dynevor plays Cliff, who rose to prominence in the 1920s by introducing modern designs and colors to the traditional English pottery industry.

Potteries employed many women in largely menial roles, but Cliff managed to impress so much one eccentric factory owner with her ingenuity that she was allowed to design her own range and eventually run her own studio.