It has hosted the biggest sports events, showcased music's brightest stars and welcomed world leaders - but Cardiff's ability to stage major shows is now in question.
Thursday, Friday and Saturday saw the Principality Stadium host Ed Sheeran.

The experience for many was ruined by motorway tailbacks, parking pandemonium and railway station queues.

The Welsh government said it had worked to mitigate the impact of drivers using the M4.

Friday night coincided with the start of school half-term, and rock band My Chemical Romance were in town on Saturday, playing at Cardiff's Sophia Gardens cricket ground.

What are fans saying?

Susie Andrew, from Sandhurst, Berkshire, travelled to Cardiff with her two daughters and their friend, but missed their Ed Sheeran concert due to traffic.

They spent more than seven hours driving to Cardiff.

Ms Andrew said: "We set off early in plenty of time on a Friday afternoon and it was fine until we hit traffic about 40 miles from Cardiff. It was just back-to-back all the way.
"It took us three hours to get across the Severn Bridge.

"We thought we might get to see some of the concert but by the time we got to the out-of-city parking, the shuttle buses had stopped running.

"The girls were just distraught."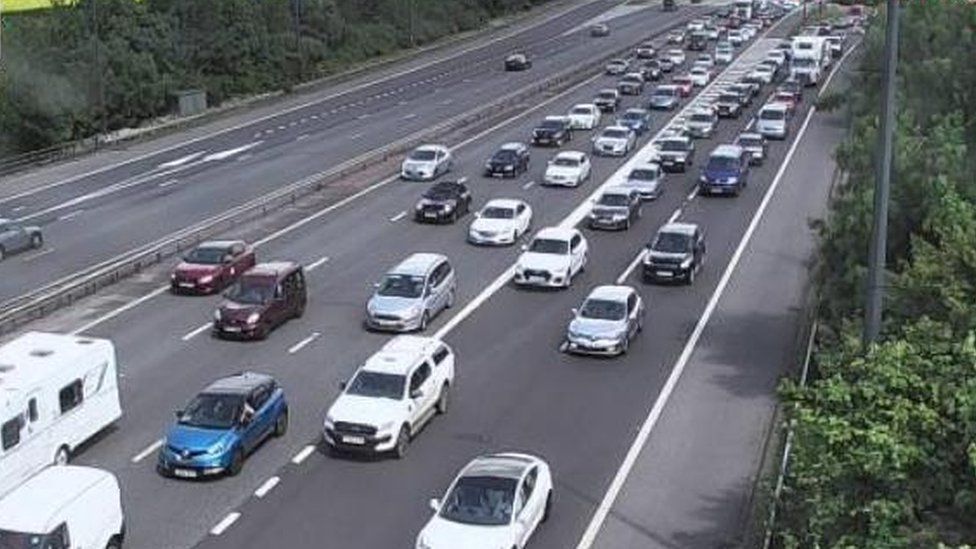 Fans were caught up for hours in traffic on the M4

They were left about £350 out of pocket.

Ms Andrew said: "It does put you off coming back to Cardiff. I go to a lot of football matches and other concerts and it just felt the city wasn't equipped for this."

On Twitter one fan dubbed Cardiff the "the worst experience ever" advising people: "Go to any other city".

Another criticised the roads for being "chaos" and said the trains were shambolic.

Coach companies Stagecoach and Megabus both reported severe delays to services over the weekend due to congestion in and around the city.

More chaos to come?

So could this be the start of a summer of chaos?

Among many concerts set for the capital, The Stereophonics and Tom Jones are performing together on successive nights at the Principality Stadium on 17 and 18 June.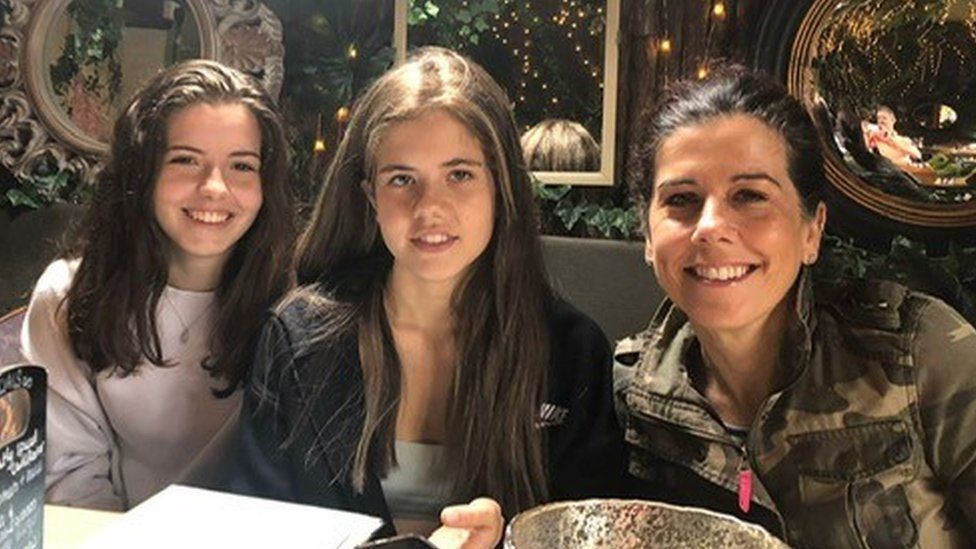 Susie Andrew and her daughters completely missed the show after getting stuck in jams

With a new 15,000-seater concert arena planned for Cardiff Bay, there are fears problems witnessed at the weekend could become a regular occurrence.

It wasn't just the roads

Many passengers voiced their frustrations on social media at packed trains and long queues at Cardiff Central.

Transport for Wales admitted rail capacity was cut because of a fire on board a train that hit a digger in the week, but said tens of thousands of people used its service over the weekend without major incident.

"We would like to thank our passengers for cooperating well with our queuing system and with our teams who managed to keep passengers moving as quickly and as safely through the station as possible."

What do the experts think?

Cardiff University's Prof Mark Barry, who proposed the South Wales Metro Plans, said big concerts are a different challenge to rugby games, and holding multiple events was a mistake.

He told Radio Wales Breakfast: "Unlike the rugby, when people are coming from all directions and mostly from Wales, for these big events you've got close to 100,000 people, mostly coming from the east, all trying to get into Cardiff in a very narrow time window."

He said the problem was not unique to Cardiff and building more roads would not solve it.

"People need to be encouraged to come earlier to distribute the demand over a longer period," he said.

"The event management need to look at ways to capture that demand from further away.

"So do we have shuttle coaches from further away, east of Newport or even from across the Severn Bridge?

"One thing that needs to be done is more capacity on the rail network so people can get out of their cars earlier, at say Llanwern or Bristol."

Policy director of think tank Centre for Cities, Paul Swinney, believed big events were economically important.

He said: "The good thing about Cardiff in particular is that, because the stadium is right in the centre of town, it makes it easier to get around using public transport because public transport points to the centre.

"It also makes it much easier to go for a meal or for a drink around the event than it would if the stadium was out of town.

"The key is how do we get more and more people using public transport on a day-to-day basis, so when it comes to hosting big events public transport is in place to facilitate that large movement of people."

So what should be done?

Welsh Conservatives leader, Andrew RT Davies, said the Welsh government and Cardiff council needed to work together to improve the situation.

In the absence of an M4 relief road other solutions needed to be found, he said.

He said: "Put extra trains on, get timetables that can cope with large numbers of people coming into the city, but importantly get the M4 working," he said.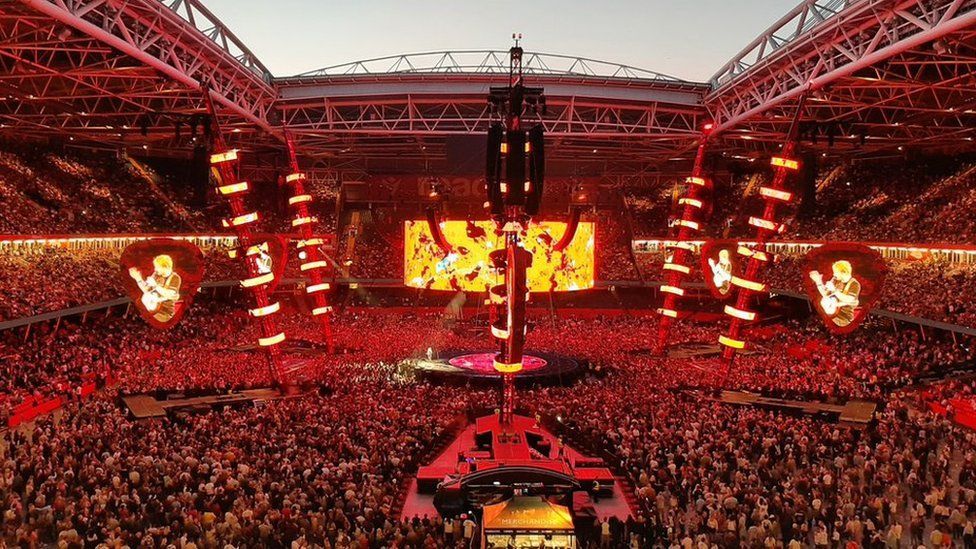 Tens of thousands of people bought tickets for the shows

The Liberal Democrats investment and development spokesman on Cardiff council, Rodney Berman, believed there needed to be a major review.

He said: "Cardiff has long since positioned itself as an event city and had made this a key element of its economic strategy.

"However, this has been hugely undermined by the major traffic disruption we have seen during the recent Ed Sheeran concerts which was far worse than anything the city has seen in the recent past.

"We can't have a scenario where concerts such as this are effectively bringing the city to a halt."

He said Cardiff council could make better use of park and ride facilities to the west of the city rather than "funnelling everyone down" to Cardiff Bay.

The authority's Councillor Dan De'Ath said: "We will continue to work with Welsh government and UK government, so that we see increased and better transport links for the region, including rail and Metro.

"Having said that, we mustn't forget that Cardiff regularly plays host to countless events, without issue."

The Welsh government said: "High volumes of traffic are to be expected when such large scale events are taking place, however we worked closely with stakeholders including Traffic Wales, police and local authorities to mitigate the impact of the number of motorists using the M4 over the weekend and ensure waits were kept to a minimum."