Boris Johnson has vowed to fight on as prime minister after facing fresh calls to quit over lockdown parties in Downing Street.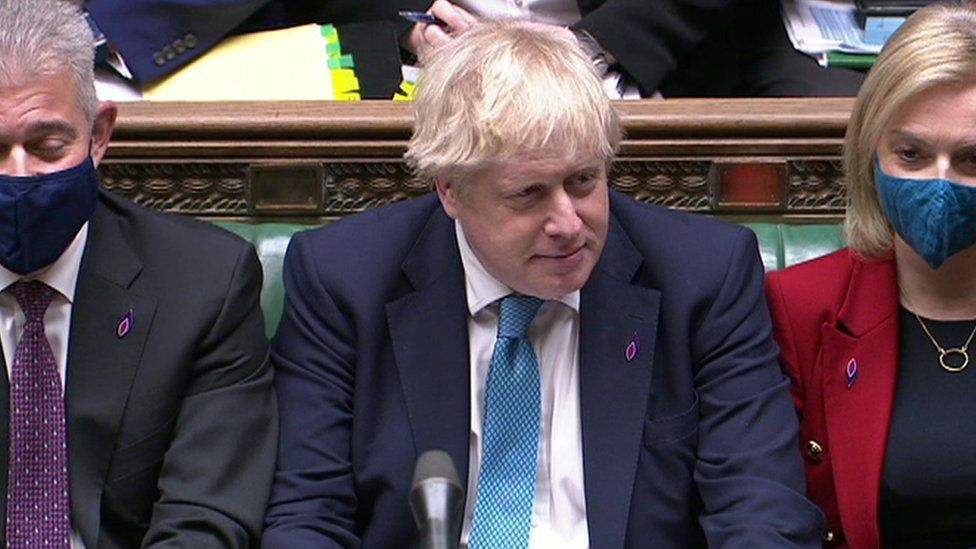 Tory MPs asked supportive questions in the Commons but the PM faced calls to resign from Labour and SNP MPs
MPs are still waiting to see the findings of civil servant Sue Gray's inquiry into the events, which had been expected on Wednesday.

At Prime Minister's Questions, Sir Keir Starmer called on the PM to keep a promise to publish the report in full.

Mr Johnson replied that he would "do exactly what I said".

Downing Street has said it is their "intention" to publish the report in the format in which Mr Johnson receives it.

The BBC understands that Ms Gray's report is essentially completed, but she has not yet sent it to the prime minister.

It seems likely MPs may have to wait until Thursday - or beyond - to see the report.

Mr Johnson has said he will give the opposition parties time to study its contents before he makes a Commons statement on it.

Separately, the Metropolitan Police have launched an inquiry into potential Covid-law breaking in Downing Street, after being handed details of parties by Sue Gray.

At a stormy Prime Minister's Questions, Sir Keir said the prime minister had previously told MPs that "all guidance was followed" in Downing Street over gatherings during Covid lockdowns.

The Labour leader added: "So since he acknowledges the ministerial code [governing standards of behaviour and forbidding ministers from misleading the Commons] applies to him, will he now resign?"

Mr Johnson replied: "No."

He accused Sir Keir of being "relentlessly opportunistic throughout" the pandemic by shifting his position on lockdowns, whereas he had got all the big decisions right.

Commons Speaker Sir Lindsay Hoyle had to step in several times to calm shouting MPs down, threatening some with expulsion from the chamber.

Amid continued noise, Sir Keir said: "The prime minister's continual defence is 'Wait for the Sue Gray report'. On 8 December he told this House, 'I will place a copy of the report in the library of the House of Commons'.

"His spokesperson has repeatedly stated that means the full report, not parts of the report, not a summary of the report, not an edited copy. So, can the prime minister confirm that he will publish the full Sue Gray report as he receives it?"

Mr Johnson replied: "We've got to leave the report to the independent investigator, as he knows, of course when I receive it, I will do exactly what I said."

The SNP's Westminster leader, Ian Blackford, asked Conservative MPs to "show the prime minister the door" by triggering a leadership contest.

Mr Johnson has previously apologised for attending a "bring-your-own-booze" event in the No 10 garden on 20 May 2020, during the first lockdown, saying he thought it was a "work event".

Birthday party

Reports of a birthday party held for Mr Johnson in the Cabinet Room in June 2020 have also come to light this week.

Some Tory MPs have already demanded Mr Johnson's resignation, but many others say they are waiting for the Gray report before deciding whether to submit letters of no confidence in him.

At least 54 of them must write to Sir Graham Brady, chairman of the backbench 1922 Committee, to set up a vote on the prime minister's future.

Currently, if a vote of confidence in the prime minister is triggered there cannot be another one for 12 months.

The committee does not have plans to change the rules to allow two confidence votes within a year, despite reports this proposal had been considered.

Commons leader Jacob Rees-Mogg, repeated his staunch defence of the PM, insisting the reported gatherings were work events.

He added: "If people are working all day, they have got to eat, they have got to have lunch, they must be allowed to have a cup of coffee during the day."

Asked whether that needed to be wine and cake, which was said to be served at the events, Mr Rees-Mogg replied: "This issue about do people have [an alcoholic] drink when they are working is not absolutely set in stone one way of the other."
Watch: Labour leader Sir Keir Starmer challenges the PM to resign