The number of dog attacks recorded by police in England and Wales has risen by more than a third in the past five years, a BBC investigation has found.
Last year, there were nearly 22,000 cases of out-of-control dogs causing injury. In 2018, there were just over 16,000.

The UK's dog population is estimated to have risen by only 15% in that time.

Police say they've seen more reports of dangerous dogs as a result of specific work by specialist officers.

The National Police Chiefs' Council (NPCC) says forces across the UK have been focusing on attacks.

The BBC's findings are based on 37 responses to Freedom of Information (FOI) requests made to all 43 police forces.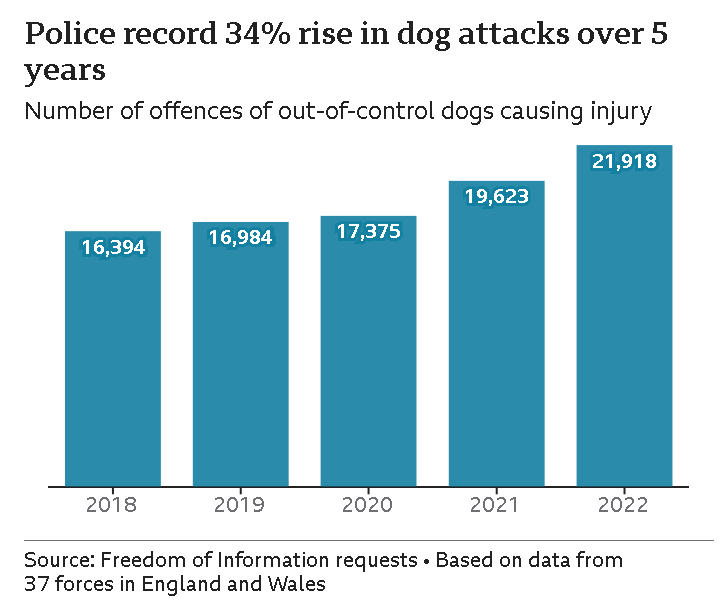 Dogs which cause death or injury to a person or an assistance dog must be recorded by police - but other incidents, for example a dog attacking another animal, or nuisance and anti-social dogs, don't have to be. As a result, these may not be included in the FOI figures.

It was also not possible to include comparable data for Scotland and Northern Ireland.

'The bite was millimetres from my eyes'

Lily-Blu Whitehurst, from Congleton in Cheshire, was left with facial injuries after she was bitten by a dog in September 2021. She had been at a friend's house when the family's English bull terrier lunged at her.

"I was sat on the sofa next to the owner. Their dog was lying across my lap. I moved forward because it was heavy and it just attacked," says the 18 year old.

The bite fractured Lily-Blu's nose and she needed 28 stitches in hospital.

"The bite was millimetres from my eyes. One cut was across my eyelid. I couldn't open one of my eyes for about two weeks and my forehead swelled up. A year on, one eye still can't fully close."
Lily-Blu was out of school for two and a half months

The BBC's FOI figures suggest reported dog attacks may have grown at about twice the rate of the number of new pet dogs.

Estimates vary - but an annual survey by the vet charity PDSA says there has been a nearly 15% increase in dog numbers UK-wide - up from 8.9m in 2018, to 10.2m in 2022.

Lily-Blu missed two and a half months of school while she was recovering.

"I was four months off turning 18. I was going out and it was awful. Because I didn't look the same any more," she says. "I think it will continue to have an effect on me for the rest of my life."

The owner of the dog that attacked her pleaded guilty in court and was fined £700. The dog was then subject to restrictions - including having to wear a muzzle when it left the house and being placed in a cage when visitors came round.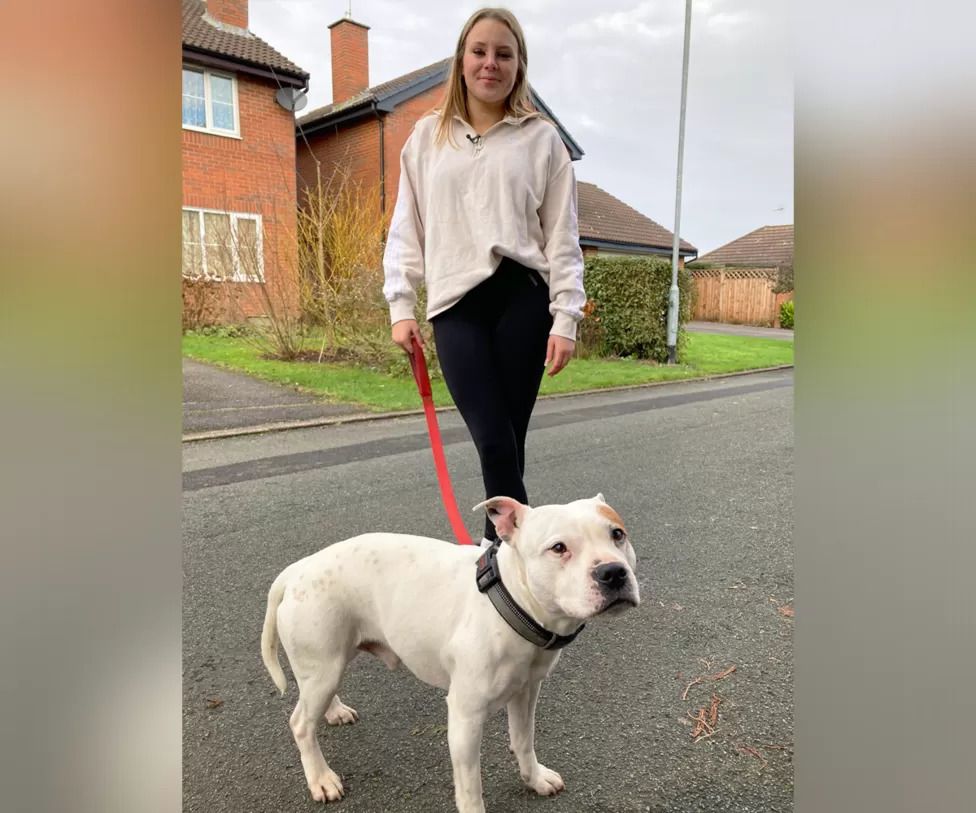 Lily-Blu and her dog Buster

Lily-Blu has two pet dogs herself - including Buster, a Staffordshire Bull Terrier. She says they have helped her realise she doesn't need to be fearful.

"I know how to act around dogs. I've had dogs all my life. It's helped me to realise that not all dogs are like that."

More dogs seized

The number of dogs removed from their owners by police has also risen, according to the FOI data obtained by the BBC. Nearly 3,500 dogs were seized in 2022 across 33 force areas - up 36% from 2018 figures.

Most are because animals are deemed "out of control" - but there are other reasons. For example, some might be strays or taken from people about to go into prison.

"It's busier than we've ever known," says Paul Jameson, a specialist dog legislation officer for South Yorkshire Police. He says there has been anincrease in dog numbers since the time before Covid.

"Some have not been socialised as much as dogs would have been before - in terms of puppy training or training classes. Or being used to people coming to the home address. That can impact upon the dog and create stress."

He adds: "Having seen the effects of these dog attacks, I make no apology for seizing dogs where there is a risk."

There have been two fatal dog attacks so far this year. A dog walker was mauled to death at Caterham in Surrey in mid-January. A few weeks later a four-year-old girl was killed by a family pet in Milton Keynes.

'I lost a finger'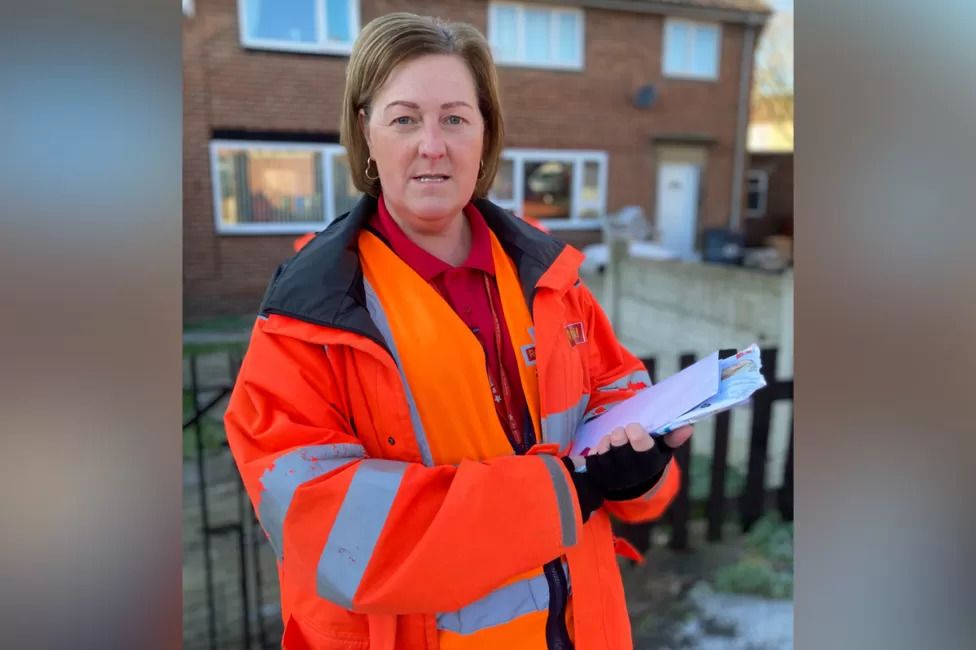 Sarah King was bitten while delivering mail in Rotherham

Postal worker Sarah King had her finger bitten off while delivering letters in Rotherham in January 2022.

"I was doing a round I was unfamiliar with. The dog had managed to get its snout right into the letterbox. He heard me coming down the path. There was no noise," she recalls.

"It was a cross between a Rottweiler and a Shar Pei. It was a big dog - a clean bite. There was blood everywhere."

Sarah needed several surgical procedures and now has a prosthetic finger.

"A year down the line and I'm still suffering. It still hurts and is very numb.

"I didn't go out for a long time. I'm still seeing a counsellor. I have flashbacks."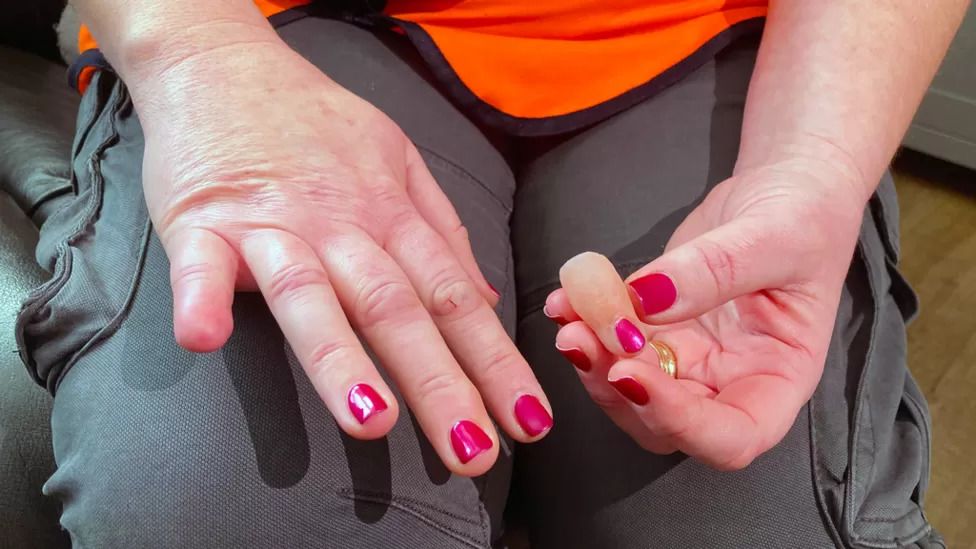 Sarah now has a prosthetic little finger on her right hand

The owner of the dog was charged and pleaded guilty. He was given a six-month sentence, suspended for 12 months, and ordered to pay £2,000 in compensation.

Sarah thinks all dog owners should put up warning signs outside their homes - and have either a separate external letterbox, or a cage for mail attached inside the front door.

Dr Rachel Casey - director of canine behaviour and research at the animal welfare charity, Dogs Trust - says dog aggression normally happens because of anxiety or worry.

"Their ears might go back and their body posture changes. Owners need to be able to identify these signs."

She says if someone wants to get a dog, they should get one that suits their lifestyle - rather than just because they like a particular breed.

In its statement to the BBC, the NPCC sought to reassure members of the public worried about a rise in dog attacks.

"Incidents can often be very alarming, but I want to reassure people that we are taking the matter seriously and we are cracking down on those who own or breed dangerous dogs," said Deputy Chief Constable Robert Carden.

"We continue to ask members of the public who know of dangerous dog ownership to contact police on 101 or in an emergency always call 999."