Hundreds of people have joined a vigil to remember a doctor murdered in a homophobic attack in a Cardiff park.
Three people were convicted of killing Dr Gary Jenkins after they attacked him in Bute Park on 20 July.

Following the trial, LBGTQ+ community members spoke out about the abuse they say remains prevalent today.

The organisers of Sunday evening's vigil outside National Museum Cardiff said they hoped it would show a united stand against intolerance.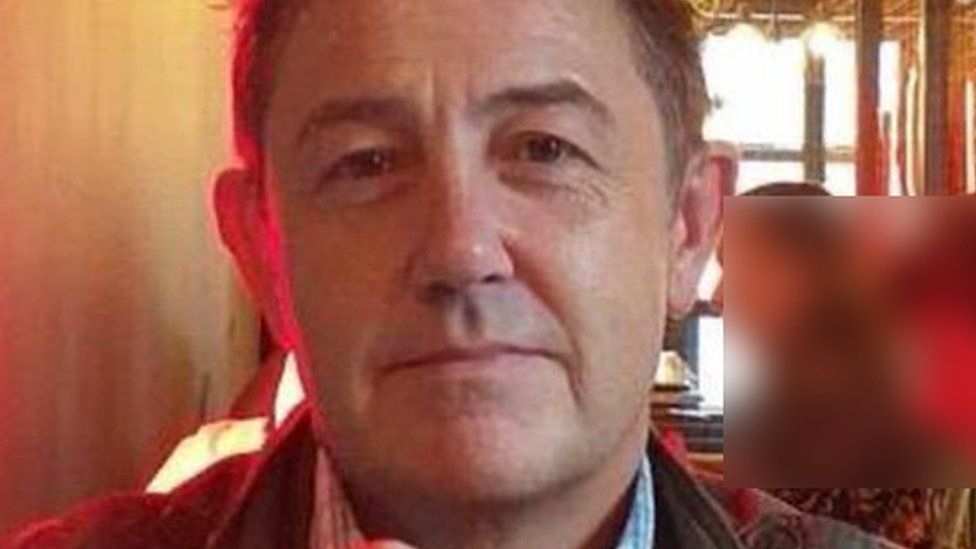 Dr Gary Jenkins died 16 days after the attack last July

Dr Jenkins, 54, had been married and had two daughters. He separated from his wife and was openly bisexual when he moved back to his home city of Cardiff about six years ago, the trial of his killers at Merthyr Tydfil Crown Court was told.

Minute's silence

Lee Strickland, 36, Jason Edwards, 25, and Dionne Timms-Williams, 17, all admitted manslaughter, but were convicted of murder.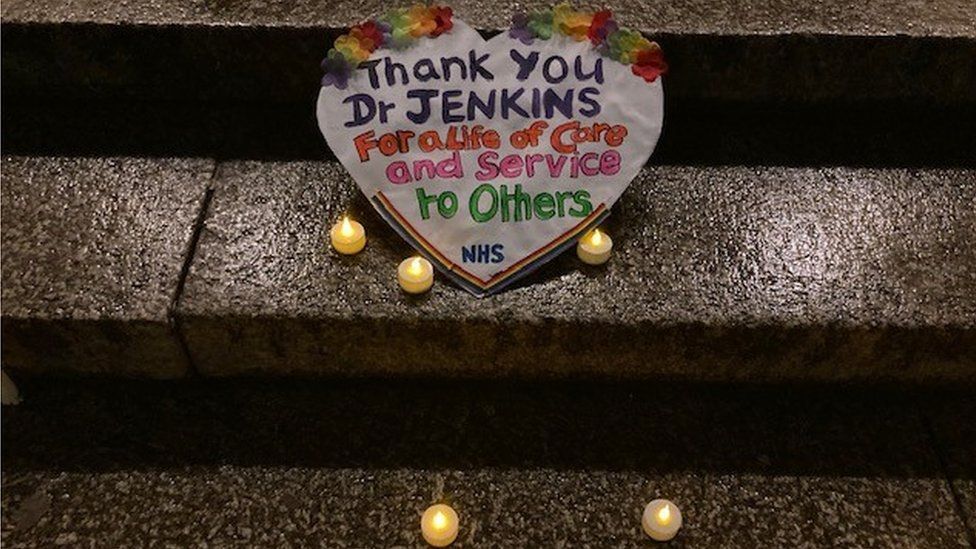 A tribute left on the steps of National Museum Cardiff

The vigil included a minute's silence, and gave people a chance to share their memories of Dr Jenkins at the site near the park.

A silence was also observed at other venues around the city.

'Society has a long way to go'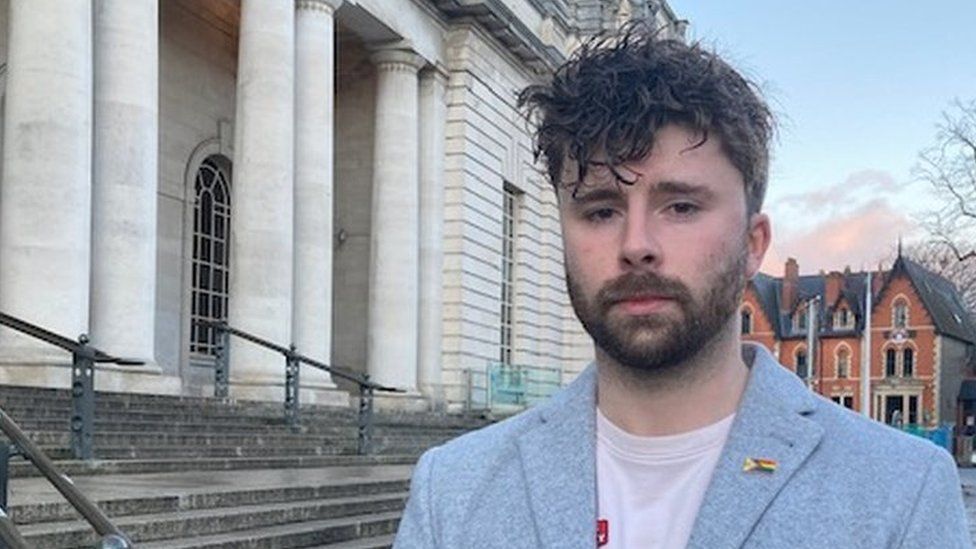 Yan White says abuse towards the LGBTQ+ community is still present in today's society

"This evening is a moment for people to come together to pay respects and reflect on Dr Gary Jenkins' life," said one of the organisers, Yan White.

"We're hoping that we will get people who knew Gary who feel comfortable enough to come up and share things about him because he sounds like a really larger than life character who sounds really amazing."

Mr White said, as a member of the LGBTQ+ community, he has heard "stories of physical and verbal abuse week on week".

"It's not something that has gone away in society and I think a lot of people think that because there's rainbows everywhere in June that maybe it's fine," he said.

"But we are far from that and society has really got a long way to go."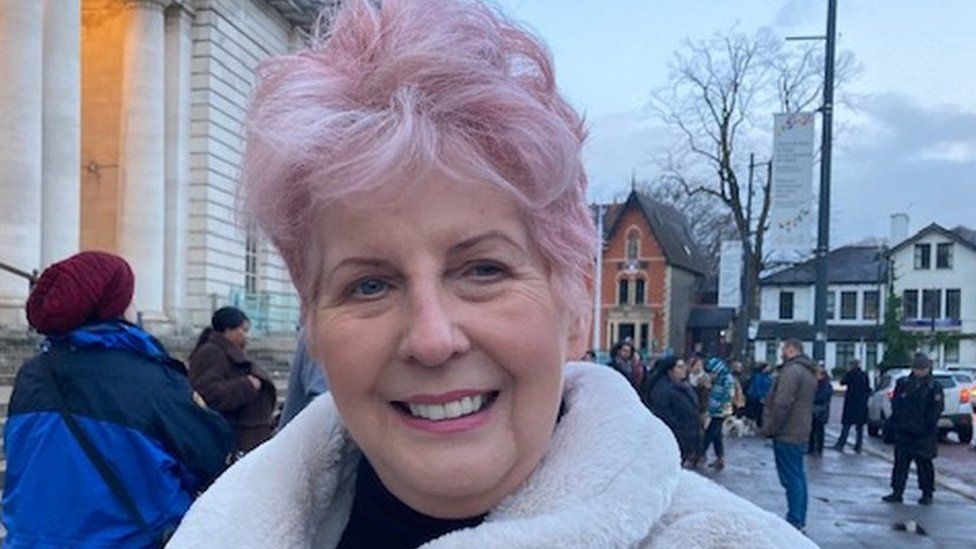 Sian Erasmus, from Cardiff, says it is not only women who are unsafe, but men too

For Sian Erasmus, the death of Dr Jenkins made her realise how "men are not safe either".

Women's safety was particularly brought into the spotlight after the abduction and murder of Sarah Everard and the killing of Ashling Murphy.

She said: "There's been such a big campaign about keeping our women safe but our men are not safe either.

"It's a stone throw from here and a man has lost his life. It's not right."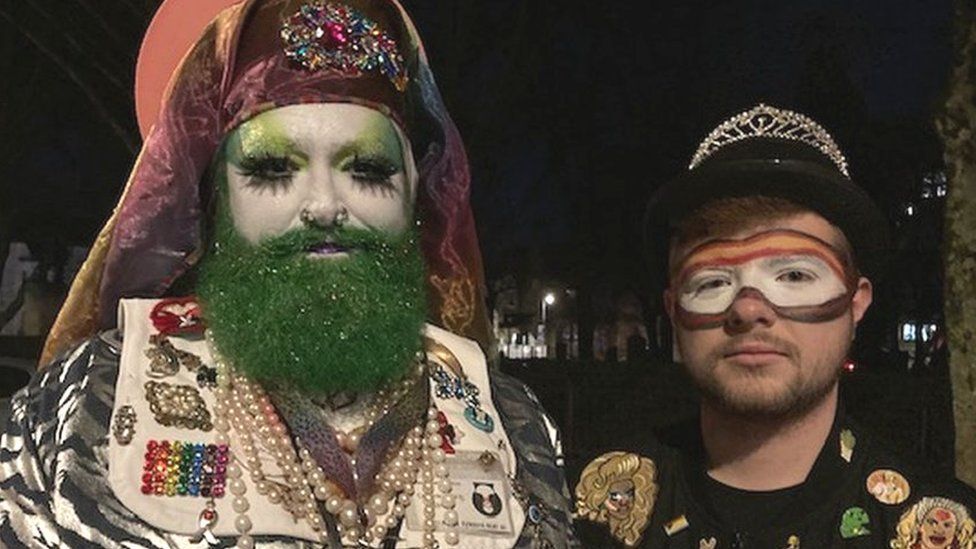 Members of the Order of Perpetual Indulgence say homophobic attacks happen and it needs to be talked about

Sister Gloria and Brother Barney, who are both members of a charity which uses drag and religious imagery to call attention to sexual intolerance, also joined the vigil.

"This is a particularly horrible event and it needs to be highlighted that these things are still happening," said Sister Gloria.

"As several speakers pointed out tonight, the events are on the rise and it needs to be shouted about.

"There is no point hoping politely that it will go away because that's what gives people who perpetrate these crimes the feeling that they are entitled to do it and to carry on."

Will Hallam, who was a colleague of Dr Jenkins, said: "I worked with him at Llandough Hospital in the psychiatric unit.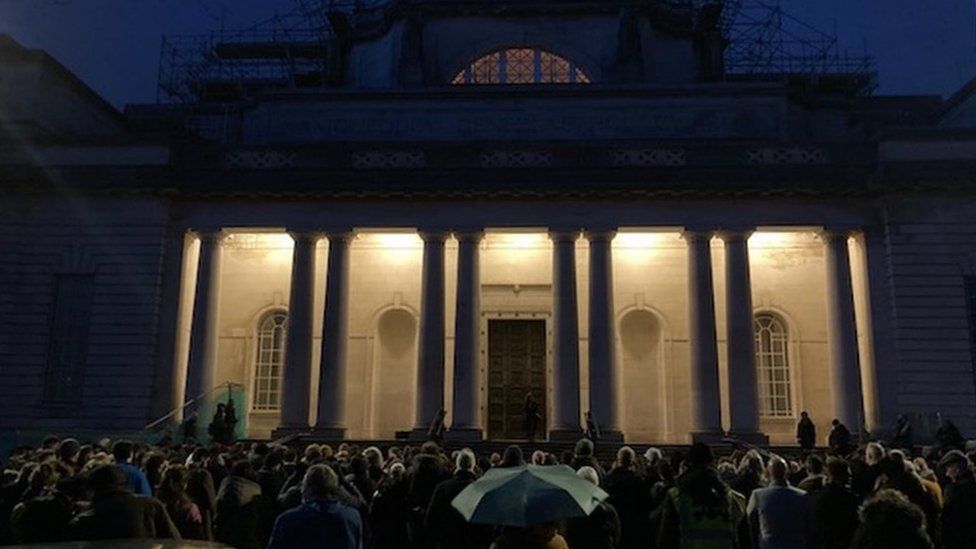 Darkness fell on National Museum Cardiff as Sunday evening's vigil was staged

"He was a lovely guy, full of life, a spot on guy. I just think it's really important to mark things like this. I got quite emotional really - it's good that people are coming out and paying their respects"

Sarah Jones, vicar of St John's church in the city centre, who spoke at the vigil, said: "I moved to Cardiff about 3 years ago and I absolutely adore it, it's a beautiful city.

"But what's become clear is there is a small element of an underbelly. And a lot of the LGBT community do feel a bit fearful at times.

"I think this has brought us together and maybe it's just something that's under the surface a bit. Hopefully people can treat it as a wake-up call."

At the end of the event, the organisers said they had received a message from Dr Jenkins' family to say "thank you to everyone for coming out and for showing solidarity".