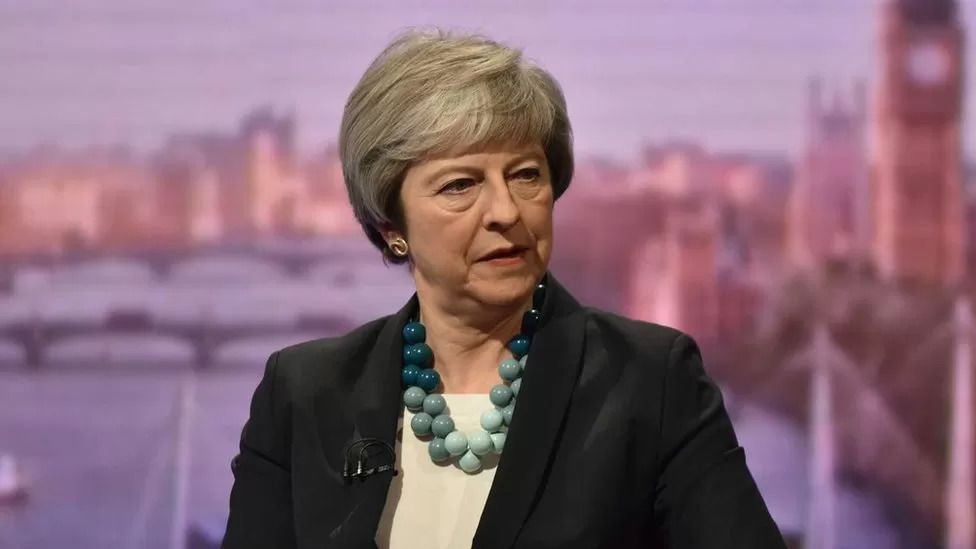 Do not reduce UK's modern slavery protections, Theresa May warns
Theresa May has warned government efforts to tighten modern slavery laws must not mistakenly make it easier for criminal gangs to hold onto victims.
The former Tory prime minister told BBC Radio 4's PM programme Rishi Sunak needed to avoid unintended consequences as he explores changes to legislation.

Mr Sunak has promised to make it harder to be considered a modern slave in a bid to cut illegitimate asylum claims.

Mrs May also said Mr Sunak could revive the Tories and win the next election.

Speaking about the Modern Slavery Act introduced in 2015 in her time as home secretary, Mrs May said the legislation offers "world-leading protections" for victims.

But she said efforts to raise thresholds at which a person can be considered a victim of modern slavery needed to consider the potential to create further loopholes.

Raising the example of a sex trafficking victim who may come forward to authorities in the UK, Mrs May said "there's talk of requiring more evidence from individuals".

But she said victims were unlikely to have such evidence.

"If you are somebody who is being brought by a criminal gang who are abusing the system, and they know there needs to be a piece of paper, they probably will provide a piece of paper," she said.

Mrs May, who has previously spoken in the Commons about her concerns, added: "So it's making sure that, in dealing with problems that are identified, we don't create other problems."

Mr Sunak has denied he would water down the definition of modern slavery and said he wanted to stop the system "being clogged up by people making spurious claims".

But Labour has criticised the government's plans to deal with a mounting asylum backlog, which stands at about 117,000 outstanding claims, as "unworkable gimmicks". And refugee and migration charities have hit out at what they say are "cruel" and "ineffective" proposals.

More than 40,000 people have crossed the Channel in small boats so far this year - the highest number since figures began to be collected in 2018. Some 90 people arrived in two small boats on Christmas Day, the Ministry of Defence confirmed on Monday.

Elsewhere in a wide-ranging interview with presenter Carolyn Quinn on PM, Mrs May backed Mr Sunak to succeed at the next general election.

The Conservatives are currently trailing Labour in the opinion polls.

Mrs May - who left Downing Street in 2019 - said there was "no doubt" the so-called mini budget under Prime Minister Liz Truss had an impact on the Conservative Party's reputation for economic integrity,

But she said "we've seen already with the new chancellor and a new prime minister is taking the process of re-establishing that reputation", adding Mr Sunak can "turn it round and we can win that election".