Consumers have developed money-saving shopping habits to help stave off problem debt as the cost of living has soared, according to banks.
People have cut back on non-essential spending on things like clothes and dining out, data from UK debit and credit card transactions suggested.

But those on low-incomes, already under financial stress, often face problems such as falling behind on energy bills.

Advisers say some are too frightened to open letters fearing demands inside.

Dame Clare Moriarty, chief executive of Citizens Advice, said that, for these people, the "cost of living crisis is turning into a debt crisis".

Record food bank referrals

Two broad camps have emerged among consumers as prices and bills have soared over the winter, although everyone's financial situation is different.

Banks say that millions of people had built up a savings buffer during Covid lockdowns and have kept their jobs, which had helped to accommodate the rising cost of living. They have also cut back on various elements of spending to help their situation.

The second group do not have that luxury and, although they may be working, could have already been in financial difficulty.

Citizens Advice said it saw more of its clients in January requiring food bank referrals and charitable support than ever before.

Discount buys

Among those with some savings and a higher income, changing habits have helped to keep debt down. Banks say arrears on loans and credit cards have remained relatively stable.

"Most of our customer base is demonstrating a healthy level of financial resilience," said Matt Hammerstein, chief executive of Barclays UK.

"Those fortunate enough to have built up a buffer have been able to accommodate rising living costs more comfortably, with many making reasonable lifestyle adjustments to stay ahead."

Those adjustments, according to Barclays, include:

*  The majority of people cutting down on discretionary card spending on things like clothing

*  People searching for discounts on entertainment

*  The rising popularity of "dupes" which are lower-priced alternatives to popular products

Barclays said its data covered around half of UK debit and credit card transactions, but the comparisons with a year ago were affected by a post-Omicron boost in some sectors 12 months ago.

Its conclusions were backed up in a report by banking trade body UK Finance reviewing the final three months of last year.

"Overall spending on credit and debit cards held up. But changes in patterns of spending within this indicate a shift away from luxuries towards essentials and cheaper options, as cost-of-living pressures bear down," it said.

Essential spending has risen faster, but the data suggests a significant proportion of shoppers are seeking out budget and value range groceries and shopping in a variety of supermarkets to make the most of deals.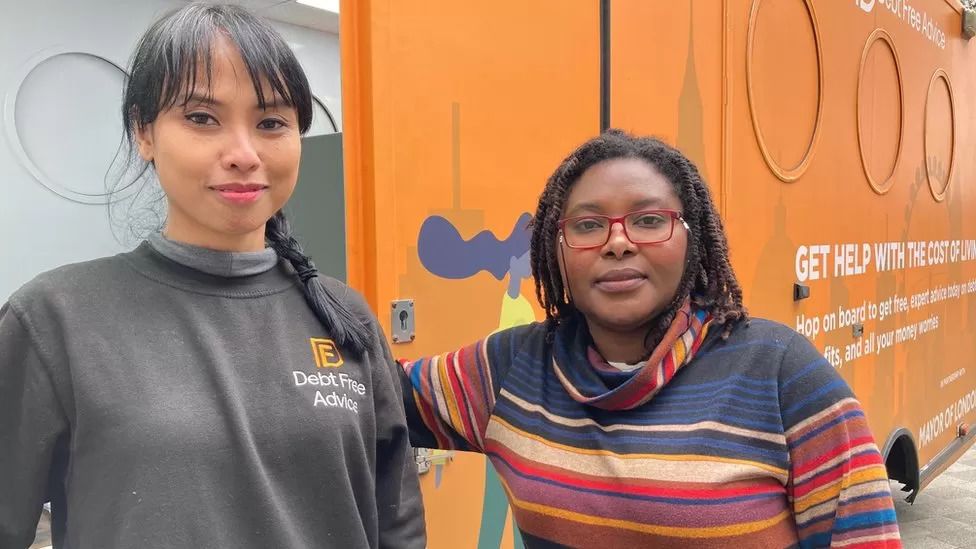 Anne (left) and Retee have been helping people deal with financial worries

The rising cost of food and energy is having a significant impact on the finances of a swathe of lower-income families.

Some of those will be using a prepayment meter for their gas and electricity. Citizens Advice said the number of its clients who said they could not afford to top up their prepayment meter in January was the highest month on record.

The number of clients struggling with debts with their energy provider has risen, and the typical level of that debt has been increasing sharply.

Courage needed

Those on the front line of advice said issues with utility bills had become more common.

Debt Free Advice, a partnership of 16 charities, has been touring London over the winter with advisers giving impromptu guidance from the back of a bus funded by the Mayor of London.

On one of these trips, Retee - one of the money coaches - told the BBC that many people needed reassurance that they were not alone in difficult circumstances.

"I always see our clients as very courageous people. It takes a lot of courage to say you need help. Some are shy or feel ashamed," she said.

"Some people are in a dire situation. They have sleepless nights. They can't really cope and do not know how to get out of the situation they are in.

"They are choosing whether to heat their home or to have a meal with their children."

She said some people came in with unopened letters owing to the "fear of what is inside those letters".

Retee, who switched from work in hospitality to money advice during lockdown, had been conducting assessments then sending people on to specialist advice.

Tackling It Together: How to deal with looming debt

*  Talk to someone. You are not alone and there is help available. A trained debt adviser can talk you through the options. Here are some organisations to get in touch with.

*  Take control. Citizens Advice suggest you work out how much you owe, who to, which debts are the most urgent and how much you need to pay each month.

*  Ask for a payment plan. Energy suppliers, for example, must give you a chance to clear your debt before taking any action to recover the money

*  Check you're getting the right money. Use the independent MoneyHelper website or benefits calculators run by Policy in Practice and charities Entitledto and Turn2us

*  Ask for breathing space. If you're receiving debt advice in England and Wales you can apply for a break to shield you from further interest and charges for up to 60 days.

Matt Dronfield, managing director of Debt Free Advice, said advisers spoke 33 languages between them and often helped people negotiate with creditors as well as apply for grants and benefits.

About 60% of those who were helped were women, he said, and there was a particular focus on those from an minority ethnic background.

Traditionally, a stigma surrounded debt, he said, with some people more likely to talk to their pet than their partner about money issues.

"Talking to someone is the first step. We show there is someone on their side, perhaps for the first time, so they can start to see a future," he said.