American football star Damar Hamlin is in a critical condition after suffering a cardiac arrest during a primetime US National Football League game.
The Buffalo Bills player, 24, fell to the ground after colliding with an opponent during the first quarter of a match against the Cincinnati Bengals.

He received on-field medical attention for more than 30 minutes before being taken to a local hospital.

The NFL suspended the game for the night about an hour after the incident.

His team, the Buffalo Bills later confirmed the cardiac arrest in a statement and said that his heartbeat was restored on the field.

In a tweet early on Tuesday, the team said Hamlin is undergoing further testing and treatment and is currently sedated.

The emergency sparked an outpouring of support for Hamlin and brought attention back to the dangerous nature of America's most popular sport as the NFL season approaches its climactic play-off stages.

Hamlin was tackling Bengals receiver Tee Higgins in the stadium in Cincinnati, Ohio, when Higgins' helmet appeared to hit Hamlin in the chest. After initially getting to his feet, he fell on his back.

Players from both teams gathered around Hamlin as emergency medical staff gave CPR and oxygen. Several were seen visibly distressed, with many kneeling to pray and some in tears.

Television coverage repeatedly broke away from the scene on the field, while the crowd in Cincinnati remained silent during the ordeal.

Jordon Rooney, Hamlin's representative, wrote on Twitter: "His vitals are back to normal and they have put him to sleep to put a breathing tube down his throat. They are currently running tests. We will provide updates as we have them."

NFL games are rarely suspended because of injury. Commentators said the fact that gameplay had stalled was a sign of the shocking and severe nature of the emergency.

The two teams are among the top Super Bowl contenders this year, with their head-to-head coming in the primetime Monday night slot in the penultimate week of the NFL's regular season.

The league's players' association wrote in a statement: "We have been in touch with Bills and Bengals players and with the NFL. The only thing that matters at this moment is Damar's health and well-being."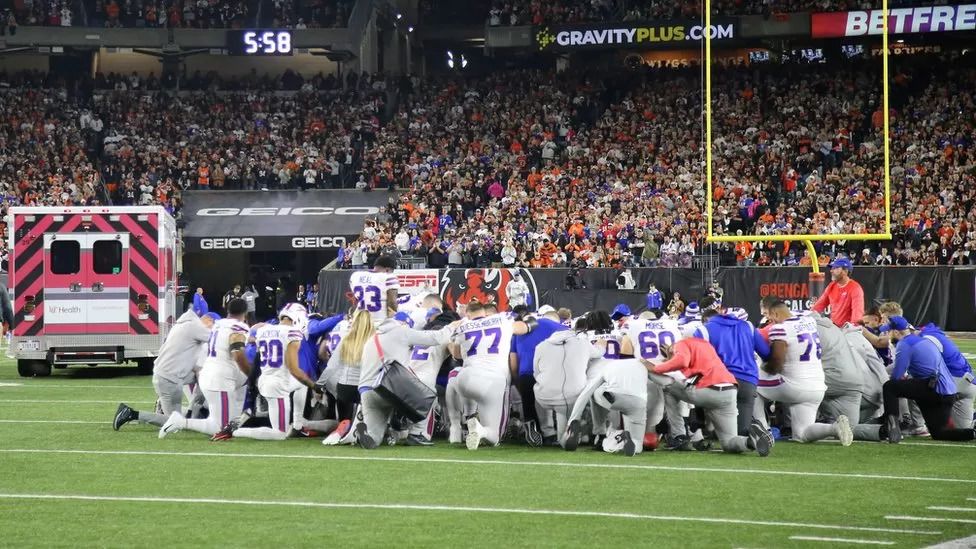 Buffalo Bills players kneel to pray as the ambulance carrying teammate Hamlin leaves the field
Hamlin, a native of McKees Rock, Pennsylvania, was drafted from the University of Pittsburgh by the Bills in 2021.
He has drawn praise for hosting annual Christmas toy drives in his hometown since before he was a paid athlete.
An online GoFundMe page for the toy drive was reshared after Hamlin collapsed on Monday and has raised nearly $3m (£2.5m).
Buildings across Cincinnati were lit up in blue on Monday evening, including Paycor Stadium where the incident occurred.
The safety of American football has been much debated in recent years but usually over concussion rather than cardiac risks.
Many former NFL players have the the degenerative brain condition CTE which research has linked to repeated hits to the head.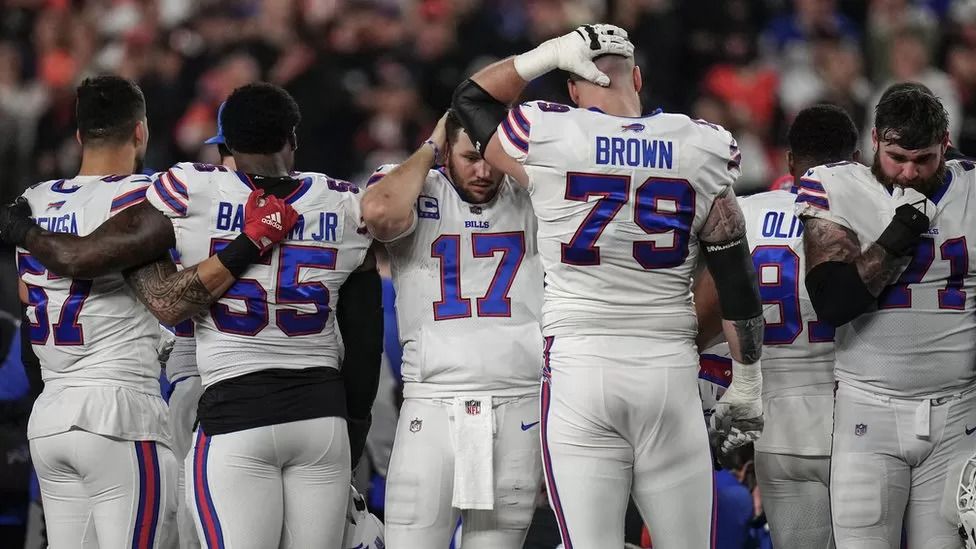 The game was suspended in the first quarter

Blunt trauma is common in contact sports, but it's rare that it causes heart issues like this.

A direct hit to the chest can result in cardiac arrest. That's when the heart stops beating properly and is unable to do its job of pumping blood around the body.

It's different to a heart attack, which happens when blood supply to the heart muscle is cut off.

In Hamlin's case, medics were able to quickly get his heart beating again. It's not yet known what internal injuries he may have sustained from the incident and whether there has been any significant damage to his heart.

Good wishes for the stricken player have poured in.

Basketball star LeBron James said: "It was a terrible thing to see and I wish nothing but the best for that kid."

Arizona Cardinals defensive end JJ Watt wrote on Twitter: "Please be ok man. Please be ok", while retired Pittsburgh Steelers safety Ryan Clark told ESPN's SportsCenter show: "This isn't about a football player, this is about a human."

Bruce Sharpe, a Bills fan who was in the stadium when it happened, said it was "devastating".

"Everything got dead silent. Even the Bengals fans, you know, you don't want to see anything like that," he said. "We're just praying that everything's okay."