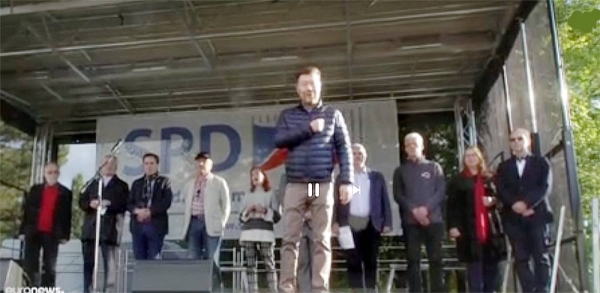 Czech voters turn to the far-right for answers to the energy crisis
The Czech Republic is facing one of the highest annual inflation rates in the European Union, with a 17 percent increase in the cost of living, caused by the crisis with Moscow.
It has revealed the country's heavy reliance on Russian gas, as prices soar and consumers struggle to pay their bills.

Growing poverty has fed into discontent among Czech voters, who are looking to the far-right Freedom and Direct Democracy party (SPD) for answers.

Euronews reporter Bryan Carter visited Prague to meet some of the people suffering as a result of the rising cost of living.

Viera Dobrocka, an unemployed mother of a nine-month-old baby, was left with no option other than to move into social housing for single mothers after high food and energy costs meant she could no longer pay her bills.

Unable to afford the rising cost of living, Dobrocka and her son Stefan had to move into a social housing for single mother.

The nation's elderly is also vulnerable. Dezider Galbavy, who lives on a pension of 500 euros per month, told Euronews that the situation is "outrageous" and that he is "scared" of temperatures dropping this winter.

With bills rising dramatically, people like Dezider will be forced to rely on burning wood and coal rather than turning on their heating, but even that is running out.

Rising energy costs also have a knock-on effect on businesses, which could mean that many Czech workers lose their jobs.

Petr Novosad, director of Harrachov Glassworks, said that his 300-year-old establishment relies heavily upon gas for its furnaces, so he is feeling the pinch.

He told Euronews that if this trend continues, he will have to cut the number of employees at the glassworks, which currently provides the paychecks for around a hundred families.

Increasing hardship since the beginning of September has led to thousands of Czechs protesting on the streets, calling for the government's resignation, and heavily criticizing the European Union and NATO.

While many demand a gas deal with Russia, the government instead announced a series of economic measures in a televised address.

Prime Minister Petr Fiala outlined caps on energy prices for households, self-employed people, and small and medium-sized businesses, as well as providers of public services.

Disillusionment with the current government, combined with a mistrust of the main opposition leader, Andrej Babiš, who is facing fraud charges, has created fertile ground for the SPD to gain popularity, as it has been campaigning for gas negotiations with Moscow.

The party's leader, Tomio Okamura, has come under fire for his views on the European Union and multiculturalism, as well as his provocative marks about Muslims.

He claimed that he is not "xenophobic" as some would suggest, but that he opposes the European Union's stance on migration, saying that it results in an "inability to help people during a crisis".