A family has described a lucky escape after their 11-year-old son found an unexploded hand grenade on a beach in County Down and lifted it up.
Cole Chapman was with a young friend on Cultra beach on Saturday when they spotted the live World War One-era weapon and picked it up in their hands.

Cole then made a video call to his father, asking: "Dad, is this real?"

His shocked father advised him to put it down very gently, move far away from the device and call the police.

In such circumstances, members of the public should never touch suspected weapons but instead move back to a safe distance and call the authorities immediately.

An Army Ammunition Technical Officer [ATO] went to the scene and later confirmed it was a "Mills bomb" hand grenade which was still capable of exploding and causing injury.

The boy's mother, Danielle Chapman, had earlier driven Cole and his friend Oliver to the beach so the boys could look for crabs.

She then received a panicked call from Cole's father, who was 60 miles away in Portrush, telling her to drive back down to the scene as soon as possible to protect the children.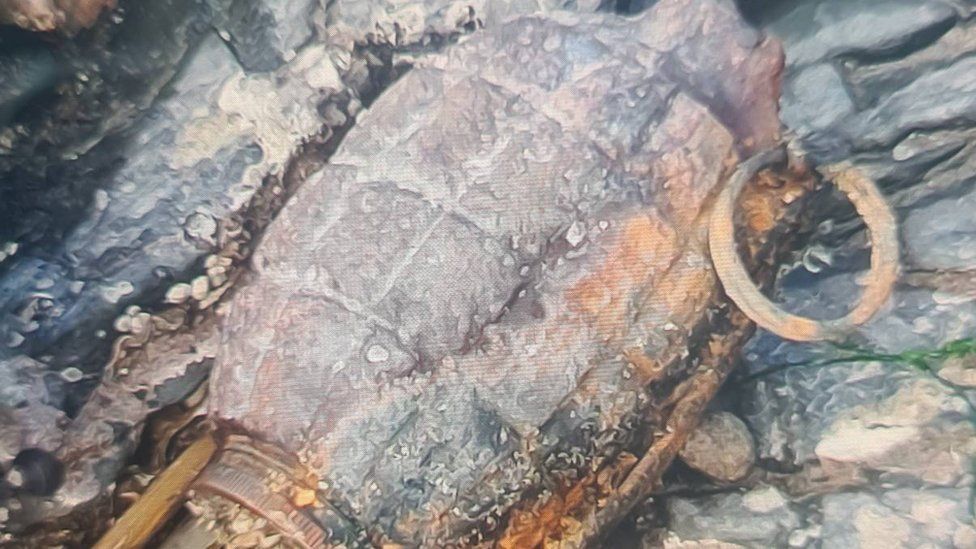 The Army confirmed the device was a "Mills Bomb" grenade used in World War One

"I don't really remember the journey down there to be honest, but as soon as I arrived, the boys were at a safe distance," Mrs Chapman told the BBC.

"They pointed to where it was and I called 999 and within five minutes - blue lights and sirens - the police arrived."

Mrs Chapman said she was very concerned by the situation but was relieved that the boys were not injured and that they knew to contact an adult.

"At the time I was just worried that he was safe and that him and his friend were at a safe distance from it," she said.

"It was afterwards when we got home and I realised - the ATO had explained just how viable a device it actually was - that you sort of think had he touched it any farther or pulled the pin, touched the pin or anything like that, what actually could have happened to him."

She said Cole remained calm during the incident and the ordeal was "not as frightening for him as it was for me".

She added that she did not think her husband was over the shock yet after seeing their child holding a grenade in the video call.

Speaking to BBC News NI, Cole said: "It took me a second to realise what it actually was."

He explained he recognised the grenade from playing video games.

"I knew it was a weapon and it was dangerous. I didn't know it actually worked though, so I picked it up," he said.

When Cole called his father on Facetime to show him the device, the conversation was short.

"He just told me to put it down and get back, stand away from it," Cole recalled.

Asked if he was afraid at any point, the schoolboy replied: "When I realised that it actually worked and was quite dangerous - slightly, a wee bit yeah."

In a post on the Police Service of Northern Ireland's Ards and North Down Facebook page, officers confirmed the device was a "live grenade that was capable of exploding".

"A big thank you to the young lad who found the grenade and alerted police and thanks to all involved and alerted officials," they added.

The Mills bomb grenade was first developed in 1915 and became the first hand grenade to be issued on a large scale in Britain.