The mayor of London has been accused of not following due process over the resignation of outgoing Met Police Commissioner Dame Cressida Dick by her second in command.
Deputy Commissioner Sir Stephen House praised his boss and criticised Sadiq Khan for how she has been pushed out.

Calling for a review of events, he said: "I feel extremely sad. We've seen matters played out in the media."

The mayor's office described the comments as "entirely incorrect."

Sir Stephen said he had written to Home Secretary Priti Patel to ask for a review of how the commissioner's departure was handled.

Ms Patel has previously clashed with the mayor over how events around Dame Cressida's resignation unfolded on 10 February.

Giving evidence to the London Assembly Police and Crime Committee, Sir Stephen said: "There's a clear procedure in statute laid down to allow the removal of a police chief officer - it's not been followed in this instance.

"It's not even been initiated in this instance, due process has not been followed, and instead we've seen matters played out in the media."

Several controversies, which included the handling of the Sarah Everard vigil, the delay in investigating Downing Street parties, and a report by the police watchdog revealing it had discovered a culture of misogyny, discrimination, bullying and sexual harassment at one central London station, all cast the force in a poor light.

Sir Stephen added he was surprised at the apparent U-turn by Mr Khan, who he said had been a "vocal supporter" of the commissioner "only a few weeks ago".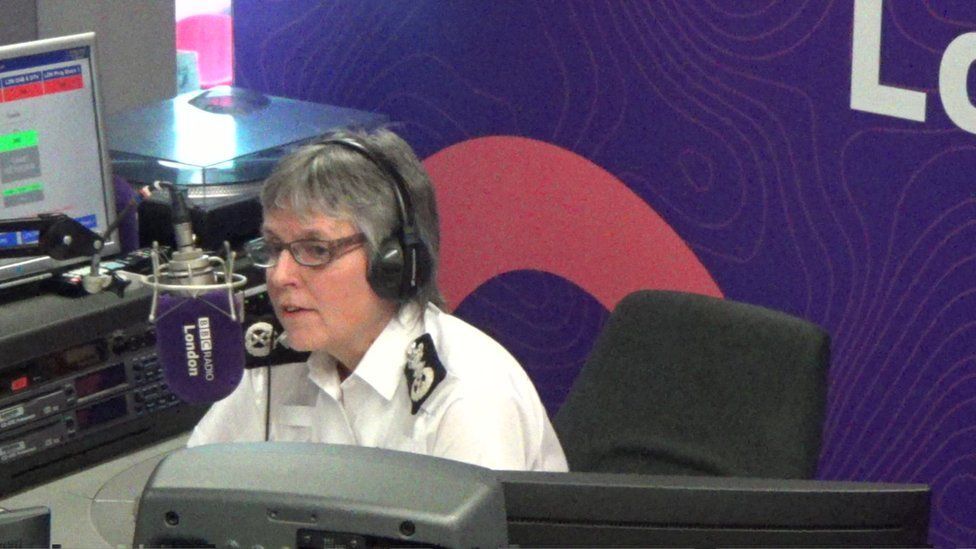 Just hours before her resignation on 10 February, Dame Cressida told BBC London she had no intention of stepping down

"I feel sad for my boss that her police career and lifetime of public services ended in this way. I know that I'm not alone in feeling this," the deputy commissioner said.

In response, a mayor's office spokesperson said Sir Stephen's comments about due process were "entirely incorrect."

The spokesperson said Dame Cressida Dick had decided to step aside after the mayor lost confidence and this removed the need to follow the statutory process.

"Trust in the police among Londoners has plummeted over the last two years and is now nearly at an all-time low following a series of devastating scandals involving police officers, including evidence of misogyny, racism, sexism, homophobia and bullying," they said.

"The mayor is democratically elected by millions of Londoners and it is his job to hold the police to account - and he will continue to do so."

They added the mayor was working with Ms Patel on the process to appoint a new commissioner.

A Home Office spokesperson said: "The deputy commissioner of the Metropolitan Police, Sir Stephen House, has written to the home secretary and we will respond in due course."

Analysis
By Lauren Moss, BBC London home affairs correspondent

The mayor of London says trust in policing among Londoners is nearly at an all-time low but, similarly, it's hard to remember a time when the relationship between City Hall and the Metropolitan Police was quite so strained too.

It's true to say it's not unprecedented for a commissioner to step down after losing the mayor's confidence. Sir Ian Blair resigned in 2008 when Boris Johnson was mayor, but this war of words is playing out in a very public forum, which arguably has little benefit to either side wanting to move forward.

At the moment, there is no white smoke on timeframes for when Dame Cressida Dick will hand the reigns over, or indeed to whom.

What is certain, though, is that whoever the new commissioner is will take charge of the country's largest police force in turmoil, with various reviews into its culture, while juggling plenty of pressure to win over the mayor, the home secretary and the thousands of officers who are disgruntled by the way their commander-in-chief left.