A UK Covid vaccine booster scheme will take place and is likely to start next month, the health secretary has said.
Sajid Javid said he was uncertain of the exact start date as the government was waiting for the Joint Committee on Vaccination and Immunisation's "final advice" before proceeding.

Mr Javid added the "most vulnerable" would be offered the third jab first.

However, it remains unclear whether the booster scheme will be for all adults, or just some, more vulnerable groups.

Interim advice from the JCVI, released last month, suggested more than 30 million of the most vulnerable people - including all over-50s - should receive a third dose.

Asked about the scheme on Thursday, Mr Javid said: "We are going to have a booster scheme. It will start some time in September.

"I couldn't tell you exactly when because before we start it... we need to get the final advice from our group of experts, our independent scientific and medical advisers, the JCVI, and so we're waiting for their final opinion."

Earlier in the day, Prof Adam Finn told the BBC that the JCVI, of which he is a member, would be "imminently deciding" that some people "will need a third dose, particularly people who we know are very unlikely to be well protected by those first two doses".

"But I think we do need more evidence before we can make a firm decision on a much broader booster programme," he added.


The health secretary says "a" booster campaign will take place, but the more important question is "who" will be boosted. We still don't know.

There are scientific and ethical arguments about a booster campaign.

For some there is a clear benefit - particularly those with weakened immune systems in whom it takes three doses to do the job of two.

But for the rest of the population, the evidence so far shows two doses are providing lasting protection from becoming seriously ill and needing hospital treatment.

Whether a mass vaccination campaign is necessary or should be far more targeted is the subject of intense debate.

This comes at a time that rich countries are being accused of giving vaccines to people at little risk from Covid and that would save far more lives if they were shared with the world.

About 70% of the entire UK population has had at least one jab. In the poorest countries that figure is about 1%.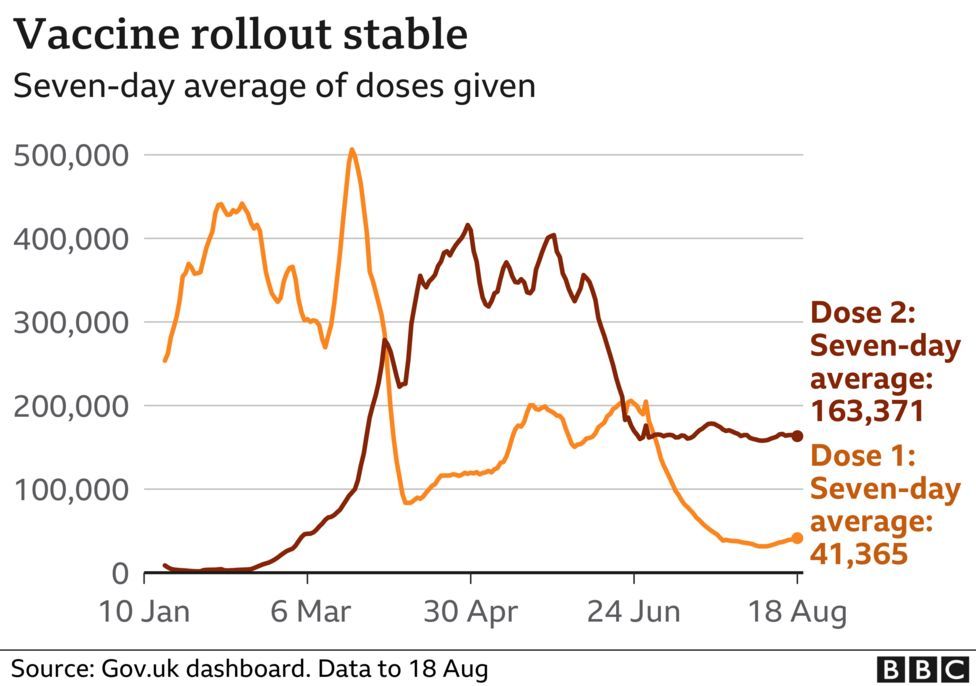 The announcement comes after it was revealed more than 125,000 16 and 17-year-olds in England have had the vaccine in the two weeks since the NHS was given approval to offer that age group a jab.

In total, 47,460,526 first doses have now been given across the UK, while 41,157,069 people have had two doses.

But the decision to offer people in the UK a third jab is not without controversy.

Immunologist Prof Peter Openshaw, a member of the New and Emerging Respiratory Virus Threats Advisory Group (Nervtag), which advises the government, said the "question about boosters is a contentious one".

He said studies into the effectiveness of booster schemes were still ongoing and "everyone is very keen that if we do have surplus vaccines, that they're not necessarily used in this country, but might be sent overseas".

And, earlier this month, the head of the Oxford Vaccine Group said doses needed to "go where they can have the greatest impact" - to protect unvaccinated people abroad.

Prof Sir Andrew Pollard, who led the team that created the Oxford-AstraZeneca vaccine, said decisions on whether to give boosters "should be scientifically driven".

Asked whether the JCVI had concerns about plans for the booster scheme, Mr Javid said: "It's only with their expert advice that government would want to continue with their plans.

"I don't want to prejudge what they're going to say but, based on their interim advice, I think we can be confident that we will start a booster scheme next month."