Every adult in Wales should be given £100 in vouchers to spend locally, according to a retailers' group.
Many retailers are on a "knife edge" due to Covid restrictions, said Sara Jones, head of the the Welsh Retail Consortium (WRC).

While pre-Christmas trade was welcome, Ms Jones said the voucher scheme used in Northern Ireland should be adopted in Wales.

The Welsh government said businesses had already received £2.5bn of grants.

Ms Jones welcomed the 50% cut in business rates announced in the Welsh government budget, but wants the government to go further.

"Many retailers will certainly be on a knife edge," she said.

"Things have been picking up lately but obviously with the new variant that's created a lot of uncertainty out there."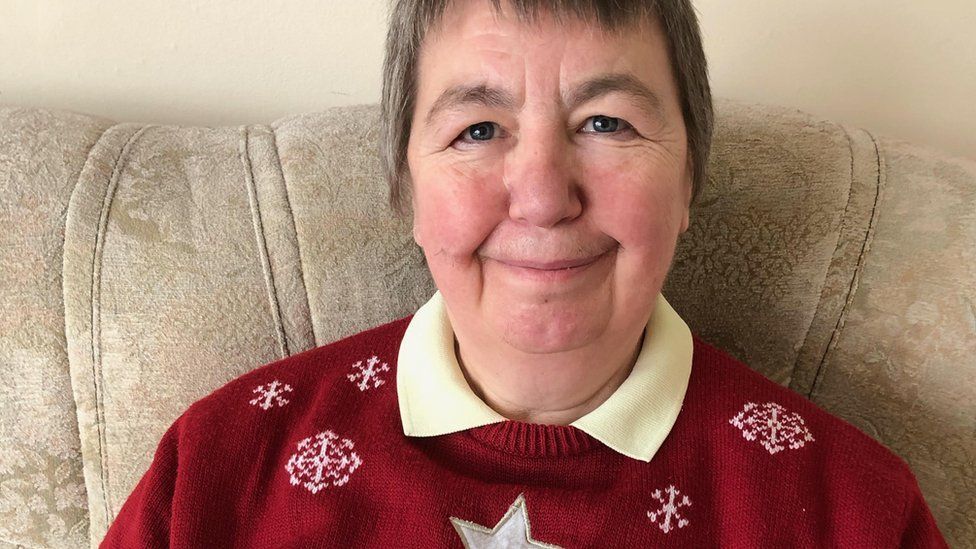 Shop worker Jules Y Fenyw says it will be lovely to have time off rather than working on Boxing Day

Footfall in shops on Boxing Day, 26 December - traditionally one of the busiest of the year - is expected to fall this year as some major supermarkets remain closed for the day.

This follows campaigns by trade unions asking employers not to ask staff to work on Christmas Day or Boxing Day.

Supermarket worker Jules Y Fenyw, from Newport, will not be working on Boxing Day as her shop will be closed. She said it was "lovely" to be able to have time off.

"Normally you don't have much downtime before you're back in and you really don't feel as though you've had a rest, so two days off together means so many more people have been able to relax and enjoy Christmas," she said, adding customers had also been positive about the change.

"It's lovely the amount of support that we've got, they're saying that it's a good thing," she added.

'Lean period'

As further coronavirus restrictions remain a possibility, Ms Jones suggested more direct support such as grants may be needed to get through what could be a "really lean period" at the start of 2022.

UK-wide figures from retail analysis firm Springboard suggested shoppers chose to avoid high streets and city centres on the last weekend before Christmas.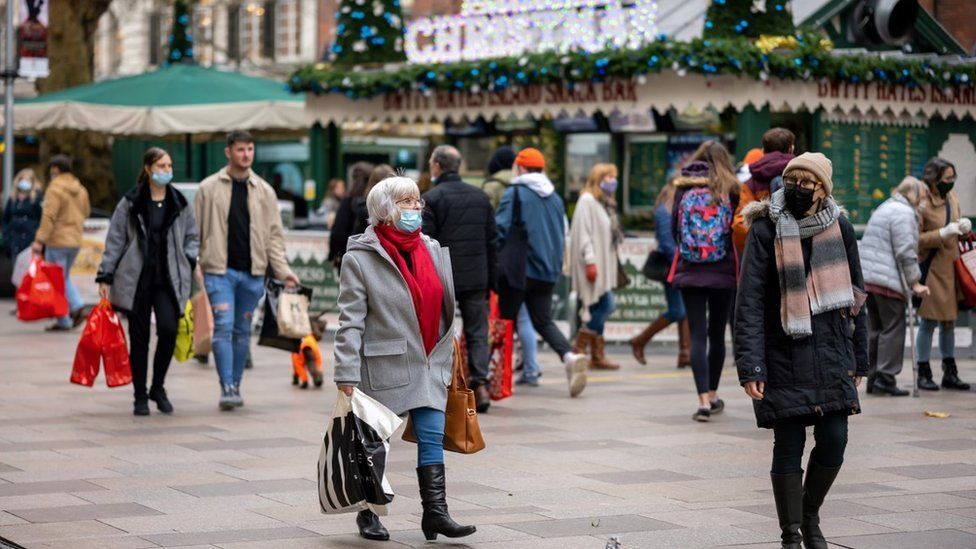 Shoppers should be given £100 vouchers to revive the local economy, the Welsh Retail Consortium says

Tightened Covid rules in Wales, along with guidance for people to work from home, had a "huge impact", said Ms Jones.

The Welsh Government said: "We understand the continued challenges faced by our high streets as a result of the pandemic.

"Since the start of the pandemic, we've provided more than £2.5bn of support to businesses in Wales to help them manage their way through the difficult circumstances.

"As part of this, businesses in the retail, leisure and hospitality sectors won't pay any business rates until April 2022.

"In the recent budget, the finance minister confirmed we're providing an additional £116m package of non-domestic rates relief for businesses in sectors hardest hit, which means retail, leisure and hospitality businesses will receive 50% non-domestic rates relief for 2022-23.

"We're also making a further £120m available for nightclubs, retail, hospitality, leisure and tourism businesses, and their supply chains, affected by the move to Alert Level Two - doubling the £60m package announced last week."