Self-catering businesses are calling for government action after being hit with council tax bills for thousands of pounds.
Holiday let owners said the bills, dating back to the pandemic, were "unfair" as they could not rent out their properties.

They would normally qualify for non-domestic rates, but failed to meet the threshold because of Covid lockdowns.

The Welsh government said anyone affected could contact their council.

A self-catering property has to be available for 140 days a year, with 70 days of bookings, to qualify for business rates.

Some businesses failed to let out their properties for the required nights during 2020-21, largely because of lockdown restrictions, and are liable to pay hefty council tax bills as a result.

The Valuation Office Agency (VOA) specify whether properties pay domestic or non-domestic rates, according to rules drawn up by the Welsh government.

It said "any change of the criteria would be a matter for the Welsh government as policy owners".

About 10,500 self-catering properties qualify for non-domestic rates in Wales, but the VOA will not disclose how many will now have to pay retrospective council tax.
Janet Tarrant was "shocked" when she was hit with a bill of more than £2,000
Janet Tarrant, who owns a holiday let in Penrhos, received a council tax demand from Gwynedd Council for £2,300, which also includes a second homes premium.
The property she owns can only be used as a holiday let.
"I couldn't believe they have taken no account of the exceptional year in 2020," she said.
"It's obvious to everyone I could have not have made that number of bookings because of cancellations and
Covid
restrictions. It's just not fair."
Mrs Tarrant said she had 58 cancellations in the period, but the council said the "cost of granting tax relief of this kind would fall on the taxpayers of Gwynedd in a period that is already extremely challenging for residents".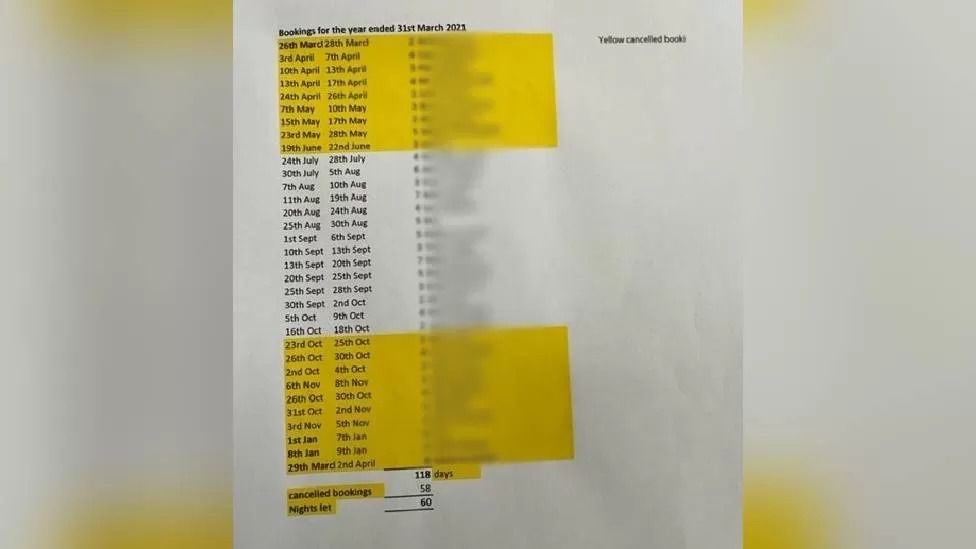 Janet Tarrant's booking list shows the extent of cancellations

Gerard Murphy, from Llandeilo, Carmarthenshire, converted his garage to a holiday let five years ago.

He has now been hit with a bill for £1,618, down from an initial £5,000.

"My wife was working in the local hospital and during the pandemic she was working one-to-one with patients on ventilators, with Covid. We cancelled a considerable number of bookings."

He is particularly angry about getting a bill two years after the pandemic.

"How can anybody factor that in to their profit and loss account? To pick a figure out of the air, and say you've got to pay it, I think is unfair."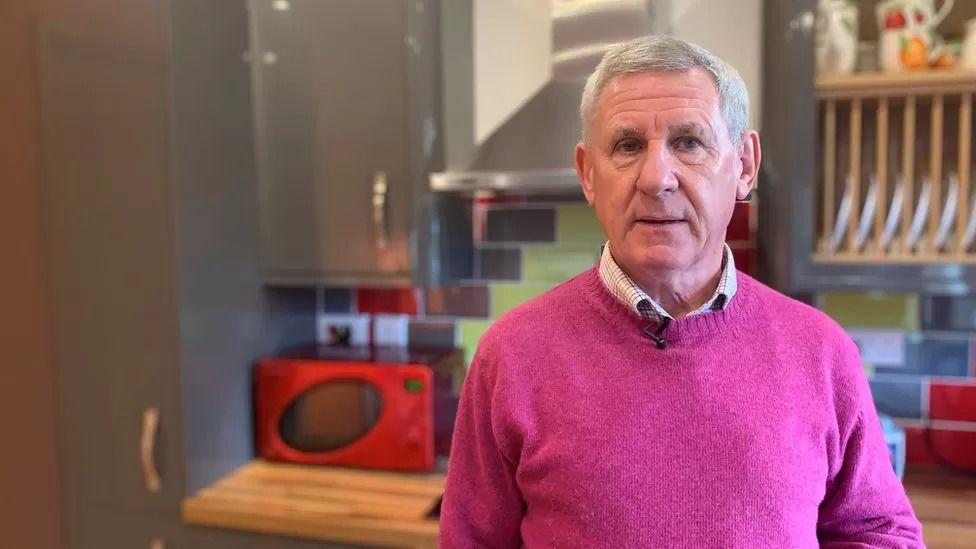 Gerard Murphy was forced to cancel bookings while his wife worked on the frontline during the pandemic

Sam Rowlands, Conservative Member of the Senedd for North Wales, said "huge numbers" of businesses have contacted him.

He said: "It simply isn't fair and isn't right."

The Professional Association of Self Caterers (PASC) said Wales spent eight months of the 2020-21 year under national lockdown, in addition to local lockdowns, shielding, travel bans, advice to avoid public transport and limits on households mixing, which all deterred the public from going on holiday.

Alistair Handyside from PASC UK has called for council tax charges to be dropped, saying some businesses "hardly had 70 days they were allowed to open".

He added: "The decision to effectively fine self-catering business is unbelievable."

In a letter to the Welsh government, the Wales Tourism Alliance (WTA), Hospitality UK and PASC stated that properties were only available to let for a maximum period of between 83 and 90 days between April 2020 and April 2021.

A survey of PASC members revealed the average self-catering property was let for as few as 61 nights, with the Wales-wide average being 73.

The WTA has appealed to the Welsh government to intervene, but Minister for Finance and Local Government, Rebecca Evans, has told businesses to go to their local authority.

She said councils could use "discretionary powers to reduce a council tax liability by any amount".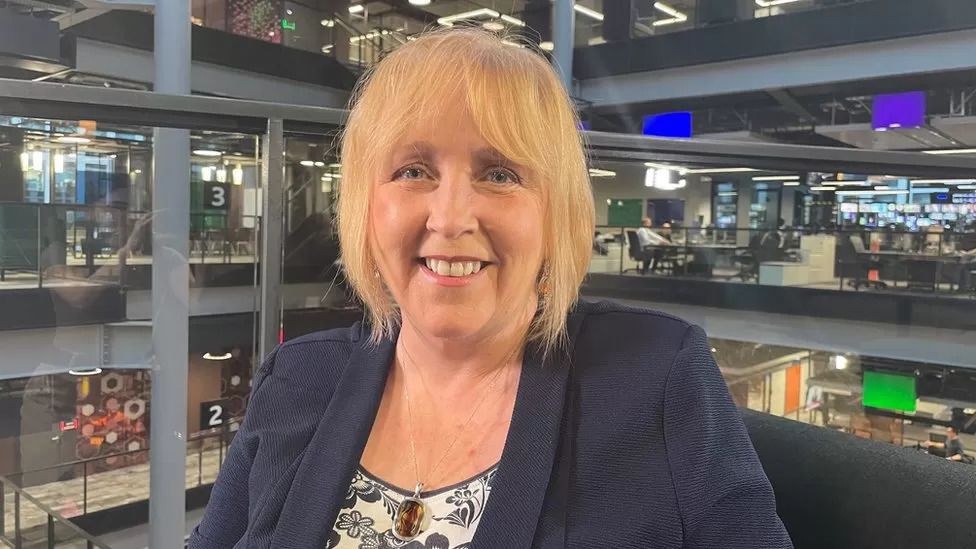 Suzy Davies, of the Welsh Tourism Alliance, says businesses are 'questioning their own viability'

Chairwoman of the WTA, Suzy Davies, said the extra cost would cripple many small businesses.

She said: "We have businesses questioning their own viability. What we'd like is Welsh government to give us a modest amount of money to give to local authorities, to then zero people's council tax bills, bearing in mind this is for one year."

The letting period for business rates will increase from 70 to 182 days from 1 April 2023 as part of the co-operation agreement between the Labour government and Plaid Cymru to tackle the problem of second homes.