A volunteer at Newcastle's Covid-19 vaccination hub says "staggeringly low" numbers of people are using the site.
Oskar Avery, who is also a councillor for Blakelaw, told a health committee the vaccine facilities at the Centre for Life were becoming a "dead zone".

It comes as figures show just over half of Newcastle's eligible population has received a booster dose so far, while only 75% have had their first jab.

Labour councillor Mr Avery called for the city to "get the momentum back".

The Centre for Life became the North East's first mass vaccination hub when the rollout started.

In January 2021 it saw people, including elderly people, queuing outside for an hour to get their jabs - with some people turning up more than an hour early for appointments.

'Dwindled away'

Professor Neil Watson, who leads the Covid-19 vaccination programme for the North East and North Cumbria, praised staff for their work over the past 13 months - working long hours with minimal time off work.

"Our service at the Centre for Life, like all our large vaccination centres across the region, are running on minimal staff because we know vaccination uptake is currently low," he said.

"Instead the majority of our workforce have been running mobile services and pop-up clinics in local communities and supporting school aged vaccination services, making it as easy as possible for people to get their vaccine."

The Local Democracy Reporting Service found the vaccination figures for Newcastle lagged behind the latest government figures to 16 February, which show more than 91% of people in the UK have had a first dose, 84.9% their second, and 65.9% have had a booster.

Mr Avery said: "I volunteer at the vaccination centre and we are now getting more over-21s who are in with their children than people coming for boosters or vaccinations.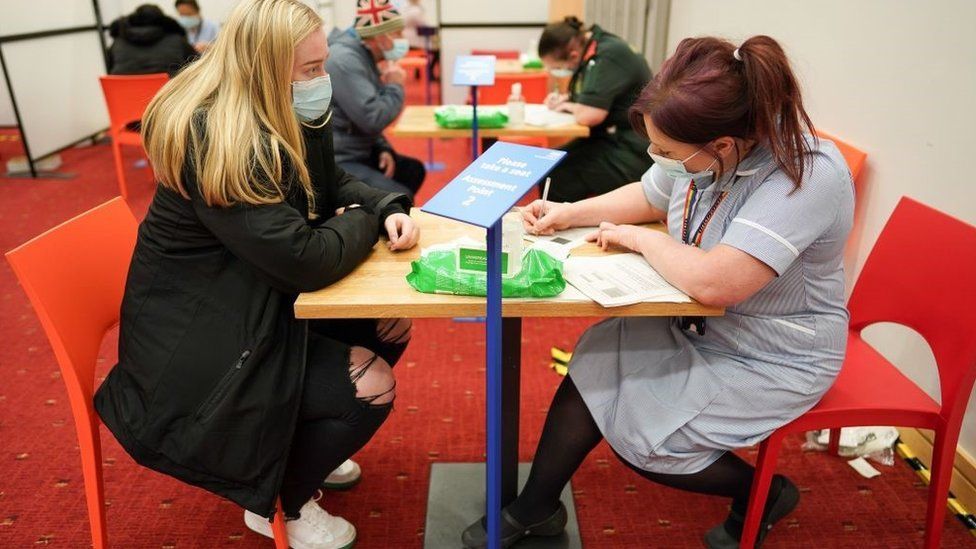 A key worker waiting for her vaccination at the site in January 2021, ahead of a mass roll-out

"If it wasn't for the under-18s coming from the college and international students it would be a dead zone for most of the day, it really does seem to have dwindled away.

"We desperately need to get the momentum back. You say just over 50% of people [in Newcastle] have had their booster but there is almost no one coming in, they are staggeringly low numbers.

"Lots and lots of staff are sitting around with nothing to do, there are extended periods of people playing quizzes and reading books because there is literally no one there to be vaccinated."

Responding to Mr Avery's concerns, Lorna Smith, Newcastle's deputy public health boss, said a "fit for purpose" vaccine plan was being developed which was not based on "urgency or panic" but on communities.

She added: "What we don't want is staff who are very tired and overworked then being asked to resource a shift that actually isn't needed."
Inside Newcastle's Covid mass vaccination centre