Lee Martin's hands are purple from the cold. Sometimes they go black.
The 37-year-old from Enniskillen, County Fermanagh, has a rare genetic disorder and relies on machines to help him breathe.

Soaring energy prices have forced him to cut back on heat to run the medical devices which keep him alive.

But his mother Caroline Wheeler said they can only ration how much they spend on electricity to a certain extent before it risks his life.

Her son was already on the bread line but the cost of living crisis has plunged him into poverty, she said.

"It's an everyday uphill battle to try and keep Lee alive and that's what people don't see.

"It's like sitting on death row, that's what it feels like sometimes. Your hands are tied behind your back."

Mr Martin has Diploid/Triploid mosaic.

The cold affects his kidneys, putting him at risk of seizures.

In the past three months, his power bill has doubled.

The price of fuel, food and energy in the UK has rocketed, with inflation rising at its fastest rate in 30 years.

In the past 12 months, all Northern Ireland's electricity and gas providers have put up their prices multiple times, increasing power bills by hundreds of pounds a year.

'It's going to cost Lee his life'

Research by the charity Scope earlier this year found disabled people in England and Wales were twice as likely to live in poverty, more than twice as likely to live in a cold house they could not afford to heat, and three times more likely to be unable to afford food.

Disability Action NI said the same was true for people here, who were more likely to live in poverty and have a higher cost of living than people without disabilities.

The organisation wants tailored support for people with disabilities who rely on medical devices like nebulisers and ventilators.

The Department for Communities (DfC), which oversees fuel payment schemes in Northern Ireland, said this was impossible in the absence of an executive.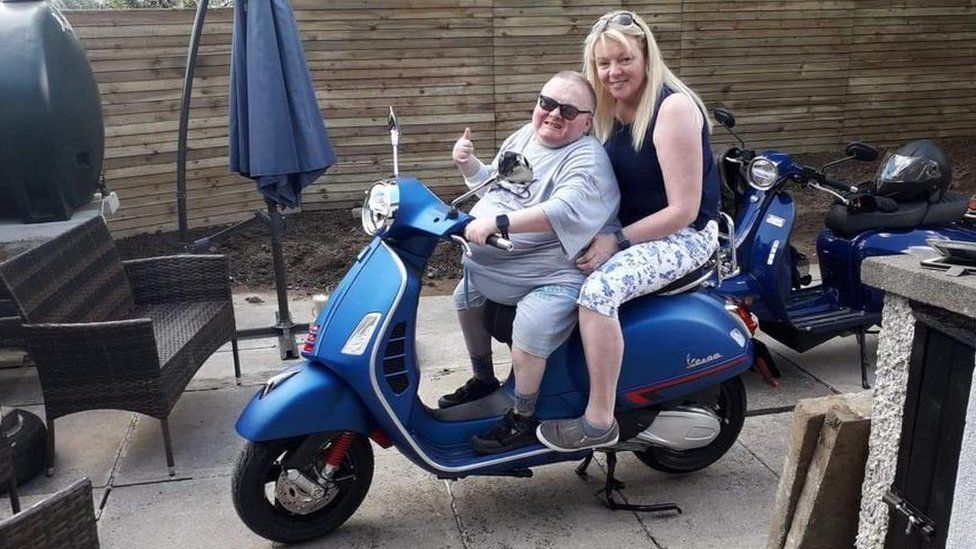 Caroline Wheeler says her son can no longer afford to do the things that give him quality of life

Mr Martin has scaled back on food and there has been no budget for leisure in a long time.

Ms Wheeler said: "Lee was never given to live to this age, so every day is a bonus for Lee.

"But not [with] the struggles.

"The colour of Lee's hands at the minute, that's cold, that's what's happening, he's cold sitting here because of his kidneys.

"Soaring energy prices - it's actually going to cost Lee his life."

'We are unplugging our lifelines'

Michaela Hollywood, 31, relies on more than a dozen pieces of equipment, all powered by electricity.

She needs them to help her breathe, to suck a blockage from her throat should she choke, and to move.

Even her specialised mattress requires round-the-clock power.

Michaela has begun unplugging her ventilator during the day because of soaring power prices

A ventilator keeps her alive through the night - but since electricity prices have risen, she has begun to take it off charge during the day.

She said: "These are our lifelines. We are unplugging our lifelines."

Ms Hollywood, a disability rights activist from Crossgar, County Down, has spinal muscular atrophy Type 2 and bronchiectasis, which puts her lung function below 50%.

"For me this whole conversation is about whether I heat the house, or whether I breathe, and it's so hard to describe what that feels like in real terms because it's an immediate threat to your life."

'Impossible choices'

Disability Action NI's Nuala Toman said people like Ms Hollywood faced "impossible choices".

"Some disabled people are in the horrific position of making financial decisions regarding the costs of life saving equipment and food," Ms Toman said.

"Decision makers need to take urgent action to ensure to protect disabled people, to ensure disabled have an adequate standard of living, and to protect life."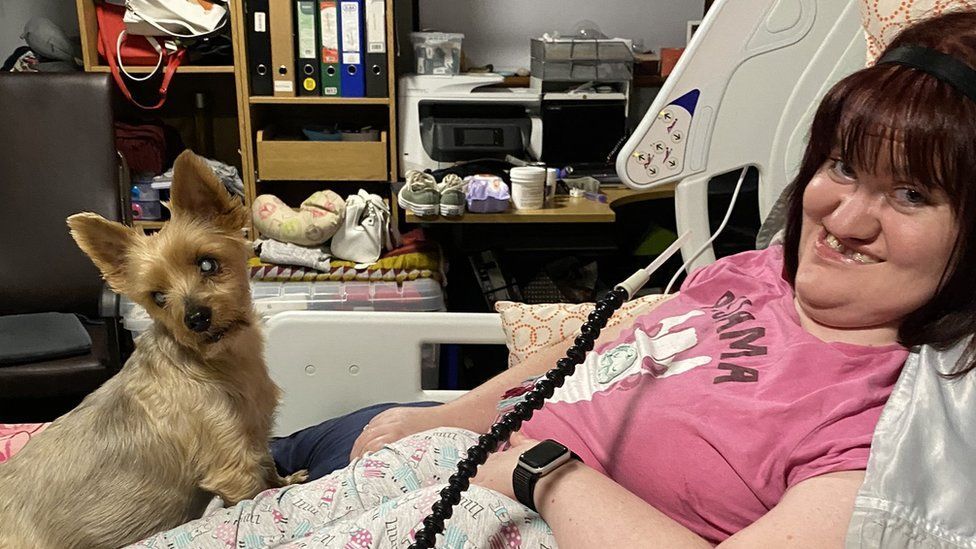 Michaela relies on more than a dozen pieces of equipment to stay alive - from her ventilator to her mattress

But such a move would require cross-party agreement, which has not been possible since the collapse of Stormont in February, a DfC spokesman said.

A £55m Energy Payment Scheme was one of the last bills to be passed by the executive before it went into recess ahead of the 5 May election.

The one-off £200 payment went to about 280,000 people on certain benefits.

Any change to it - or a new scheme - would need executive approval.

The spokesman said: "The global fuel crisis is beyond the remit of the Department for Communities and requires a wider government response.

"Any amendment to its (Energy Payment Scheme) scope of criteria, and increased budget, would require executive approval, something which can't be explored as there is no functioning executive.

"This principle would also apply to any new scheme to help vulnerable people impacted by increasing energy costs."

'They don't see what goes into keeping me alive'

Ms Hollywood said sky-high bills undermined people's health and independence.

"If someone were to see me in the street they would see the wheelchair, they would see my very visible disability but what they don't see is what goes into keeping me alive," she said.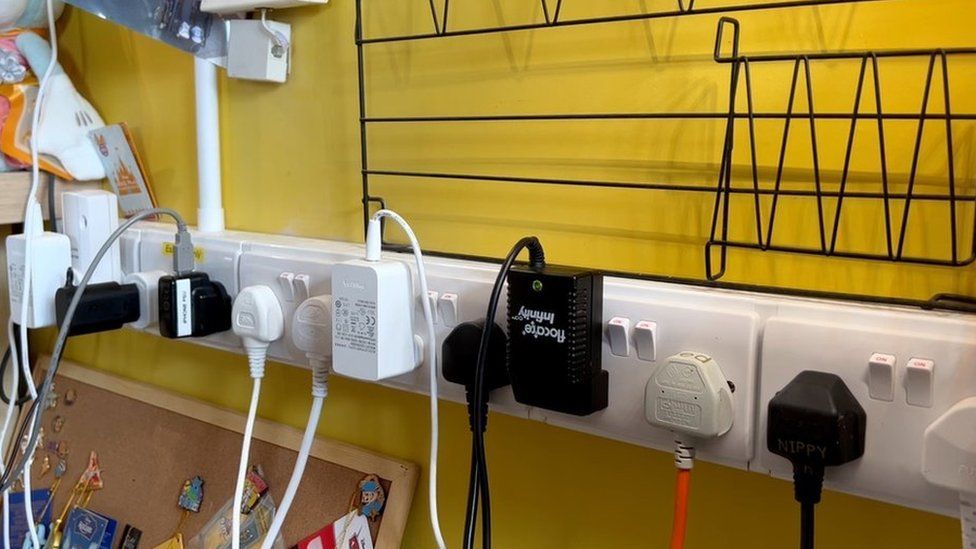 Michaela Hollywood says many hidden elements of disability are managed at home

"They don't see the ventilator, they don't see the cough assist, they don't see the nebulisers, they don't see my dad literally trying to jump on my chest to try and clear secretions from it, and they don't see the panic whenever I beep my horn because I'm choking on something.

"Those are very hidden elements of disability, but they are also elements which are managed really well for me, and for many of us, at home.

"But they're not going to be managed very well if we can't afford to pay the electricity bill."