The latest official Coronation photograph released by Buckingham Palace sends a strong message about the monarchy's next generations.
King Charles III is shown with his son Prince William and grandson Prince George, bringing together the King with those next in the line of succession.

The picture, taken in the palace Throne Room, is part of a set of official photographs taken by Hugo Burnand.

The King is seen wearing the Imperial State Crown and coronation robes.

In these formal portraits, he is pictured carrying the regalia from the Coronation - an orb and sceptre - while sitting in a throne made for the Coronation of Edward VII.

It is an image full of lavish symbolism and regal colours of gold, red and purple.

A second newly released photograph shows King Charles and Queen Camilla with their pages of honour and ladies in attendance.

It shows some of the members of the Queen's family who had roles in last Saturday's Coronation, including her sister Annabel Elliot, her grandsons Freddy Parker Bowles and Gus and Louis Lopes, as well as her great-nephew Arthur Elliot.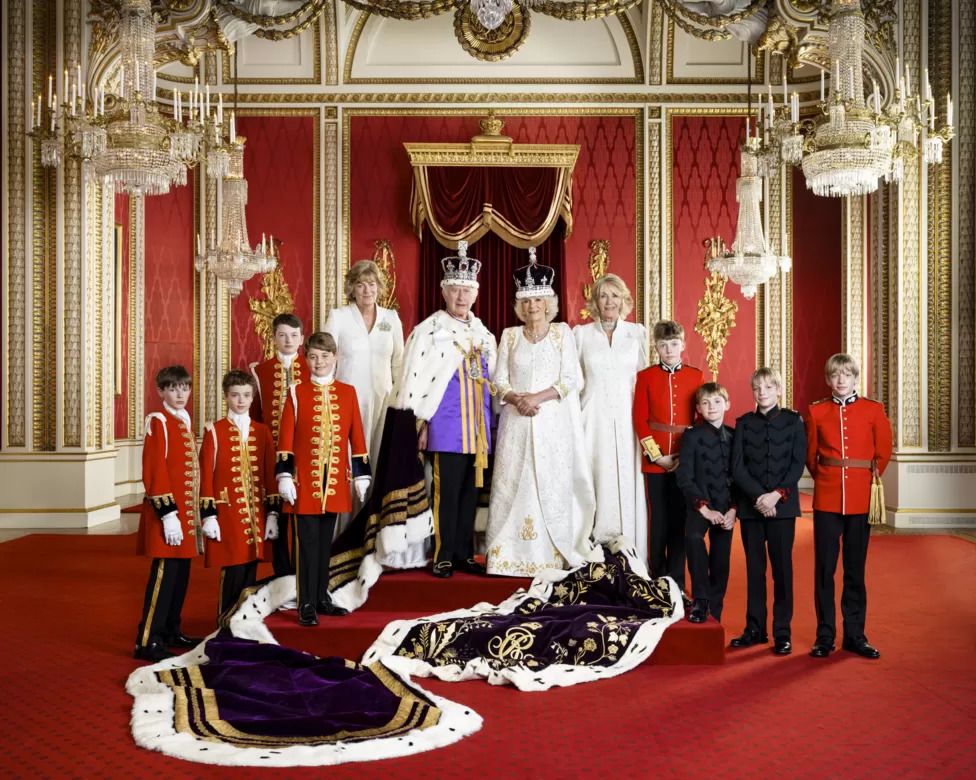 The photo of the Royal Family includes the Queen's sister and grandsons

The first set of official Coronation photos showed the King and Queen, but also focused on the "working royals", highlighting those who will be at the centre of royal duties during the King's reign.

There are expected to be more official photographs released as part of a Cabinet Office initiative to provide public buildings with a photographic portrait of the King.

Anti-monarchy campaigners have complained about the budget of £8m for the project, calling it a "shameful waste", with no details released so far of how the funds might be spent.