Three convicted terrorists, including Hashem Abedi who is serving life for 22 murders in the Manchester Arena bombing, have been found guilty of a "vicious attack" on a prison officer.
Paul Edwards, 57, was attacked in his office in the high security unit of Belmarsh Prison in May 2020.

Abedi, with Ahmed Hassan and Muhammed Saeed, all denied assault causing actual bodily harm.

All three have been found guilty after a trial at Woolwich Crown Court.

Abedi was convicted of assaulting a second prison officer who rushed to help his colleague.

He received a sentence of three years and 10 months imprisonment, which will be added to the record 55 year minimum term he is already serving.

Hassan and Saeed were sentenced to three years' imprisonment, to be served consecutively to their existing jail terms

The court heard that Abedi, 24, started the assault on Mr Edwards, along with Muhammed Saeed, 23, who had talked about carrying out a knife attack at London's Speaker's Corner.

They were quickly joined by Ahmed Hassan, 22, serving life for the Tube bombing at Parsons Green underground station.

'Karate kick'

All three were being held in Spur 4 of Belmarsh's high security unit which at the time had only 10 inmates.

Just after 15:00 on 11 May 2020, as the men were being escorted back from the exercise yard, CCTV cameras recorded them smiling and joking as they reached the top of the stairs, then running off to carry out the attack.

Paul Edwards described sitting at his desk in his office when Abedi and Saeed burst in.

Saeed launched a "karate kick" at his head as Abedi swung an office chair at him, he said.

He fell to the floor where Abedi and Saeed started kicking and punching him, and were joined by Hassan.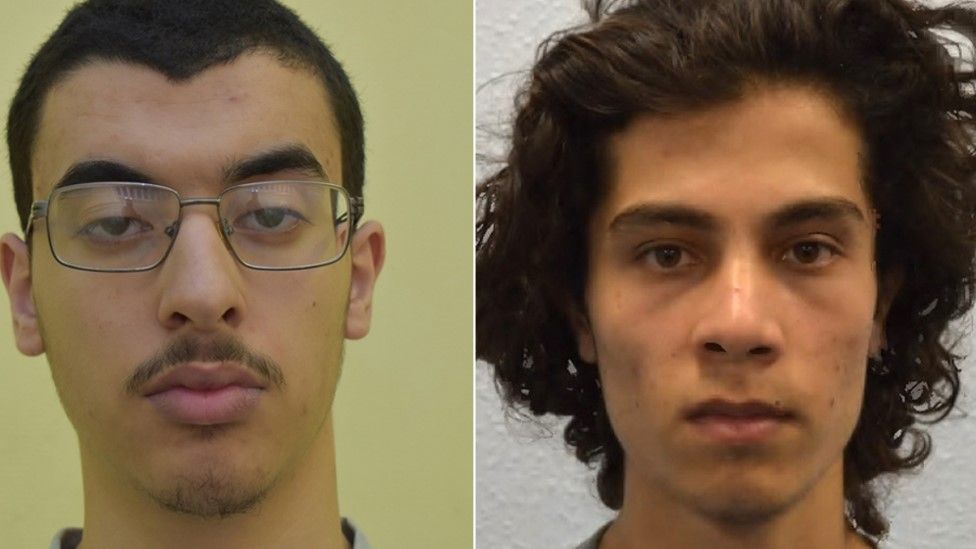 Bombers Hashem Abedi (left) and Ahmed Hassan took part in the attack on officer Paul Edwards

"I feared for my life... and I genuinely thought that if I hadn't fought back I could end up with at least extreme injuries, or dead," he said.

He said it felt like a lifetime before other prison officers came to help him, even though it was only a few seconds.

CCTV seen by the jury, but not released to the media, showed Mr Edwards with blood on his head and shirt after the assault.

As well as lacerations to his scalp, he had a bruised back and rib cage, and has suffered lasting damage to his hearing. His wife, who also works at HMP Belmarsh, took him to hospital.

Fellow prison officer Nick Barnett, who suffered a bruised shin during the fight, said there was "utter chaos" in the office where the assault took place.

"It was just like a pack of animals on Mr Edwards," he said.

"It was just a vicious attack where they were literally all over him."

Apart from the office chair, no weapons were involved in the attack, and the prisoners had been through a metal detector as they came back from exercise.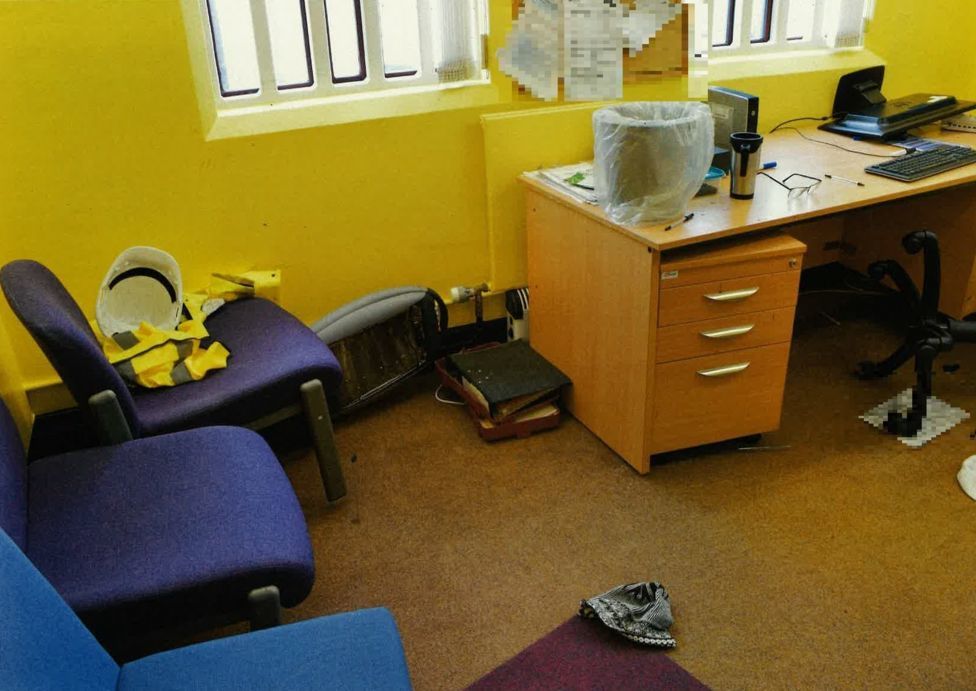 Aftermath of where the attack took place

In a meeting that morning Hashem Abedi had complained to the governor in charge of the unit that Muslim prisoners received different treatment to non-Muslim ones.

The trial heard that Abedi had orchestrated a series of identical complaints from prisoners on his wing, but he denied being their "leader".

He and Hassan had been moved from the standard privileges regime to basic because they had shaved their heads, changing their appearance without permission.

This meant loss of access to televisions and games consoles and a shorter exercise period.

Paul Edwards was the officer who made this decision.

The three prisoners who assaulted him were earlier involved in a fight on 1 March 2020. At the time, Abedi was on trial for murdering the 22 victims of the Manchester Arena attack.

At his first court appearance in the assault case last year, when asked whether he pleaded guilty or not guilty, Abedi said: "I did assault that filthy pig, but I don't see any wrongdoing."

During the assault trial, Abedi represented himself, meaning he was allowed to question witnesses in court and give a defence closing speech. He did not give evidence, nor did his co-defendants.

Abedi was not allowed to question the two prison officers he had assaulted and was forbidden from using his speech to talk about other issues.

Boasts to lawyers

Despite denying any role in the Manchester Arena attack, Hashem Abedi has since admitted his involvement in a series of boasts to lawyers that are said to amount to pro-Islamic State propaganda.

The BBC has asked the Ministry of Justice why two convicted bombers and a man who aspired to carry out a terror attack were held on the same spur of the same high security unit, and were able to plan their assault on a prison officer.

The three are:

* Hashem Abedi, whose brother Salman Abedi carried out the Manchester Arena suicide attack, is serving life with a record minimum term of 55 years after being found jointly responsible for murdering the 22 victims

* Ahmed Hassan, serving life for attempting to murder travellers in the bombing of a London Underground train near Parsons Green station in September 2017

* Muhammed Saeed, who admitted five terror offences in June 2020, namely possessing instructions for making bombs and carrying out attacks

Court documents show that, in chat groups infiltrated by an undercover officer, Saeed praised "Jihadi John" and wrote: "There's people in Speaker's Corner who mock the Messenger of Allah Wallahi. We have a duty to kill them."

He said he would use a kitchen knife with a fixed blade and had, in another online conversation, discussed using a van for an attack.

The May 2020 Belmarsh assault came months after an inmate of the same unit had carried out a terror attack in Streatham, south London, days after his release, and two prisoners had carried out a terror attack on a prison officer in HMP Whitemoor in Cambridgeshire.

The Ministry of Justice said it took assaults on its staff very seriously and was giving prison officers "body-worn cameras, police-style restraints" and synthetic pepper spray (PAVA) "to allow them to do their jobs more safely".

"We will never tolerate such appalling attacks against hard-working staff and will always push for the strongest possible punishment," said prisons minister Victoria Atkins.

Peter Clarke, former chief inspector of prisons and the former senior counter terror officer, and a senior fellow at the think tank Policy Exchange, said the prison system had not adapted well to handling prisoners who were inspired by al-Qaeda and the Islamic State Group.

"What needs to happen is that the people managing these prisoners need to be expert in the particular risks which these prisoners present," he told BBC News.

"It's no good just treating them as other prisoners are treated. There needs to be a unique and tailored approach."
CCTV footage shows the moments before an attack was carried out on a prison officer.