Nicola Sturgeon has defended plans to cut the bottom off some school classroom doors to improve ventilation as "basic common sense".
Councils have been given £5m of funding to improve air flow in around 2,000 classrooms to slow the spread of Covid.

As well as installing filters and fans, £300,000 was earmarked to "undercut" doors to improve airflow.

Opposition parties said it was a "lazy solution" which could raise safety concerns, including from risk of fire.

The first minister said councils would have the option to act if doors were "inhibiting the natural flow of air", and said health and safety would be considered in all decisions.

Ventilation has become a key measure in efforts to reduce the spread of Covid-19, particularly in enclosed spaces like classrooms.

There have been concerns that schools are still relying on open windows rather than air filtration units, despite cold weather.

MSPs were told by Education Secretary Shirley-Anne Somerville that an estimated 2,000 classrooms were "problematic" in terms of ventilation, and that £4.3m could be spent to improve air flow.

Funds have been provided to councils to deal with schools where there are "problematic spaces" with "persistently high CO2 levels".

This includes £2.4m for mechanical fans, £1.6m for air filters and £300,000 for doors to be "undercut".

Ms Somerville said the action taken in each school would vary, being "informed by local circumstances and expert assessment by local authority teams".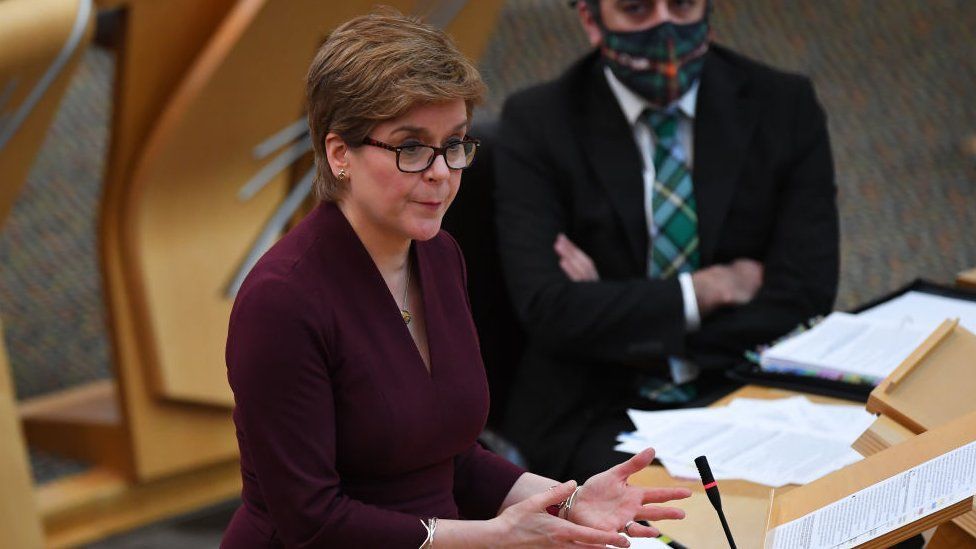 Nicola Sturgeon said questions about the plans were "absurd"

Opposition politicians mocked the plans, with Labour calling them "insulting to staff and pupils" and "a lazy solution from a government refusing to invest in what really works".

The Liberal Democrats said Ms Somerville was "sending a handyman round to chop up classroom doors".

And Scottish Conservative leader Douglas Ross raised the issue with the first minister at Holyrood, saying there were safety concerns with the "bonkers" plan.

Mr Ross said he had been contacted by a retired firefighter who said doors in schools were "essential for holding back heat and smoke", questioning whether the fire service had been consulted.

Ms Sturgeon said this was "an absurd line of questioning", accusing opposition parties of taking an "infantile approach".

She said: "When you're trying to improve ventilation in a room, that can partly be about air filtration, partly that is about mechanical ventilation systems, and partly it's about taking measures to ensure that the natural flow of air in a room is maximised.

"If you have doors or windows that are not enabling that natural flow of air in the way you would want it to, it strikes me as basic common sense that you would take measures to rectify that."

She added: "We are not requiring local authorities to chop the bottom off every door in classrooms across the country."