An MP who made threatening phone calls to a woman because she was jealous of her relationship with her partner has been found guilty of harassing her.
Claudia Webbe, 56, a former Labour MP for Leicester East, who is now independent, was found guilty of one charge of harassment.

Westminster Magistrates' Court heard she made several calls over two years and threatened the woman with acid.

After the verdict, Webbe said she was "deeply shocked" and would appeal.

The prosecution said Webbe, of Islington, north London, made 16 calls to 59-year-old Michelle Merritt, a friend of her partner Lester Thomas, between September 2018 and April last year.

The court heard on one occasion she made an "angry" call, used a derogatory term and added: "You should be acid."

In another she threatened to send naked photos and videos of Ms Merritt to her family and made silent calls from a withheld number, the hearing was told.

'I'm the victim'

During cross-examination on Wednesday, Webbe, who was suspended by the Labour party, said she had never met Ms Merritt and "there was no reason for any falling out".

She claimed a recorded phone call on 25 April in which Webbe was heard saying "get out of my relationship" 11 times was taken out of context.

Webbe said it had been during a heated argument with Mr Thomas over breaching the Covid-19 lockdown with Ms Merritt.

"I simply called her and asked her not to break lockdown with Lester," she said.

"She was breaking the rules and I was just pointing it out. I'm the victim."

Webbe claimed she was a victim of "domestic abuse and coercive control" and was being "goaded and gaslighted" during the row, which resulted in police being called after a neighbour reported her screams.

She confirmed she was still in a relationship with Mr Thomas and they were engaged.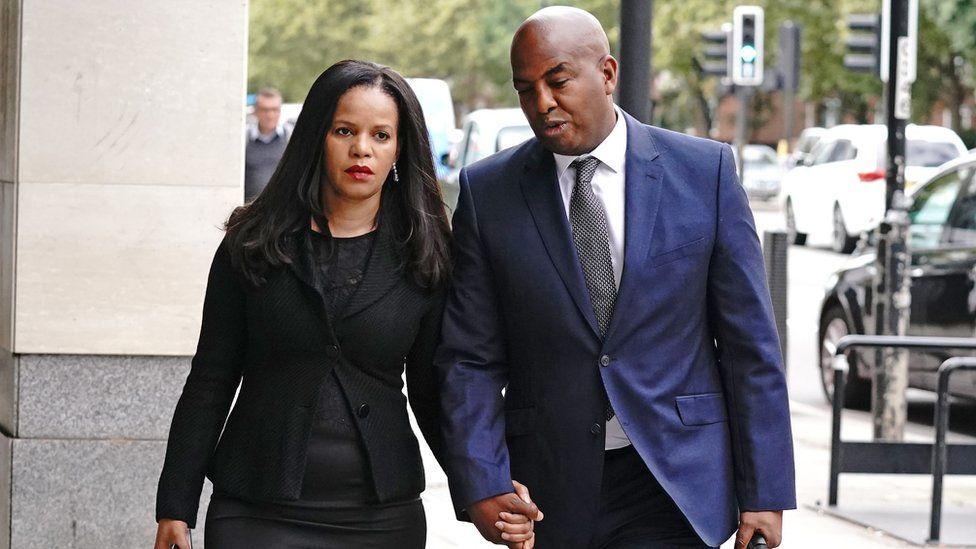 Webbe previously said: "I have spent my lifetime campaigning for the rights of women, for challenging this type of behaviour and this is not something that is in my character and not something I would ever do."

Paul Hynes QC representing Webbe read out character references from former Labour leader Jeremy Corbyn and former shadow home secretary Diane Abbott.

Ms Abbott said the defendant was "very committed to working to support women", describing her "warm, empathetic manner" and added: "I regard her as a very honest woman."

While Mr Corbyn said she was "very committed to ensuring the administration of justice is done" and prepared to "state uncomfortable truths when it matters".

However, District Judge Paul Goldspring said he had found Webbe "untruthful" in her evidence.

"Some of the things she said I believe were made up on the spur of the moment," he said.

"Some things she said in the witness box just don't bear scrutiny.

"In short, I find Ms Webbe to be vague, incoherent and at times illogical."

He released Webbe on unconditional bail but warned her that she could face prison when she is sentenced on 4 November.

"Threatening to throw acid at somebody and to send intimate photographs to family members crosses the custody threshold," he added.

'Nuisance behaviour'

After the verdict, Webbe said: "I am innocent and will appeal this verdict. As I said in court and repeat now, I have never threatened violence nor have I ever harassed anyone."

Her lawyer, Raj Chada, added: "The recording of the call Ms Webbe made has been taken out of context. We are sure that Ms Webbe will be vindicated at an appeal."

Lisa Rose from the Crown Prosecution Service (CPS) said Webbe's "persistent nuisance behaviour caused considerable distress and alarm to her victim who became genuinely concerned for her safety".

"No-one should have to endure this sort of harassment," she added.

The Labour Party called on Webbe to step down after the verdict.

A spokesperson added: "The Labour Party strongly condemns Claudia Webbe's actions and she should now resign."