Prime Minister Boris Johnson has called on France to agree to "take back" people who cross the Channel to the UK.
The PM said he had written to French President Emmanuel Macron setting out five steps to "move further and faster" to avoid a repeat of Wednesday's tragedy where 27 people died.

A returns agreement for those who cross the Channel would have an "immediate and significant impact", he added.

Earlier a government source said the UK and France had held "positive" talks.

Wednesday's incident marked the biggest loss of life by drowning in the English Channel on record and included 17 men, seven women - one of whom was pregnant - and three children.

Mr Johnson tweeted that the five steps he had set out were:

* joint patrols to prevent more boats from leaving French beaches

* deploying more advanced technology, like sensors and radar

* reciprocal maritime patrols in each other's territorial waters and airborne surveillance

* deepening the work of the countries' joint intelligence cell

* immediate work on a bilateral returns agreement with France, alongside talks to establish a UK-EU returns agreement.

"An agreement with France to take back migrants who cross the Channel through this dangerous route would have an immediate and significant impact," Mr Johnson said.

British officials are travelling to France later on Thursday to meet their equivalents and talk about how they can better work together.

The Home Office said Home Secretary Priti Patel and her French opposite number, Gerald Darmanin, will meet on Sunday.

Earlier, Ms Patel told the Commons there was "no quick fix" to tackle the issue but said she had spoken to her French counterpart to offer to put more officers on the ground and had continued to push for joint patrols of the Channel.

She said it was important to address "long-term pull factors" and stop criminal gangs who treat people as "cargo".

But Calais MP Pierre-Henri Dumont dismissed the idea of joint patrols as "crazy" and said it would not change anything along the vast shoreline.

France's interior minister Gerald Darmanin said regional prosecutors had launched an investigation into aggravated manslaughter.

He said two survivors were in a critical condition in a French hospital, where they are being treated for severe hypothermia. One is Iraqi and the other Somali, he told RTL radio.

On Thursday more people made the journey despite Wednesday's deaths.

French President Emmanuel Macron has called an emergency meeting of European ministers to discuss how to stop the crossings.

He said France was going to ask for "extra help" from the British , adding that despite authorities telling migrants they were able to stay in France, they wanted to reach the UK.

The UK signed an agreement in July to pay France €62.7m (£54m) during 2021-22 to help secure the borders, but the number of people making the crossing has continued to rise.

Since the start of the year, 1,552 smugglers have been arrested in northern France and 44 smuggler networks dismantled, Mr Macron said.

Despite this, he said 47,000 attempted Channel crossings to the UK took place this year and 7,800 people were rescued.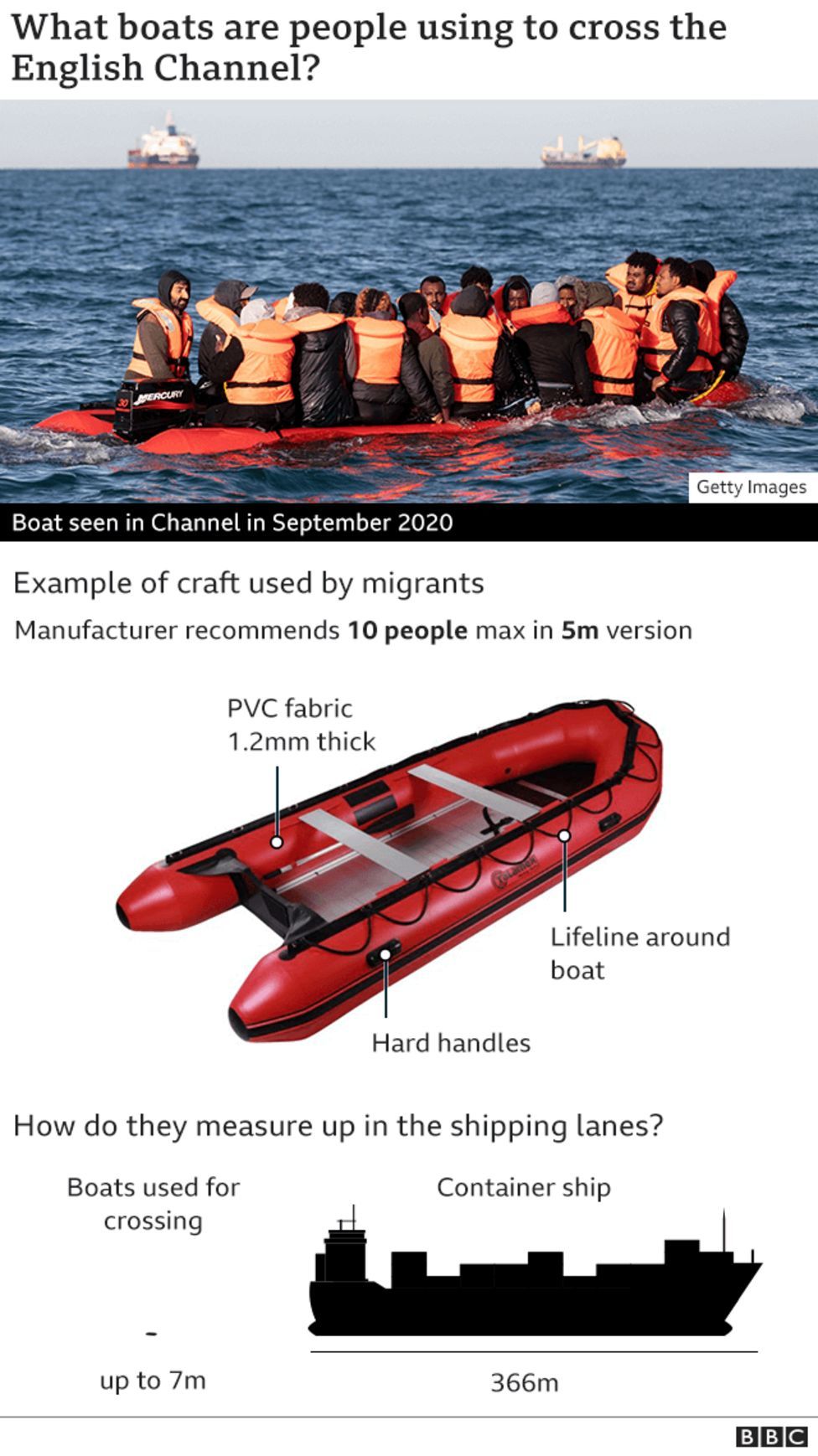 Charles Devos, volunteer for the French National Sea Rescue organisation SNSM, was one of the first to reach the scene of Wednesday's tragedy after getting a mayday call from the coastguard.

He told French radio station Delta FM he and his crew picked up six bodies that were drifting in the water.

"We passed next to an inflatable boat that was completely deflated. What little air remained was keeping it afloat. I don't know if there were children, but we picked up [the body of] a pregnant woman and a young man who was around 18 or 20," he said.

"It's hard to say, but I was expecting this, we know it would end in tragedy, and today sadly that's the case."

Despite the loss of life more people made the dangerous crossing on Thursday morning, with a group wearing life jackets seen huddled together onboard a lifeboat near Dover.

It comes as asylum claims made in the UK have risen to the highest level in nearly 20 years, with 37,562 applications in the year to September.

The Dover Strait is the busiest shipping lane in the world and has claimed many lives of people trying to cross in inflatable dinghies.

Record numbers of migrants are making the crossing from France to the UK and it is thought at least 10 other people had died in the past few weeks while attempting to cross.

This year more than 25,700 migrants have arrived in the UK by boat, more than three times the 8,469 that did so in 2020.

While the number coming across the Channel by boat has soared, that is only part of the picture regarding migrants - as this year has seen far fewer using other strategies to enter the country undetected.