Almost 1,000 migrants crossed the English Channel in 24 small boats on Saturday, the Ministry of Defence says.
It brings the total number of migrants making the journey from France so far this month to 6,395.

Government figures collated by the BBC show 39,430 people have crossed on small boats so far this year, compared with 28,461 who arrived in 2021.

Conditions at a migrant processing centre in Manston have been described as "wretched".

The Ministry of Defence said 990 people had made the crossing from France on Saturday.

David Neal, independent chief inspector of borders and immigration, visited the site at Manston Airport on Monday and warned it had already passed the point of being unsafe.

He told MPs he had written to the home secretary about the dangerous conditions at the centre, run by the Home Office.

It was designed for no more than 1,600 people but Mr Neal said there were 2,800 living there on the day he visited.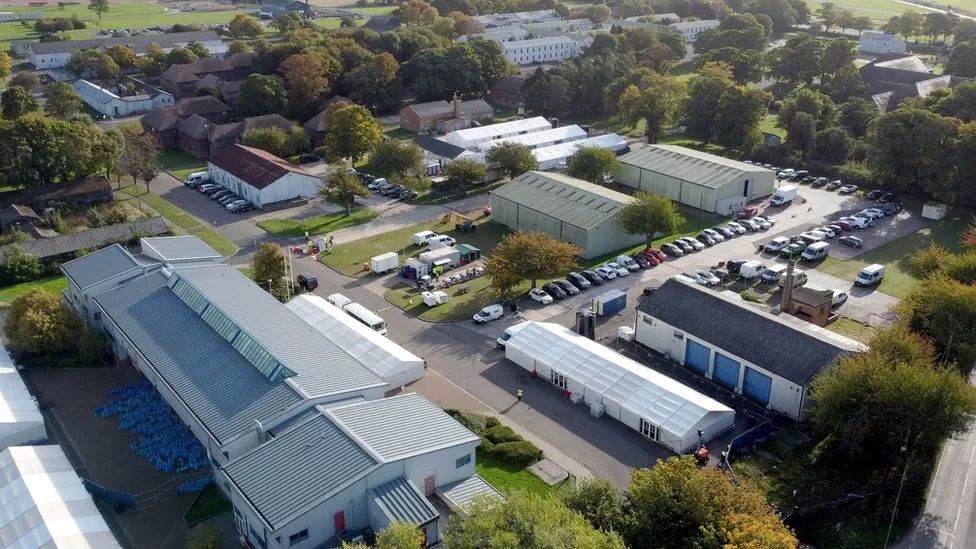 Manston immigration holding facility was designed to hold up to 1,600 people

Home Office officials told the Home Affairs Committee the nationality of those crossing the Channel was changing, with Albanians now the biggest group.

Home Secretary Suella Braverman has said she wants to use the Nationality and Borders Bill to prosecute many more migrants illegally arriving in Kent.

Ms Braverman also hopes to expand the stalled scheme to send asylum seekers to Rwanda.

Manston's 'diphtheria outbreaks'

Shadow home secretary Yvette Cooper told the BBC's Laura Kuenssberg programme: "What you've got to do is overhaul the whole system and take stronger action to prevent the dangerous boats crossing the Channel that are putting lives at risk.

She described condition at Manston as "appalling, with diphtheria outbreaks".

Ms Cooper said delays in processing arrivals had "created huge backlogs".

"We need a new agreement in place with France around the Channel crossings, and we need a significant increase in the activities of the National Crime Agency because we've got a proliferation of criminal activities in the Channel that has increased in the couple of years."