Almost 20% of unaccompanied child migrants from Albania taken in by Kent County Council this year have disappeared, the BBC has found.
The local authority took in 197 Albanian children up to 31 October, 39 of whom have gone missing.

Ecpat UK, which campaigns to protect children from exploitation, said the figures were very concerning.

The council said it had worked closely with the Home Office and police to safeguard vulnerable children.

The figures were obtained by the BBC via a Freedom of Information request.

The council said 197 Albanian children processed at the Home Office's Kent Intake Unit came into its care between 1 January and 31 October.

It added that, as of 7 November, 39 were recorded as missing. However, it said some of those children would have since turned 18.

A government spokesperson said it took the issue of missing children "extremely seriously".

It added that it works "closely with local authorities to ensure vulnerable children are supported".

Government figures collated by the BBC show 44,122 people have crossed on small boats so far this year, compared with 28,461 who arrived in 2021.

This contributed to overcrowding at the Manston processing centre in Kent, which at one point was holding more than double its capacity, at about 4,000 people.

The rising number of diphtheria cases among asylum seekers who have recently arrived in the UK has also been a concern.

Meanwhile, a government plan to send some asylum seekers to Rwanda is currently on hold as it faces a legal challenge.

More than 12,000 migrants from Albania have reached the UK by boat so far this year - an increase of almost 4,000% compared with 2021.

The issue has been highlighted by Immigration Minister Robert Jenrick, who said that on some small boats 80% of those on board were from Albania.

Laura Durán, head of policy, advocacy and research for Ecpat UK said this was a "really high" number of missing children.

She said: "We're really concerned they are at risk of exploitation or have effectively been trafficked.

"They could be facing labour exploitation in different industries such as construction or car washes; they could be criminally exploited in drug distribution or in cannabis farms, or they could be sexually exploited."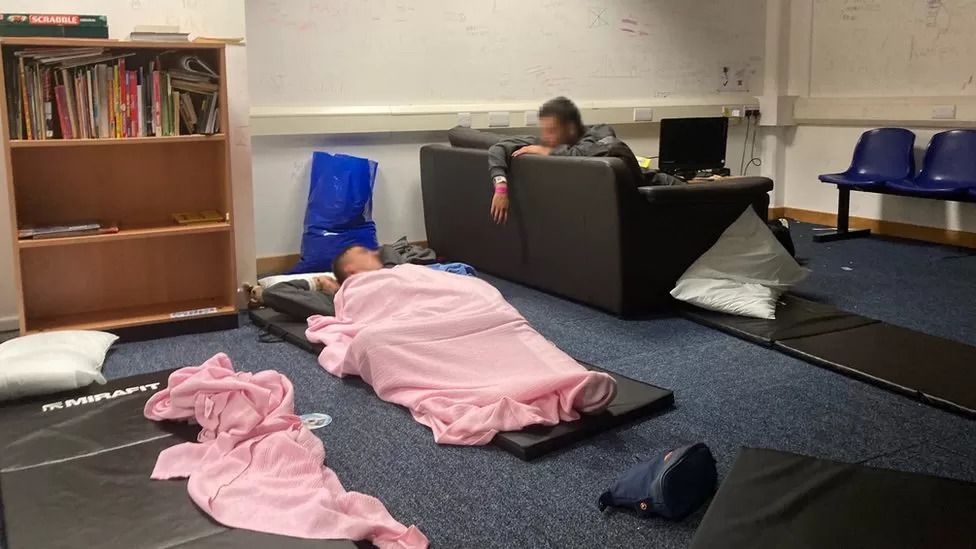 Migrants rest at an unnamed Home Office facility in Kent
In a statement, Kent County Council said it had seen a "significant increase" in the number of unaccompanied Albanian children referred to its services.
It said: "Whilst all unaccompanied asylum-seeking children are vulnerable to exploitation... research and experience evidences that some nationalities are particularly vulnerable and can go missing from local authority care very quickly.
"Kent County Council has used both established safeguarding protocols, including the National Referral Mechanism, and initiated multi-agency strategies to minimise the risks for these children as much as possible.
"The council continues to take a proactive role in safeguarding all unaccompanied asylum-seeking children in its care."