Ferry operator CalMac has warned the next two years will be "challenging" for residents of Scotland's islands due to the age of its fleet.
Chief executive Robbie Drummond also apologised to residents of Arran for recent disruption to services.

Mr Drummond said a shortage of spare vessels was also driving disruption.

A third of CalMac's ferries are more than 30 years old, and almost half the largest ships are beyond their expected service life.

Issues with three ferries have resulted in disruption across the company's west coast network.

Delays hit the return of Arran's MV Caledonian Isles from its annual overhaul. It has been in dry dock since 9 January.

The Inner Hebrides' MV Clansman and Islay's MV Hebridean Isles are also out of action due to technical problems.

This has led to delays to routine overhauls of other ferries in the state-owned ferry operator's fleet.

Mr Drummond told BBC Scotland's The Sunday Show: "I'm sorry, again, for the folk in Arran and indeed across our network.

"We work incredibly hard to bring these ferries back into service, but the next one to two years will be challenging, until we see those new vessels coming into play."

Two new ferries are being built at Ferguson Marine shipyard in Port Glasgow but these have suffered serious delays.

The first ship Glen Sannox is due for delivery in the spring, which will be five years late.

Contracts for four other large ferries have been awarded to a shipyard in Turkey, but the first of these is not expected until late 2024.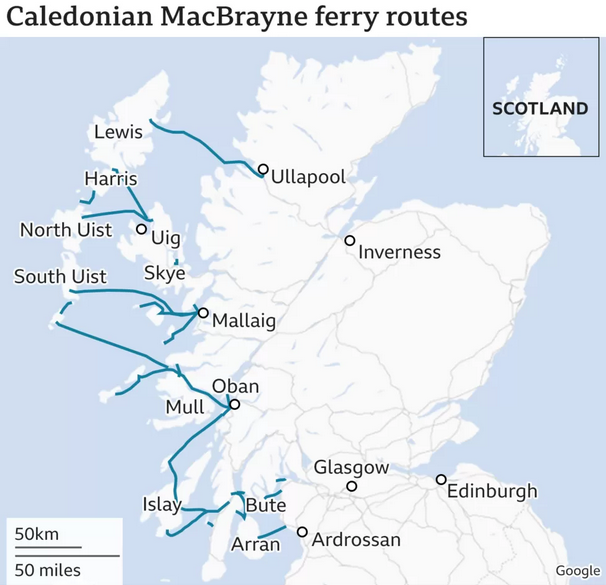 After the Ferguson Marine ferries are delivered, Mr Drummond said it would give the fleet a spare vessel to cover any ferry out of service or periods of higher demand.

Mr Drummond added: "The challenge is simply one of lack of investment. If you go back over the last 10 to 15 years, we've not had that level of investment in new ferries coming.

"On the positive side, that investment is now there."

Transport Scotland said that ferry services have faced challenges due to bad weather and technical issues, adding that CalMac and its parent company CMAL prioritised deliveries of food and other essentials during the disruption.

A spokesman said last week: "We recognise that every cancelled sailing can have a significant impact and continue to work with operators and CMAL to improve reliability and resilience across our networks."