A lottery winner who scooped £2m has revealed he nearly missed out on the life-changing prize because of roadworks outside his regular stop-off.
Ian Black, 61, from Carlisle, had just finished a nightshift and thought it would take too long to call in for a paper and a scratchcard.

But something told him to stick to his routine and he landed the jackpot.

Mr Black and his wife Sandra, 55, said top of their shopping list was an operation for their beloved rescue dog.

Labrador-Staffie cross Meg has already had one operation on one of her legs which cost £2,500 and will undergo surgery on the other on Friday.

'Sandra almost fainted'

Mr Black, a former tyre factory worker, said that on the fateful day, 13 January, there were roadworks outside the garage where he would usually stop on his way home.

He almost decided to break his routine - but at the last minute changed his mind.
"I went out of the shop and sat and scratched it - I just could not believe what I was seeing. I let out a scream and immediately drove home," he said.

Once back at the house, he shouted to his wife to come downstairs, but she thought something had happened to Meg.

"I said no, we have won £2m.

"She just thought it was all a joke - but then she looked at the card and almost fainted. Sandra just went white."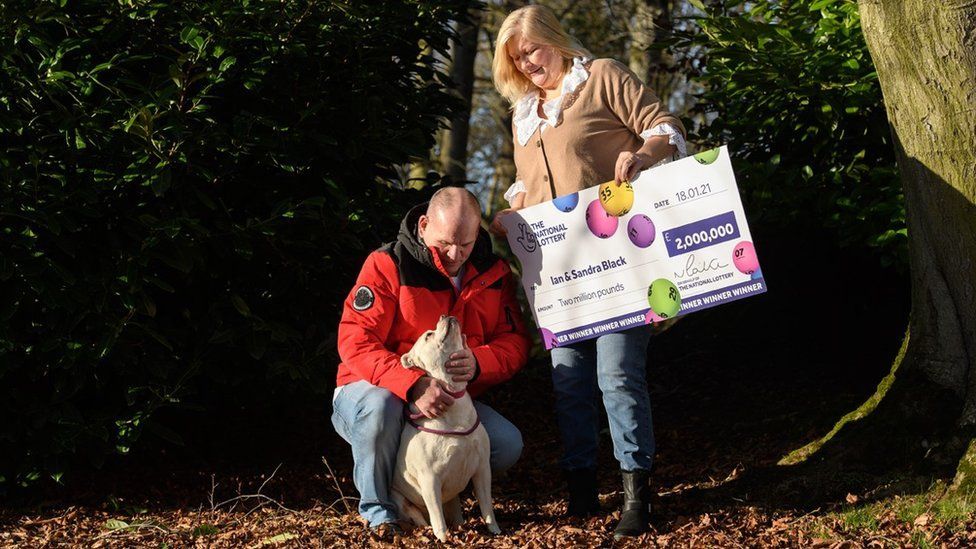 The first thing the couple want to do is fund an operation for their rescue dog Meg

Mrs Black checked the scratchcard twice before telling her husband to call Camelot, which confirmed the win.

She said: "I just couldn't believe it. I thought that doesn't happen to us, there must be something wrong with the card.

"When I looked at him he was white and shaking and I knew he wasn't having me on."

The couple, who have five children and 10 grandchildren, aim to help their family get on the property ladder and build their own "dream home".

Mr Black immediately handed in his notice as a production operator at Pirelli Tyres, where he had worked for 42 years.

He said he and his wife, a retired care worker, are now looking forward to the life they had always dreamed of.

"I don't think I have even seen that many zeros," he said.

"I kept questioning, is this really £2m? I immediately phoned work and said to them I wouldn't be in that day - adding, actually I don't think I will be in this week, or actually ever again.

"My boss, understandably, sounded really shocked and just said 'Why, what on earth has happened?'.

"That feeling when I could just say 'I have won the National Lottery' is a moment I will never forget."