A mural known as Cardiff's "Mona Lisa" has been painted over to advertise McDonald's burgers.
The artwork, in the Butetown area of Cardiff, was created last spring to promote diversity and inclusion.

Months later it was vandalised, which police investigated as a hate crime - but it has now gone completely.

McDonald's said it did not know about the mural and had "instructed the artist to repaint his original mural immediately".

In a response to Cardiff South and Penarth MP Stephen Doughty on Twitter, who asked "What on earth are you thinking?", McDonald's said the site was hired by a third party and it had been unaware of the mural.

But art project organiser Yusuf Ismail said the agency involved was made aware of the cultural significance of the mural, but were "dismissive" and went ahead with the "hamburger promotion" anyway.

"The agency were given all the information about the sensitive site, not just the fact that it's got an incredible piece of artwork on it, but that it was vandalised, probably racially motivated," he said.

"So they had all that information, this is something that they clearly knew about, and they still went ahead with it. The artist had nothing to do with it."

He added that "just a restoration of the mural isn't really sufficient" and said there needs to be "something with a bit of legacy behind it".

"Let's try to find a silver lining in all of this… something that will live longer."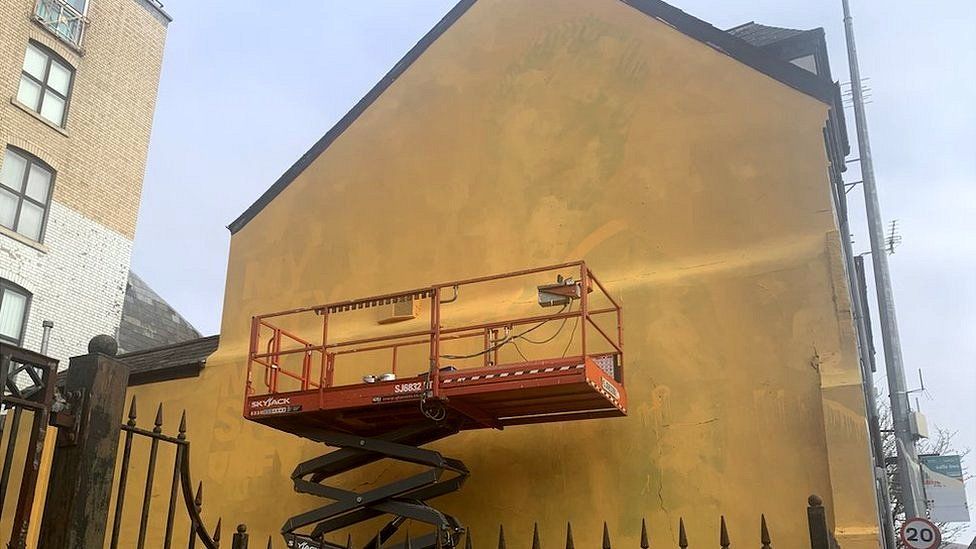 The mural was painted over in mustard yellow, ready for the McDonald's ad

The mural was loved by many in the community, with children at Mount Stuart Primary School and St Mary the Virgin Church in Wales Primary School in Butetown fundraising to preserve the mural last year.

Mr Ismail said he was "completely devastated" when he realised "Butetown's Mona Lisa" was going to be painted over.

"That bit of art encapsulated, embodied, so much good about Cardiff, Wales.

"I've always struggled with that issue of dual identity - am I Welsh, am I Somali? The truth is I'm both.

"With that one piece of art we were able to address that, to explain to people from different ethnicities... as long as you are in Wales and Cardiff, the city, the country embraces you and you should embrace it back.

"The mural has been painted over in mustard yellow... it's pretty tasteless."

Economy Minister Vaughan Gething tweeted that the removal of the mural was "staggeringly insensitive", while Deputy Minister for Arts and Sport Dawn Bowden said: "This is so bad. We can surely do so much better than this?"
The mural's subject Maimuna Indjai said taking part in the project meant a lot to her