Police are verifying CCTV showing a police van following two people on an electric bike minutes before a fatal crash that sparked a riot in Cardiff.
Those who died were named locally as Kyrees Sullivan, 16, and Harvey Evans, 15.

The footage shows the South Wales Police van and the bike 900m, or just over half a mile, from the crash site.

But police said none of their vehicles were on Snowden Road in Ely - where the crash was - at the time it happened.

The video analysed by BBC Verify is time-stamped to 17:59 BST on Monday on Frank Road.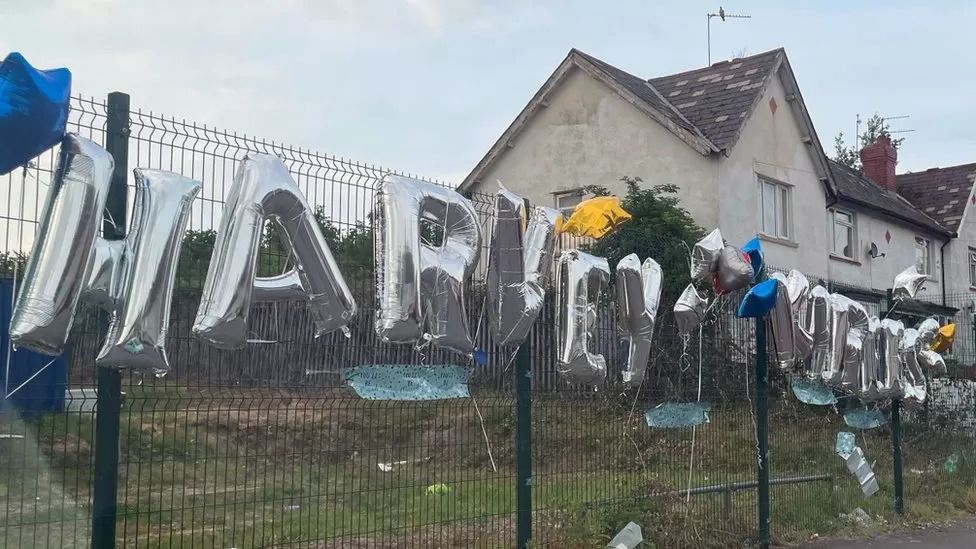 Tributes were left to the two teenagers who died in Ely

Local people had earlier claimed on social media that police were pursuing the bike.

Police said the collision had already occurred when officers arrived, and they remained on the scene to manage "large-scale disorder" until the early hours of Tuesday morning.

Then South Wales Police and Crime Commissioner Alun Michael had denied the boys were being pursued by officers.

"We have received footage that shows a police vehicle following a bike at just prior to 6pm," Ch Supt Martyn Stone said in a statement outside Cardiff Bay police station on Tuesday evening.

He declined to answer questions after the statement.

The footage "will assist us in piecing together the circumstances leading up to the collision," he added.

Mr Michael later declined to comment on the footage of the police van.

"You should examine the carefully-worded statement from the chief superintendent," he said.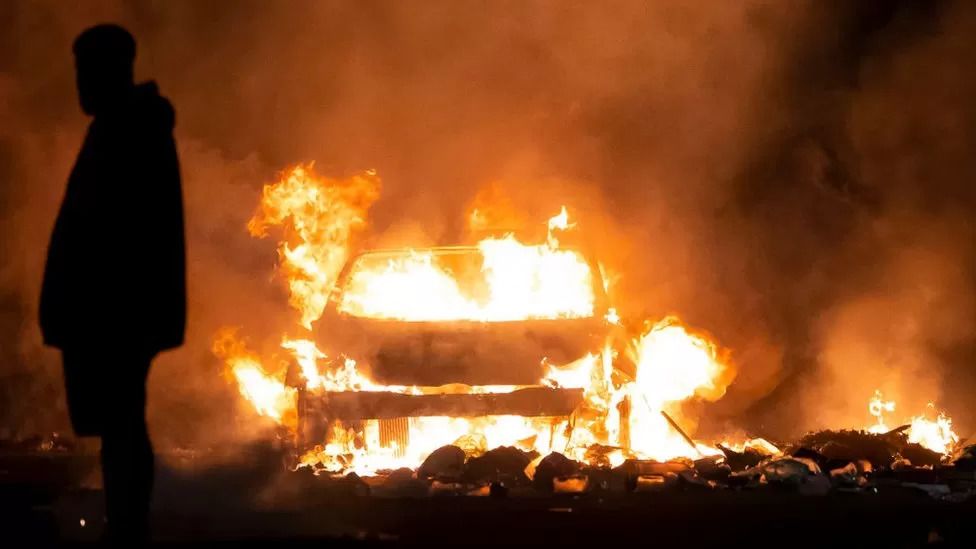 A car burns amid disorder in the Cardiff suburb of Ely

"We can confirm that the following investigations have been carried out so far, and that when the collision occurred there was no police vehicle on Snowden Road," Ch Supt Stone said.

"At this stage we do not believe any other vehicles were involved."

The force has made a mandatory referral to the Independent Office for Police Conduct (IOPC), he confirmed.

An IOPC spokesperson said: "We will be sending investigators to a police post incident procedure to begin gathering information and to assess whether the IOPC will carry out an independent investigation".

On Tuesday night, 24 hours after the trouble began, dozens of young people gathered near hundreds of floral tributes on Snowden Road. The mood in the area was calm.

That was in contrast to Monday, when cars were set alight, fireworks set off and paving slabs thrown at police as more than 100 people gathered following the crash.

"Fifteen police officers were injured, 11 were taken to hospital, and four were treated at the scene," Ch Supt Stone said.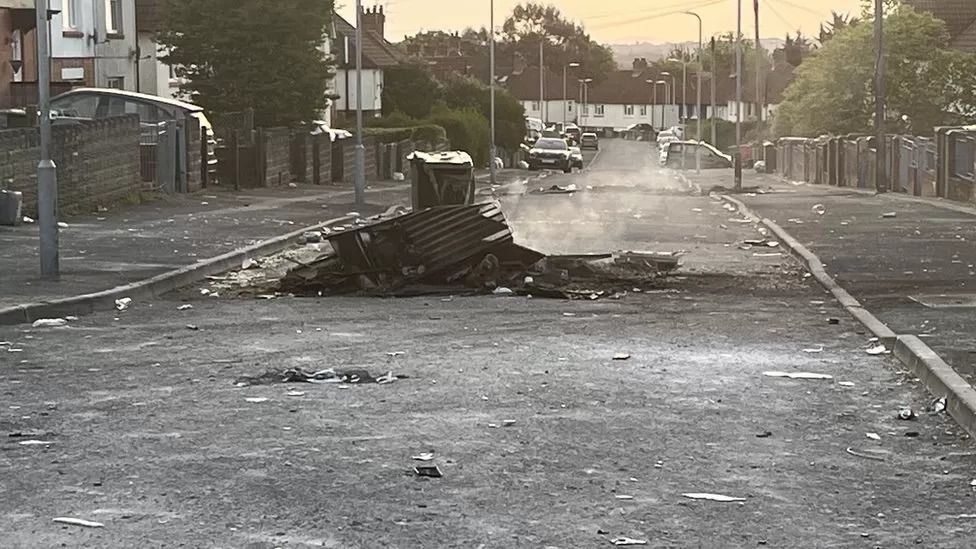 Litter and burnt cars were left on the street in Ely, Cardiff

A number of arrests have already been made he said, "and there will be more to come".

"Residents have our assurances that we will be doing our best to arrest those responsible," he added.

'Understandably frightened'

Police were called to the crash shortly after 18:00 BST on Monday.

At about 20:00, police tweeted that they were still at the scene of the collision but were also working to "de-escalate" disorder.

The force said it had received a large number of calls from "understandably frightened" residents.

The Welsh Ambulance Service said it was called back to the scene at 22:30 and took five people to hospital.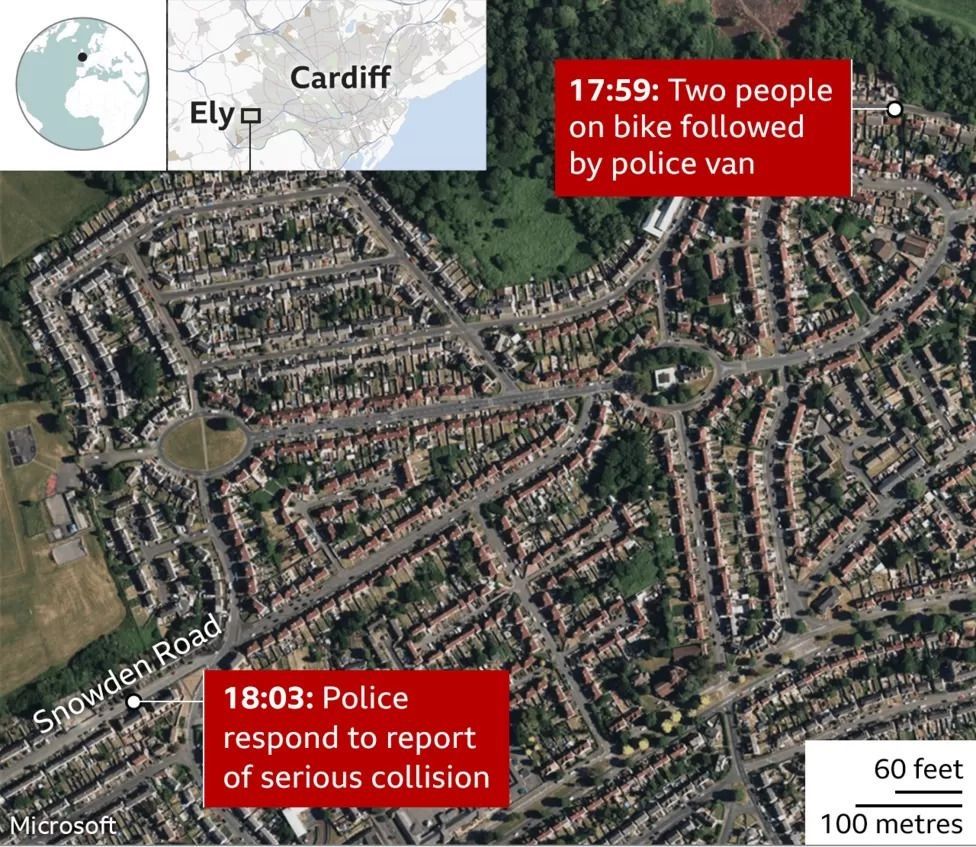 Resident Vikki Takata said she saw "loads of riot vans" from her window, and a helicopter that was "shining the torch down on us".

"It was carnage," she recalled. "I've never seen anything like it other than on the telly."

Other eyewitnesses said young people were chasing police officers up the road and throwing stones and missiles at cars.

"The police with the shields were all literally opposite my car," Ms Takata recalled. "It was quite frightening."

The force said its thoughts were with the families of the two boys who had died as well as those affected by the rioting.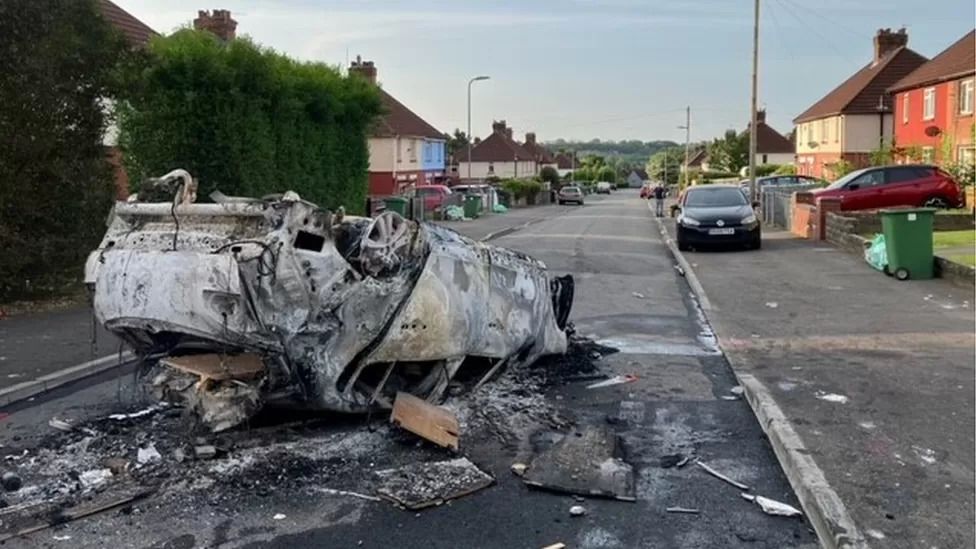 A car was set on fire and tipped on its roof

Bridy Bool, who knows the Evans family, said Harvey had "loads of friends" and loved motorbikes and football.

"He was best friends with Kyrees and [they] were into the same things. It was not unusual for them to be together," she said.

Ms Bool said she believed the pair were being chased by officers "as there are videos going around".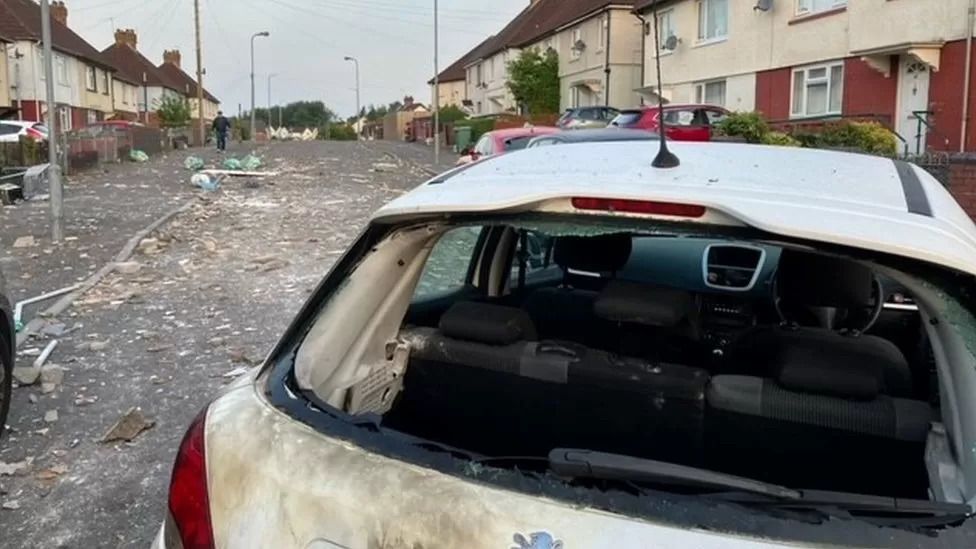 A car with its windows smashed on Snowden Road in Ely

Minister for Social Justice Jane Hutt told the Senedd on Tuesday afternoon that more arrests are expected.

First Minister Mark Drakeford - whose Cardiff West constituency includes Ely - said he was "very concerned" by the "upsetting reports".

Prime Minister Rishi Sunak's spokesperson said what had happened was "appalling and completely unacceptable".

Plaid Cymru and the Welsh Liberal Democrats have called for a full investigation. Welsh Conservative Senedd group leader Andrew RT Davies called it "deeply concerning".

Cardiff council leader Huw Thomas appealed for calm, and said the local authority was "assisting with the clean-up, so we can rebuild and project a more positive image of Ely".