Free childcare for working parents in England is expected to be expanded in Wednesday's Budget to cover one and two-year-olds.
Currently, working parents with three and four-year-olds are eligible for 30 hours of free childcare per week.

The plans are part of a government drive to encourage more people back to work to boost economic growth.

Equivalent funding is expected to be announced for Wales, Scotland and Northern Ireland.

The Treasury is not formally commenting ahead of the Budget.

However it has not denied suggestions, first reported by the Guardian, that the hourly rate paid to childcare providers by the government will also be increased - and that local authorities will be given funding to start setting up wraparound childcare provision in schools from September 2024.

The BBC has been told the current scheme for three and four-year-olds will be extended to cover one and two-year-olds.

Childcare costs in the UK are among the highest in the world and the government has been under pressure, including from some of its own MPs, to provide more help for parents.

The rising cost of childcare has been widely seen as a deterrent for some parents to go back to work or work full time.

The extension of free childcare has been lobbied for by business group the CBI, which calculates that while it will cost several billion pounds, it could raise up to £10bn in further revenue by increasing the number of parents able to work.

The Guardian also reported that the government could introduce changes to the staff-to-child ratios for two-year-olds in childcare - moving from one carer for every four children to 1:5 to align with Scotland, which the Treasury also has not denied.

Supporters of the idea say it could help cut costs for parents.

However, the Early Years Alliance, which represents around 14,000 childcare providers in England, said relaxing ratios risked "severely compromising the safety and quality of care" and putting more pressure on the workforce during "a severe staffing crisis".

The organisation's chief executive, Neil Leitch, said reports of more spending on the sector "appear positive" but "the devil is in the detail".

He said the government must ensure funding meets the sharply rising costs of delivering places.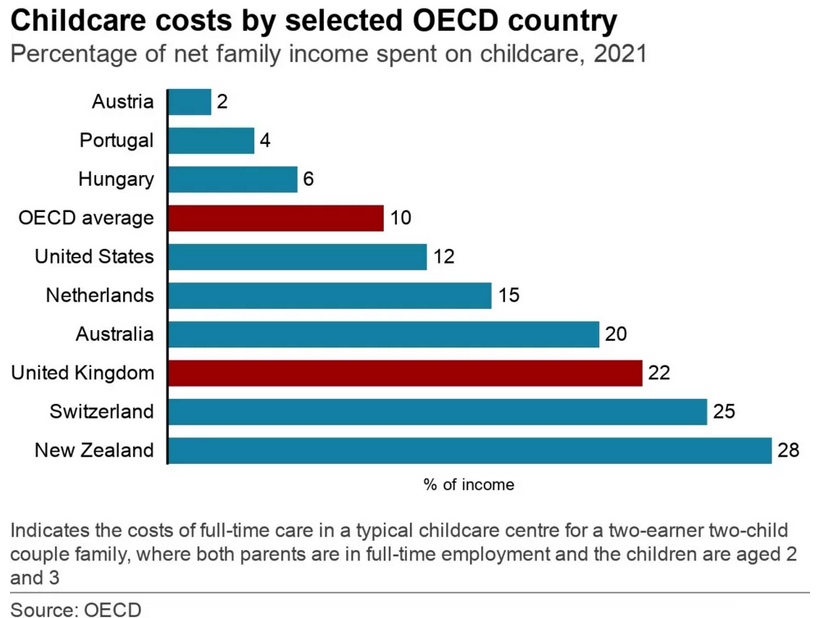 Meanwhile, the government will also confirm that energy bill support will continue at current levels for a further three months.

Currently, the government limits the energy bill for a typical household to £2,500 a year but this had been due to rise to £3,000 on 1 April.

The chancellor is expected to resist calls from some Tory MPs to cut taxes.

With prices continuing to rise, he has privately been telling them: "The best tax cut right now is a cut in inflation."

A planned rise in corporation tax, from 19% to 25%, is due to come in from 1 April.

However, under plans to be announced in the Budget, businesses will be able to mitigate this increase with a new system of capital allowances.

Other measures expected to be announced by Chancellor Jeremy Hunt include:

* Increasing the total amount people can accumulate in their pension savings before paying extra tax

* Twelve new investment zones across the UK, with tax incentives and funding to improve skills and liberalise the planning system

* Charges for people with prepayment meters will be brought in line with those for direct debit customers, saving them £45 a year on their energy bills from July.

No further cash is expected to be made available for public sector pay, but cabinet figures have expressed confidence that many of the industrial disputes are close to being settled.

In the meantime, strikes over pay are continuing across a range of sectors, with junior doctors, civil servants and teachers among those walking out on Wednesday.

In his Budget speech, Mr Hunt will refer to the "difficult decisions" taken by the government last autumn "to deliver stability and sound money", following the economic turbulence caused by Liz Truss's tax-cutting agenda.

"Today, we deliver the next part of our plan - a Budget for growth," he is expected to say.

"Not just growth from emerging out of a downturn.

"But long-term, sustainable, healthy growth that pays for our NHS and schools, finds good jobs for young people, provides a safety net for older people."

The Treasury said a drive to get hundreds of thousands more people into work would focus on disabled people and those with long-term health conditions, parents, the over-50s and people on universal credit.

During the pandemic all major countries saw their workforce shrink. But while most leading economies have since recovered, the UK still has about 400,000 more people not working than in December 2019.

Labour said the Budget was "an opportunity for the government to get us off their path of managed decline".

Shadow chancellor Rachel Reeves said: "With 13 years of economic mismanagement and sticking plaster politics leaving us lagging behind, what we need to see on Wednesday is some real ambition from the government."

The government has already announced that the Budget will include more help with childcare costs for families on universal credit.

The current £646-a-month per child cap on support for universal credit claimants is expected to be raised by several hundred pounds. They will also receive the funding upfront, instead of having to claim it back.

At the moment, parents in England with children who are three to four years old may be eligible for 30 hours of free childcare.