British clothing and food retailer Marks & Spencer (MKS.L) plans to open 20 new, bigger stores in its 2023-24 year as part of a radical overhaul of its store estate that will see it invest 480 million pounds ($587 million).
The 139-year old group said on Monday the investment would generate more than 3,400 new jobs across the United Kingdom.

M&S's move shows the continuing importance of physical stores to retailers despite the rise of online shopping over the last two decades.

M&S and fellow clothing retailers Next (NXT.L) and JD Sports Fashion (JD.L) have all highlighted a post-pandemic swing from online shopping back to physical shopping in the Christmas trading period.

Data from IMRG, an e-commerce trade body, last week showed online retail sales in Britain fell last year for the first time ever, to stand down 10.5% on the year.

"Stores are a core part of M&S's omni-channel future and serve as a competitive advantage for how customers want to shop today," said Chief Executive Stuart Machin.

Last October, M&S set out plans to accelerate what it calls its store rotation programme, delivering what was an initial five-year plan within three years by 2025-26.

The plan involves reducing the number of full-line M&S stores by 67, leaving 180 higher quality, higher productivity stores that sell the group's full clothing, home and food offering, while increasing its food only stores by 104 to 420.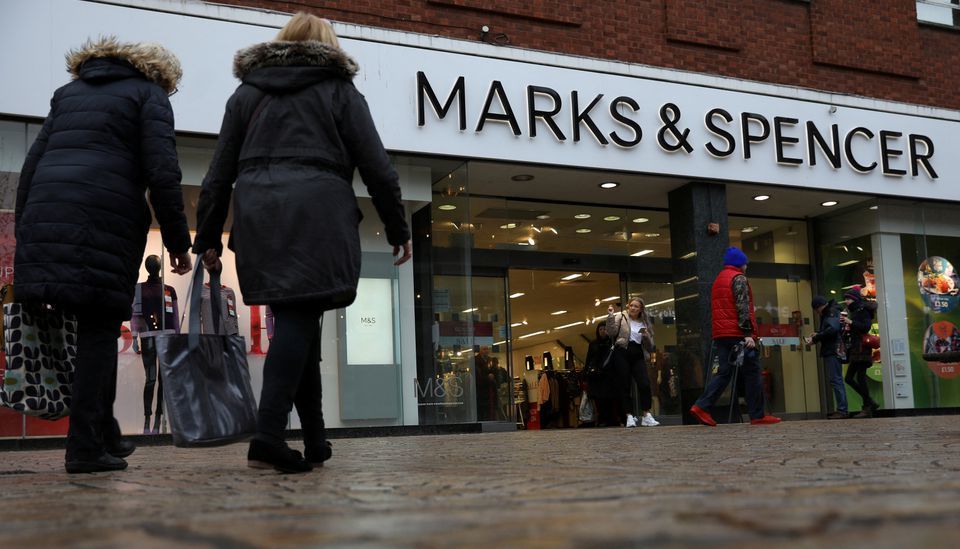 Shoppers walk past a branch of Marks and Spencer in Altrincham, Britain January 7 2020.
"Our store rotation programme is about making sure we have the right stores, in the right place, with the right space," said Machin.
He noted that customers who shop with M&S on multiple channels are eight times more valuable.
M&S, which last week reported better-than-expected Christmas trading, said its new store pipeline for 2023-24 includes eight full-line stores, including in Leeds, Liverpool, Birmingham and Manchester. Twelve new M&S food halls are also planned.
In addition to its owned store investment, M&S plans to extend its franchise model to expand its convenience stores offer, building on partnerships with BP, Moto, SSP and Costa.
M&S is part funding its programme by releasing development value in some of its older UK sites, including at its flagship site in Marble Arch.
Shares in M&S were up 1% in early trading. The stock is up 24% over the last month but still down 34% over the last year.
Last November, fashion chain Primark (ABF.L) set out plans to invest 140 million pounds in its UK store estate over the next two years, opening at least four new stores that will create 850 jobs.
Primark does not have an online delivery option but is trialling Click & Collect.
($1 = 0.8176 pounds)