A deal on the Northern Ireland Protocol could be sealed early next week, after more than a year of negotiations.
Multiple sources report a "flurry of activity" around the talks between the UK and the European Union.

The post-Brexit trading arrangement has been a source of tension since it came into force at the start of 2021.

It aims to ensure free movement of trade across the Irish land border by conducting checks between Northern Ireland and Great Britain instead.

However, unionist parties oppose the protocol and argue that placing an effective border across the Irish Sea undermines Northern Ireland's place within the UK.

The largest of these, the Democratic Unionist Party (DUP), is preventing a government from being formed in Northern Ireland in protest over the protocol.

Prime Minister Rishi Sunak is expected to meet EU leaders this weekend at the Munich Security Conference, which European Commission President Ursula von der Leyen is also due to attend.

It is thought the pair could discuss the negotiations on the sidelines, before the EU and the UK unveil an agreement.

That could come in the early part of next week, possibly Tuesday.

Negotiating teams have also been in touch with Northern Ireland business groups in recent days.

No 10 continues to insist that a deal has not been done.

Speculation has been building for weeks that a compromise between the EU and UK was close.

There are claims, dismissed by Downing Street, that an outline agreement has been on Mr Sunak's desk for some time.

Negotiators are said to have settled on a "red and green lane" system, whereby goods from Great Britain destined to remain in Northern Ireland undergo fewer checks.

A key question for the DUP and Northern Ireland businesses will be to what extent checks and paperwork are eliminated.

The DUP has set out seven tests for the protocol, which it says must be met for it to end its boycott of devolved government in Northern Ireland.

Northern Ireland business groups say there must be a "lasting, inclusive settlement" that removes unnecessary red tape and has better mechanisms for managing divergence between EU and UK rules.

EU sources insist they have stuck to one of their "red lines" - that the European Court of Justice (ECJ) will continue to have oversight of single market issues.

The UK has previously floated the idea of an "arms length" arrangement for the ECJ and there will likely be efforts to downplay the court's future role.

This could prove a major sticking point for some Conservative MPs who say "full sovereignty" cannot be restored if any part of the UK is still subject to EU law.

"I sense that the PM isn't really sure that what he has is good enough," said one senior Conservative Brexit supporter.

"But he now seems locked into this talks process from a position of weakness."

The EU has welcomed Mr Sunak's approach with officials saying the mood markedly improved after he took office - but there is scepticism about whether an agreement will finally be reached.
"It's not the first time we're in spitting distance of a deal," said one EU diplomat. "Let's hope Sunak can finally shake off the minority within his party that keeps the country hostage over Brexit."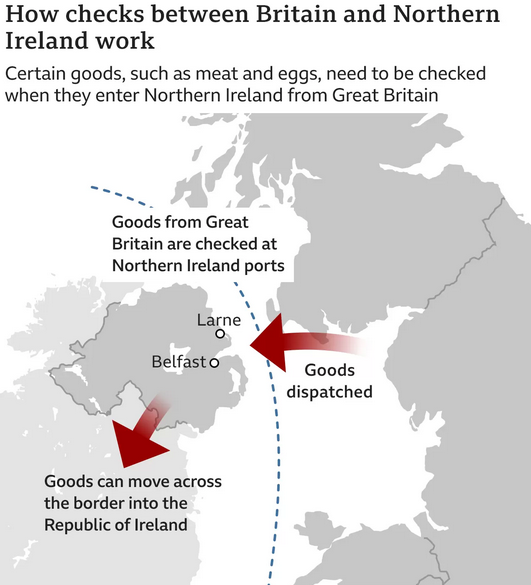 Talks to try and resolve issues with the treaty have now spanned three prime ministers and have been happening, on and off, since the autumn of 2021.
London had sought a fundamental rewrite of the treaty while Brussels insisted flexibilities could be found within the existing text.
Discussions repeatedly stalled and the government launched legislation last year which would allow ministers to unilaterally scrap parts of the protocol.
In response the European Commission triggered legal action but those proceedings - as well as the UK legislation - have since been put on ice.
Both would likely be dropped if they can get an agreement over the line.