Boris Johnson has promised the government will "publish everything that we can" about parties in Downing Street during lockdown.
The comments follow confusion earlier over whether any potential fine for Covid rule-breaking imposed on the PM himself would be made public.

No 10 initially refused to "speculate" over this but later said it would "provide what updates we can".

Labour said the public had a "right to know" about any punishment of the PM.

The party's deputy leader Angela Rayner, tweeted: "This shouldn't be a big deal... An ounce of transparency shouldn't be this hard to get from Boris Johnson."

The Metropolitan Police, which is looking into possible rule-breaking at 12 gatherings, has itself ruled out itself naming anyone who is given a fixed-penalty notice for wrongdoing.

But the force added that it would reveal the total number of penalties issued for each identified event, and explain what they were issued for.

Labour complained that this meant Mr Johnson - who attended three of the gatherings and has refused to say whether he attended a fourth - could potentially be fined without being named.

The PM's official spokesman would said he would not "speculate" on whether Mr Johnson and any staff found by the Met to have broken Covid rules would be named by the government.

But, at a later briefing, journalists were told: "Obviously we are aware of the significant public interest. with regards to the prime minister, and we would always look to provide what updates we can on him specifically. But beyond that I can't get into individuals."

Asked if that "hypothetically", should Mr Johnson be fined, No 10 would make this public, the spokesman replied: "Hypothetically, yes."

Questioned during a visit to Ukraine as to whether the full details of senior civil servant Sue Gray's findings about the gatherings would be revealed, Mr Johnson said: "Of course we will publish everything that we can when the process has been completed."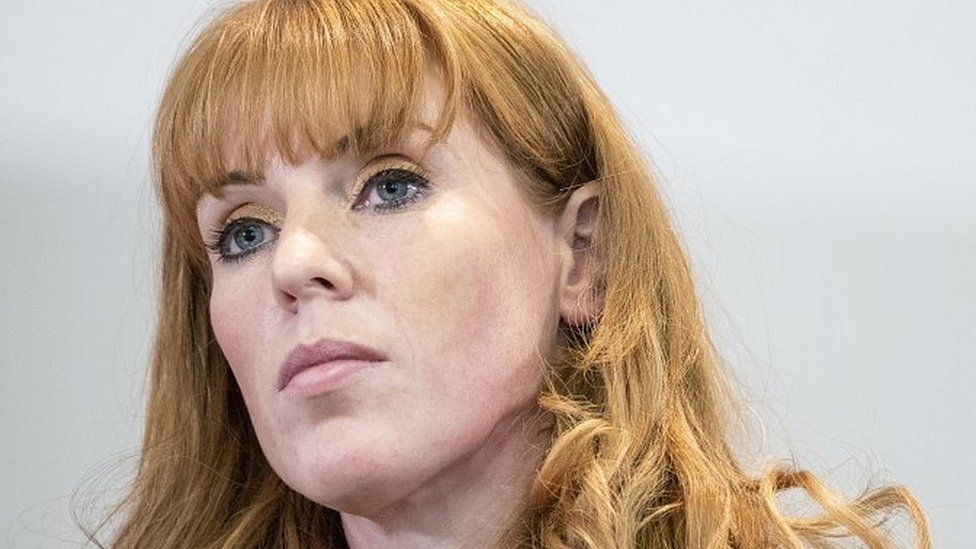 Angela Rayner said the public needed to know if the PM was fined

Ms Gray handed over the details of her findings to the Met last week, but published a restricted version of her own report on Monday, after police asked her to do so for fear of "prejudice" to their own investigation.

The prime minister has admitted attending three of the gatherings under investigation by the police:

*  Drinks in the No 10 garden on 20 May 2020

*  A surprise birthday party for himself in the Cabinet Room on 19 June 2020

*  A leaving party for director of communications Lee Cain on 13 November 2020

He has refused to say whether he was at an alleged party in his own flat also on 13 November 2020, the day his senior aide Dominic Cummings left Downing Street.

In a Q&A session on his blog on Tuesday, Mr Cummings claimed he had spoken to people who were in No 10 on that date.

When asked if there were photos of the prime minister at parties under police investigation, Mr Cummings wrote: "I've spoken to people who say they've seen photos of parties in the flat."

On Monday the Met Police said officers investigating parties in Downing Street had been handed more than 300 photos and 500 pages of documents by Ms Gray's team.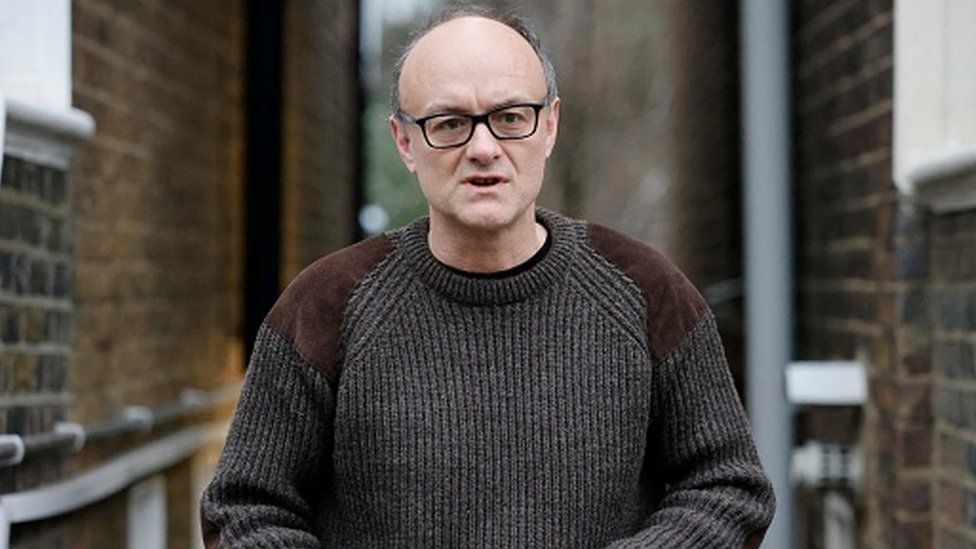 Dominic Cummings left his role in Downing Street on the day of two parties under police investigation

Conservative MP Mark Harper, a former chief whip, told the BBC that any senior civil servants or ministerial advisers who are fined over the Downing Street gatherings should be named.

The same applied to Mr Johnson and his wife Carrie, should they be punished, he added, but not junior staff.

Labour, the Liberal Democrats and the SNP are calling for Mr Johnson to resign, with some Tory MPs doing the same.

Fifty-four of them must write to the chairman of the 1922 Committee of Conservative backbench MPs to trigger a vote of no confidence in Mr Johnson, and a potential leadership challenge.

It is not known how many have done so, but Conservative MP Peter Aldous revealed on Tuesday that he had written a letter, declaring this to be in the "best interests of the country, the government and the Conservative Party".

But Deputy Prime Minister Dominic Raab told BBC Radio 4's Today programme: "[The PM] recognised that, as Sue Gray said, the standards expected in No 10 were not as they should have been.

"He said he did take responsibility and he apologised, and he provided a plan of action."

Asked if Mr Johnson had admitted to breaking any of the rules himself, Mr Raab said: "The prime minister has been very clear that he acted in good faith at all times."