'You do not need an outer London emission zone - it's inner London that has the emission problem', said the former Mayor of London
Boris Johnson has confirmed he is joining the fight against the expansion of London's Ulez - a scheme he helped secure during his tenure as mayor.

In a video posted on Twitter on Wednesday afternoon the former Prime Minister accused Sadiq Khan, who succeeded him as Mayor of London, of planning to expand the scheme for money-making reasons.

Mr Khan hopes to expand the capital's Ultra Low Emission Zone - an area that more polluting vehicles have to pay to enter - to cover all of Greater London by the end of August.

But the plan has been met with backlash from a number of outer London councils, which say the Ulez will do little to improve air quality and is being introduced at the worst possible time, because of the cost of living crisis.

Joinning their fight, Mr
Johnson
said on Wednesday: "You do not need an outer London emission zone - it's inner London that has the emission problem.
"You don't need...an ultra-low emission zone for the whole of London in the way Sadiq Khan is imposing one, because by 2030 all new cars in this country are going to be much cleaner and greener anyway.
"There's only one reason why he's doing it, and that's because he has bankrupted TfL by his mismanagement of the finances of London, and he wants to rake in money from motorists in outer London and beyond in a way that is completely unreasonable and unnecessary for air quality.
"So stop Khan's mad Ulez expansion plan, fight the outer London Ulez, fight his plans to take money off hard-pressed motorists at a very, very difficult time, and stop this mad lefty tax on people's lives and livelihoods."
Mr Khan says he hopes to expand Ulez in a bid to improve the capital's air quality and improve the health of Londoners.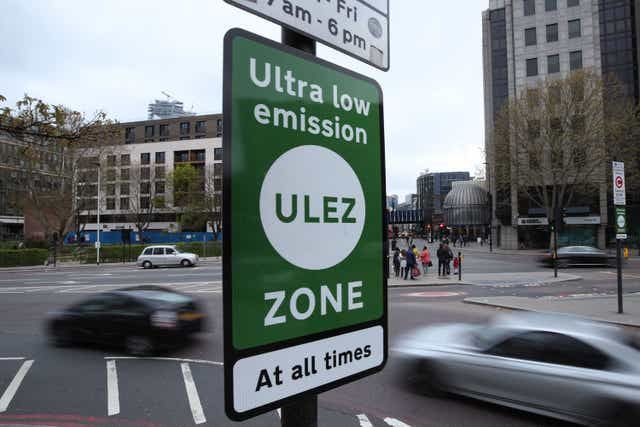 An information sign at Tower Hill in central London for the Ultra Low Emission Zone
Responding to Mr
Johnson
's claims, a source close to the Mayor said: "This just shows how far
Boris Johnson
has moved away from the days when he was respected for his environmental credentials.
"The Ulez has had a transformational impact reducing dirty emissions in the capital so far, and it's irresponsible to say that people in outer-London should keep breathing in the dirty air that leads to so many Londoners dying prematurely every year.
"In once again showing his disregard for the facts and for scientific experts, all
Boris Johnson
is doing is putting the health of Londoners at risk."
Under the scheme drivers of older or more polluting cars will have to pay £12.50 a day to use their vehicles within the zone.
Four Tory boroughs – Harrow, Bexley, Bromley, and Hillingdon – have threatened joint legal action against the plan. They have until the end of February to decide whether to ask the High Court to intervene.
Hillingdon falls within Mr
Johnson
's Uxbridge and South Ruislip constituency.
Other councils say they support efforts to clean up the air – but want Mr Khan to delay, to give drivers more time to switch cars.
Mr
Johnson
announced the introduction of the world's first Ulez in March 2015, following a wide-ranging public consultation that garnered more than 16,000 responses.
The then-Mayor simultaneously welcomed an increased fund of £65 million to help support London taxi drivers' transition to zero emission capable taxis.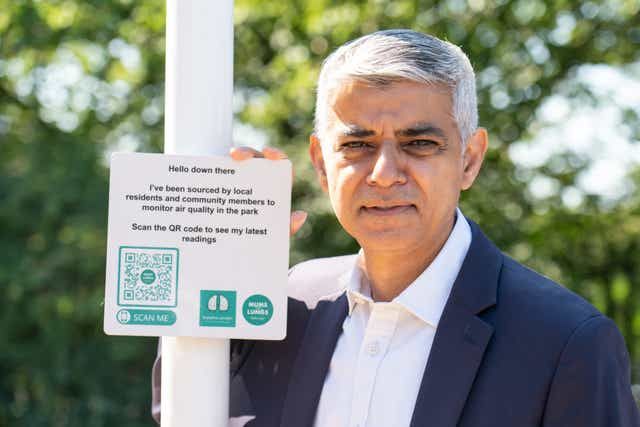 Mayor of London Sadiq Khan

Announcing the Ulez in 2015, Mr Johnson said: "The world's first Ultra Low Emission Zone is an essential measure to help improve air quality in our city, protect the health of Londoners, and lengthen our lead as the greatest city on earth.

"With additional funds announced today, more help is on the way for taxi drivers to support their transition to the latest technology in greener cabs. Together we can ensure everyone who lives, works in, or visits our city has the cleanest possible air to breathe."

The Ulez was then launched in central London by Mr Khan in 2019. Two-and-a-half years later, it expanded up to the edge of the North and South Circular Roads.