Boris Johnson has been criticised by his standards adviser over an official inquiry into the refurbishment of his Downing Street flat.
Mr Johnson said he was sorry that messages he had exchanged with a Tory peer who initially paid for the revamp had not been disclosed to Lord Geidt.

The messages were revealed during a separate inquiry by the elections watchdog on how the works were funded.

Lord Geidt said it demonstrated "insufficient" respect for his role.

He added they would not have changed the verdict of his own investigation last year that Mr Johnson had not breached the ministerial rulebook.

But, in an exchange of letters with Mr Johnson, he said they would have led him to question some of the conclusions of the report, published in May.

Replying to Lord Geidt, Mr Johnson offered a "humble and sincere apology", and said the messages were sent from a previous mobile phone, which he did not have access to, and he "did not recall the message exchange".

Mr Johnson's text exchange with Lord Brownlow, published on Thursday, shows on 29 November the PM asked the Tory peer whether he could ask an interior designer contracted for the work to make contact with him to approve fresh redecorations.

Lord Brownlow had been asked by Mr Johnson to oversee a charitable trust to fund the work - an idea that was later abandoned.

Mr Johnson told Lord Brownlow that parts of his official residence, where refurbishment work began in April 2020, were "still a bit of a tip" and he was keen to allow the designer, Lulu Lytle, to continue with the renovations.

A couple of hours later, Lord Brownlow replied, and then in a subsequent message, he added that the trust had not yet been set up but "approval is a doddle as it's only me and I know where the £ will come from".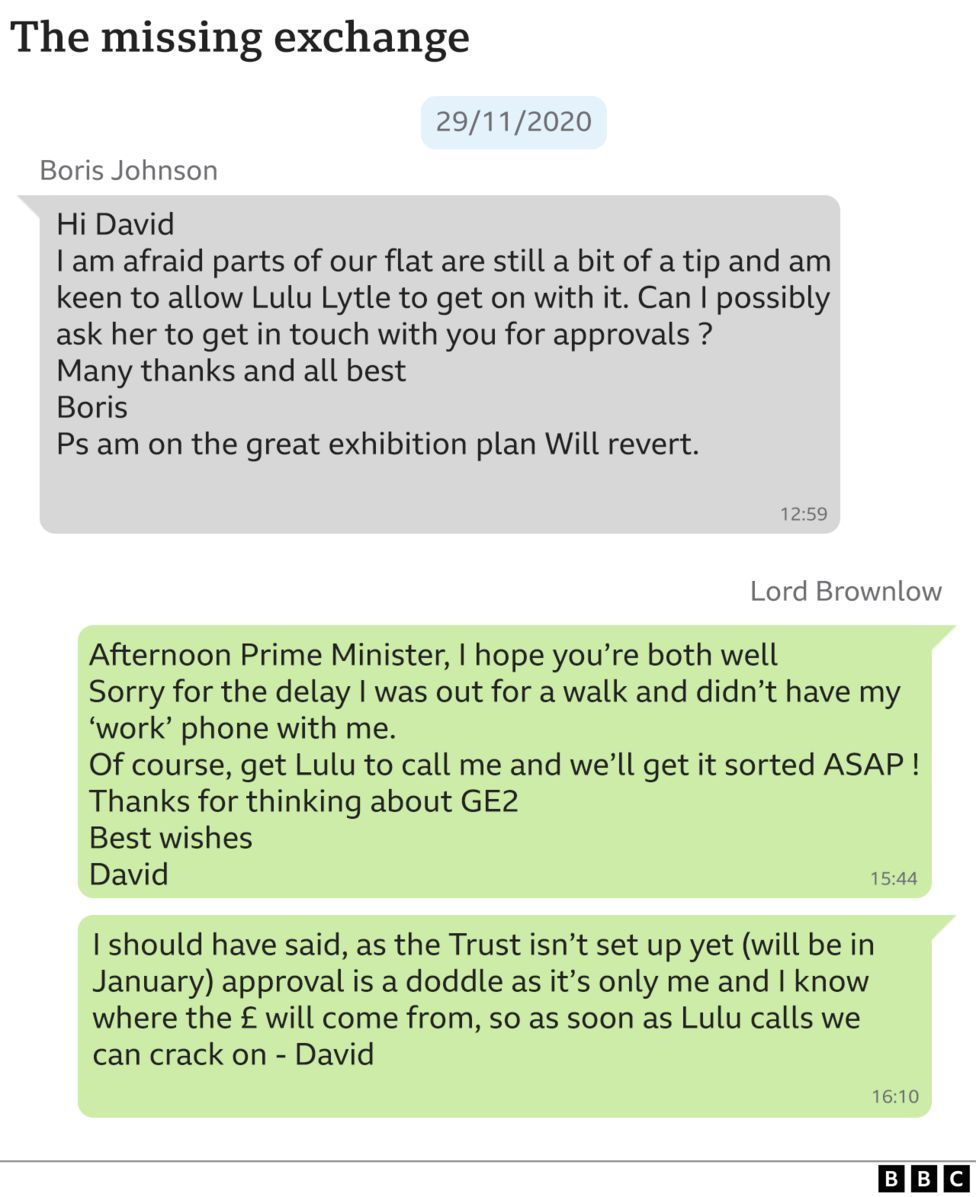 In his original report, Lord Geidt cleared the PM of a conflict of interest, after it emerged that Lord Brownlow had donated £52,000 to help cover costs.

He said the prime minister appeared not to be aware that Lord Brownlow had initially paid for the redecorations from his own pocket.

But he revisited the original probe after it was revealed the PM had sent WhatsApp messages to the Tory peer in November.

The messages were revealed as part of an investigation by the Electoral Commission, which fined the Conservatives £17,800 last month for failing to accurately declare Lord Brownlow's donations.

After the exchange came to light, Downing Street said Mr Johnson had thought Lord Brownlow was overseeing the money, but did not realise the peer was providing the funds himself.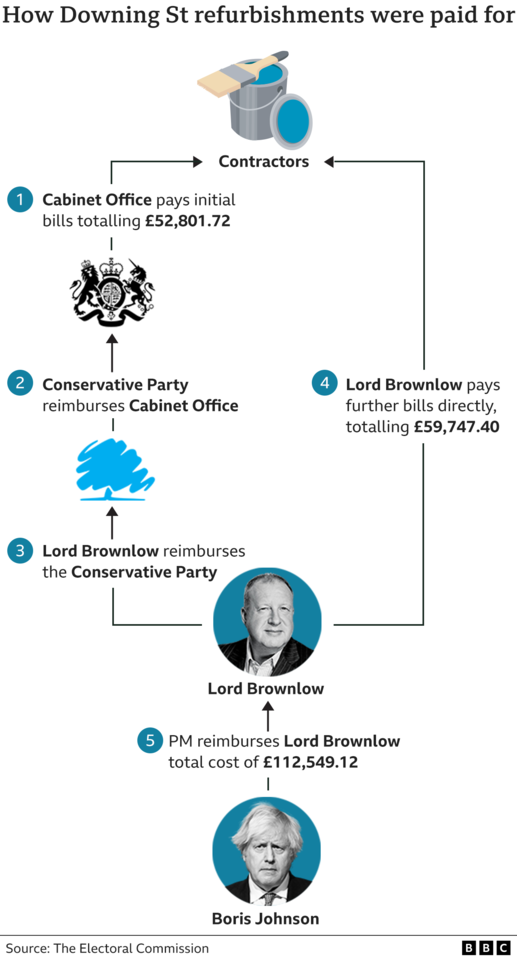 In his letters to the PM, Lord Geidt said he had been told Mr Johnson lost the ability to search for the messages in April 2020, after security changes following news his personal mobile phone number was available online.

However, he said it was "plainly unsatisfactory" he had not been made aware of their existence during his original investigation.

He also expressed "grave concern" that officials in Mr Johnson's team had not alerted him to them when the phone was later accessed in June 2020, or before the Electoral Commission disclosed their existence in December.

"I believe this episode demonstrated insufficient regard or respect for the role of independent adviser," he added.

He added that the lack of disclosure "shook my confidence" and "real failures of process" had taken place in several parts of the government.

'Serious question marks'

Labour deputy leader Angela Rayner argued it meant the prime minister had broken rules on ministerial conduct, and "has little regard for the rules or the truth".

"Once again, by attempting to hide the truth, Boris Johnson undermines his own office," she added.

"The prime minister's pathetic excuses will fool no one, and this is just the latest in a long line of sorry episodes."

Liberal Democrat chief whip Wendy Chamberlain said the episode meant there were "serious question marks" over Lord Geidt's original investigation.

She also poured scorn on the PM's reason for not disclosing the messages - that he had changed his phone - as "akin to the dog eating your homework".


The WhatsApp messages between the prime minister and Lord Brownlow are uncomfortable for No 10. The PM describes the Downing Street flat as a tip - and asks for more money for renovations. The fact they weren't disclosed earlier has clearly made Lord Geidt very unhappy.

But the messages have also raised a new question about a project being backed by Lord Brownlow.

Boris Johnson says he is "on the great exhibition plan", a reference to the idea of major exposition in the UK.

Lord Brownlow is a backer - he thanks the PM for thinking about it.

But some might question why the prime minister brought up a project backed by Lord Brownlow - in a message where he was also asking for more money to be made available from a trust he controlled.

No 10 says the Great Exhibition idea was dropped - but records show Lord Brownlow did meet the culture secretary to discuss it a few weeks after his exchange with the PM.

And the government did back another idea - Festival UK or Unboxed - a UK-wide "celebration of creativity" due to take place later this year.

Labour said nobody should be able to "buy access" and that the PM had serious questions to answer.

There was a commitment in the 2019 Conservative manifesto for major Festival of Great Britain in Northern Ireland in 2022. Lord Brownlow, it's understood, is not involved.

Downing Street said: "All prime ministers and ministers have proposals put to them at various points and ministers also meet stakeholders regularly as part of their engagement on an array of issues.

"In line with normal practice this idea was referred to the relevant department, considered and ultimately not taken forward by the government."