Boris Johnson has announced £100m worth of weapons for Ukraine after the "unconscionable bombing" of refugees at a railway station.
The prime minister said the UK will send additional military equipment including Starstreak anti-aircraft missiles and 800 anti-tank missiles.

It comes after dozens of people died when a crowded railway station in eastern Ukraine was hit by rockets.

Vladimir Putin's daughters have also been sanctioned by the UK.

Speaking at a Downing Street press conference with German Chancellor Olaf Scholz, Mr Johnson warned Russia will not escape punishment after the attack at Kramatorsk station.

He said: "I know that Britain and Germany share exactly the same sense of horror and revulsion at the brutality unleashed including the unconscionable bombing of refugees fleeing their homes this morning.

"It is a war crime indiscriminately to attack civilians, and Russia's war crimes in Ukraine will not go unnoticed or unpunished."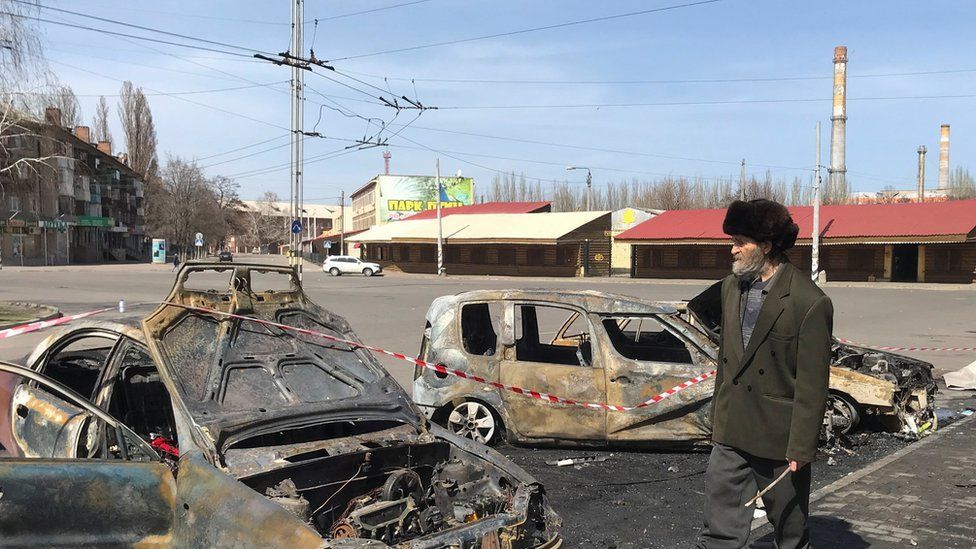 Mr Johnson called the attack at Kramatorsk station "unconscionable"

Mr Johnson added the UK will send precision munitions "capable of lingering in the sky until directed to their target" and more helmets, body armour, and night vision.

Defence Secretary Ben Wallace said the UK will also be providing Ukraine with armoured Mastiff vehicles to fight Russia's invasion.

Mastiffs are heavily armoured vehicles suitable for road patrols and convoys.

The vehicles will be stripped of sensitive equipment and British troops will help with training in a neighbouring country, the Times reported.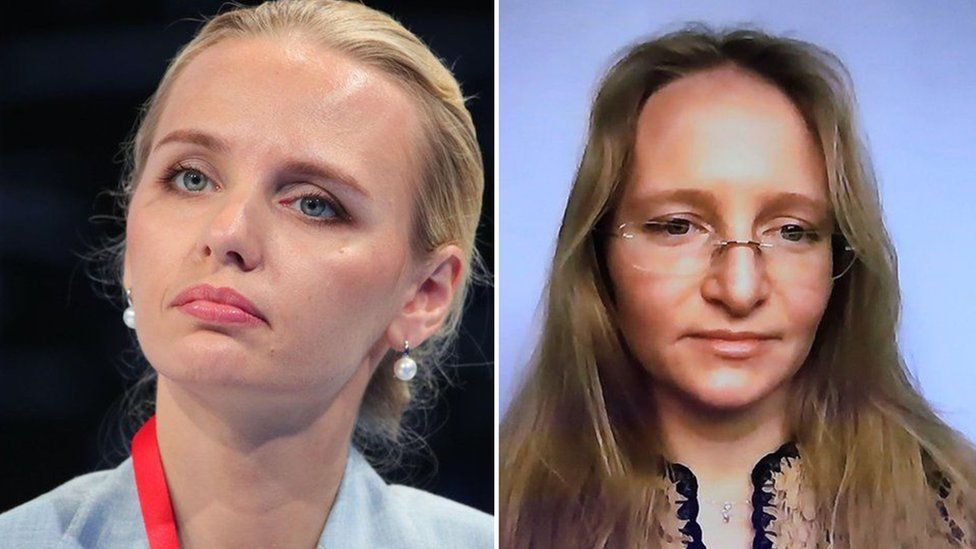 Mr Putin's daughters Maria Vorontsova and Katerina Tikhonova are subject to travel bans and asset freezes

Earlier, the Foreign Office announced fresh sanctions on Mr Putin's daughters, Katerina Vladimirovna Tikhonova, 35, and Maria Vladimirovna Vorontsova, 36.

They will be subject to travel bans and asset freezes, the government said.

Foreign Secretary Liz Truss said the move ensures those benefitting from Mr Putin's rule will "feel consequences".

Meanwhile, the daughter of Russian foreign minister Sergey Lavrov, Yekaterina Sergeyevna Vinokurova, 39, has also been sanctioned.

It comes after the three women were sanctioned by the United States on Wednesday.

Ms Truss said: "By freezing the assets and limiting the travel of Putin's allies, the UK government is sealing off reservoirs of cash funding the conflict, while also making sure those who have benefited from Putin's rule feel the consequences.

"Oligarchs and other wealthy Russians are amongst those hit hardest by the sanctions, which have drastically limited their access to luxury consumer goods and access to international markets."

The UK government said £275bn of Russian foreign currency reserves, representing 60% of its total, have been frozen due to UK and international sanctions.

It added the sanctions were having "deep and damaging consequences for Putin's ability to wage war".

More than 1,200 individuals and businesses have been targeted by the UK, including Chelsea FC owner Roman Abramovich and Mr Lavrov's stepdaughter Polina Kovaleva.