In August 1971, a gang's attempt to rob a jewellers in Blackpool turned into one of the darkest days for Lancashire Police, as Supt Gerry Richardson became the most senior British police officer to be killed in the line of duty since the 1840s.
Ian Hampson was one of two other officers who were also shot while trying to stop the gang.

Looking back at what one police historian described as his and his colleagues' "suicidal determination" to capture those responsible for the robbery, his question is a simple one: "What was I doing?"

At the time, he was a young PC and had only been serving with the Lancashire force for six years.

He says he was drinking a morning cup of tea on 23 August 1971 when a report came in that an alarm was going off at a jewellery shop close to the town's North Pier.

"I thought nothing of it," he says.

"It was 9am and that was always happening first thing in the morning."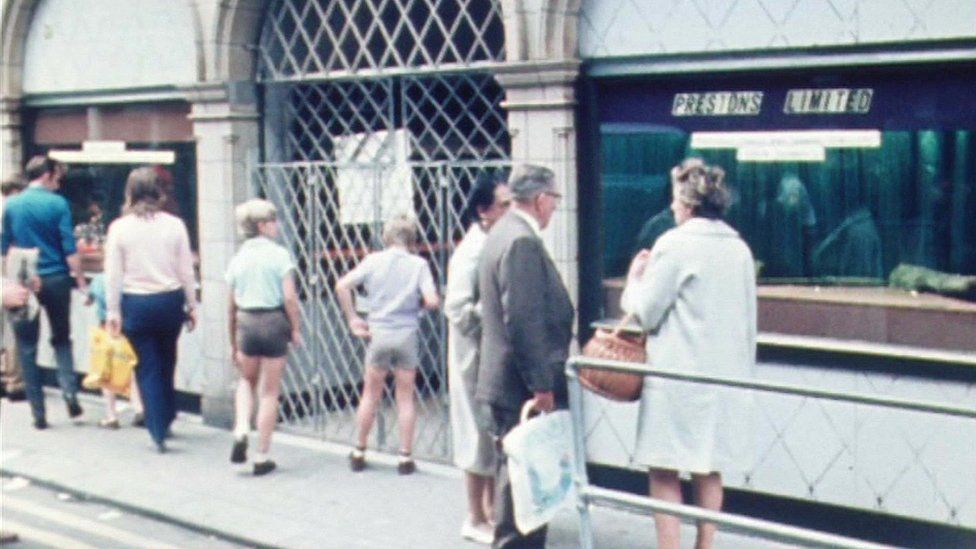 But it was no false alarm.

The shop had been raided by a gang led by notorious London criminal Frederick Sewell, who was more commonly known by his nickname "Fat Fred".

The shop's manager had pushed a panic button when the gang burst in, alerting police.

Ian Hampson and his colleagues scrambled to the scene in "panda cars", the police vehicle of choice in the early 1970s, and arrived as the gang prepared to flee.

'I'm in trouble'

One getaway car drove into a police car driven by PC Carl Walker, leaving PC Hampson to pick up the pursuit of a Triumph 2000 being used by other members of the gang.

His bravery on the day would see him awarded the George Medal.

The citation for it, printed in The London Gazette on 14 November 1972, said that "during the whole of this chase, [PC Hampson] remained five to 10 yards behind the Triumph, relaying his position to Blackpool Central Police Station by personal radio".

"The Triumph suddenly screeched to a halt and Constable Hampson pulled up about five or six yards behind it.

"One of the gunmen [John Spry] ran back to the panda car and shot the constable through the passenger door window."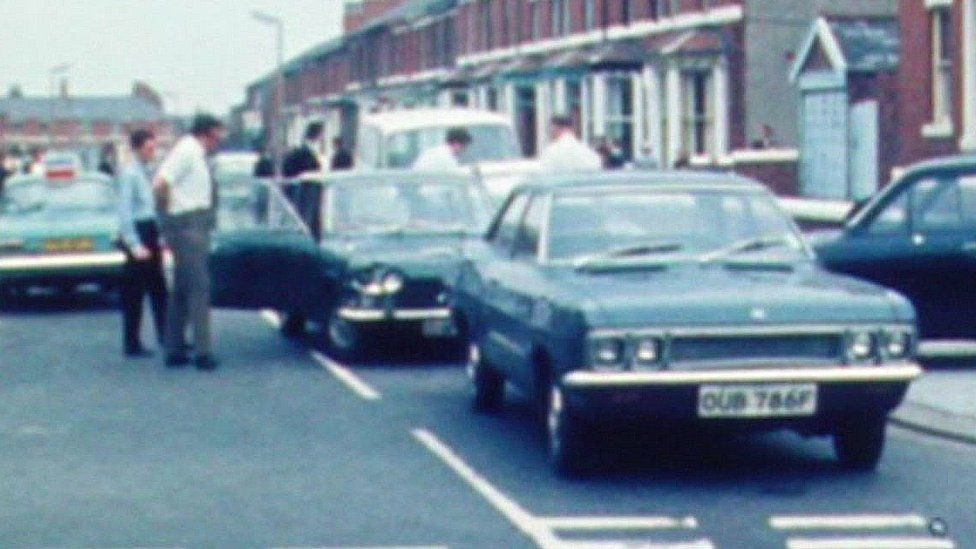 The former officer says looking back at the chase, it is difficult to imagine what he thought he would do if he had caught the gang.

"They had shotguns, service revolvers and a pickaxe handle - what was I doing?

"A civilian car hit a bollard to avoid me and I remember thinking 'oh no, I'm in trouble now'.

"[Spry] came and didn't say a word and he just shot me.

"It was unreal [but] I managed to radio the comms room as I lay on the floor."

He says he remembers the moment vividly, not least because of an odd occurrence within it.

"I lay there, face down, and this woman came to me and said 'don't worry, I've got his car registration number'.

"I remember thinking 'just call an ambulance'."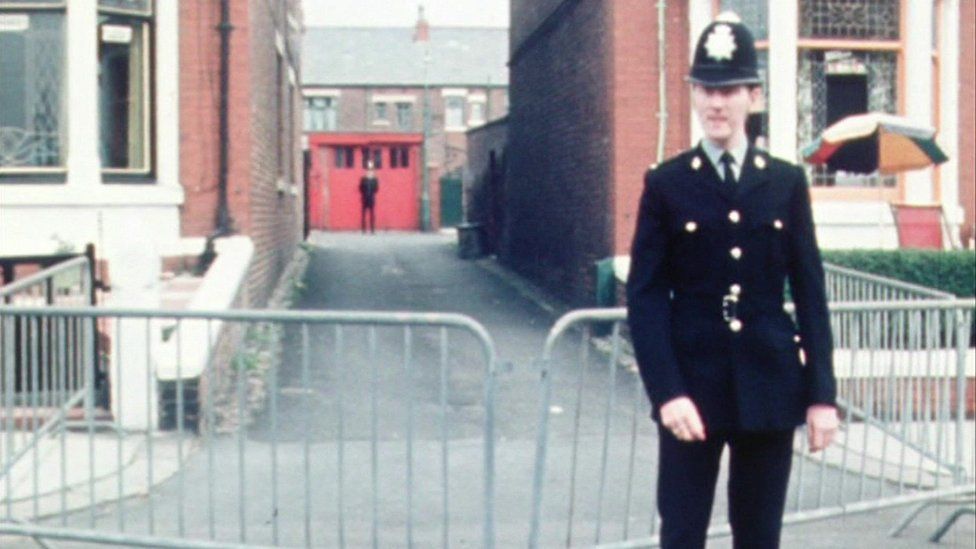 He says the idea of an armed robbery was alien to the force at the time.

"They were different times; we weren't used to that kind of crime."

Indeed, another former officer, who asked not to be named, says the use of weapons was so rare that when the call went out for armed assistance, "nobody had a gun".

"They went to a gun shop to buy a rifle for the firearms officer," he adds.

'Blood everywhere'

PC Hampson was the first of the three officers to be shot, but he was not the first to go to hospital.

"They took Gerry to hospital first because he was in a bad way," he says.

Unbeknownst to PC Hampson, Supt Richardson and PC Walker had cornered Sewell in an alley near the shop as the rest of his gang jumped into getaway cars.

The senior officer told the robber to hand him his gun but a struggle broke out between them.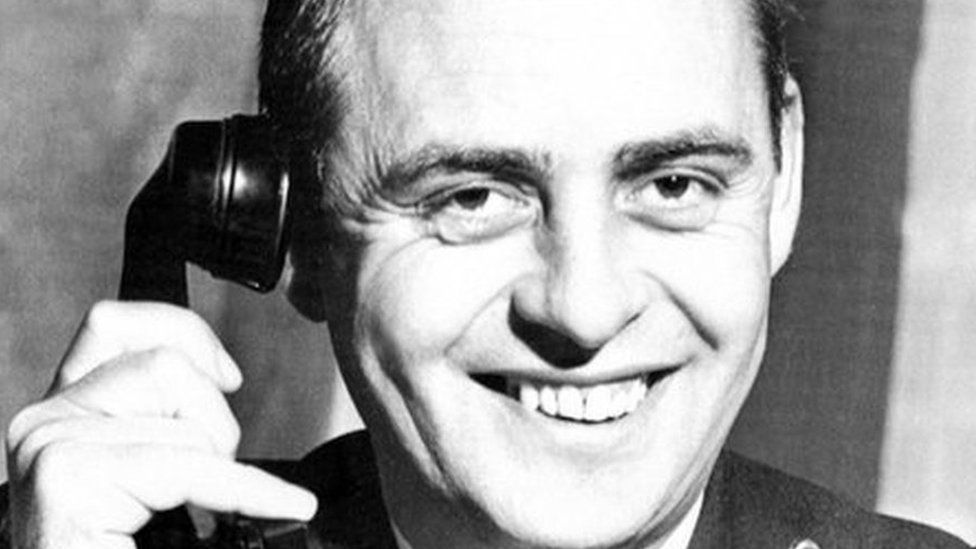 PC Walker was shot in the leg and the 38-year-old superintendent was shot twice in the stomach at point-blank range.

He died later in hospital, as PC Hampson was being assessed - as was the man who had shot him.

"Spry was also in intensive care," he says.

"He was run over trying to escape on foot and he looked like the first bloke hit by a chariot in the film Ben Hur - there was blood everywhere."

Despite his own wound, he says he was pretty lucky, as he was walking around the ward within days of the shooting and even enjoyed a bottle of beer his colleagues had brought to him.

And he admits that luck continued when things took a turn for the worse.

"I thought it had hit my arm, but a few days later, I got a nasty infection," he says.

"It turned out the bullet had lodged next to my heart.

"The surgeon who had been in the Royal Army Medical Corps in the Second World War told me he had left bullets in some soldiers he had operated on."

"But part of my shirt had also been pushed into my body [so it had to be removed]."

In all, nine officers received bravery awards for that fateful day.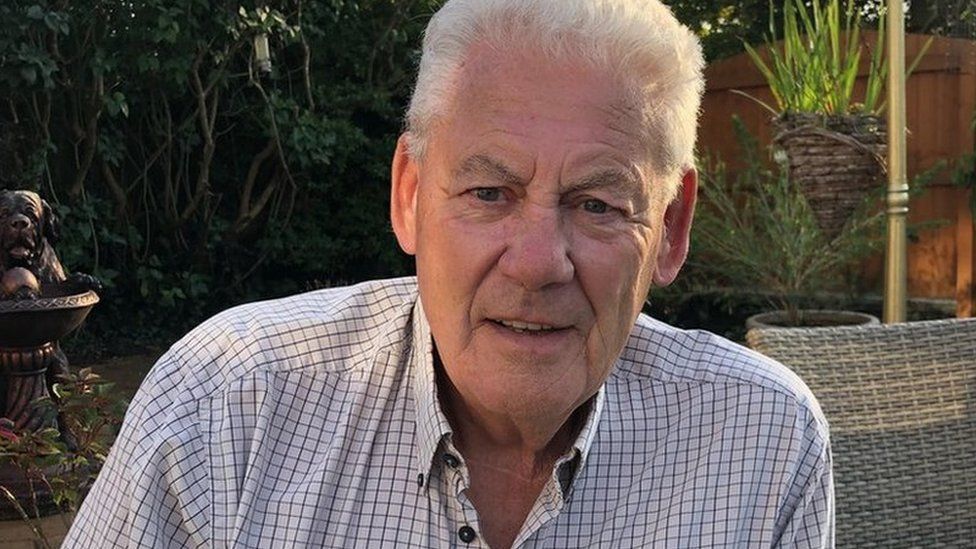 Supt Richardson was honoured posthumously with the George Cross, the highest award a non-combatant can receive, while PCs Hampson and Walker received the George Medal.

For the former officer, who rose to the rank of detective inspector before retiring, the award was not necessary.

"I don't know why I got a medal," he says.

"I just drove my panda car and got shot."