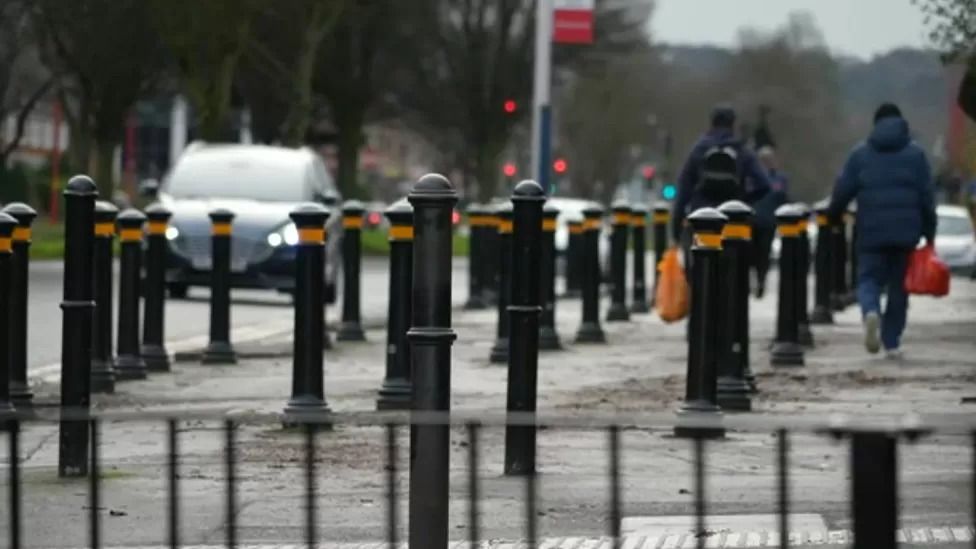 Birmingham council defends dozens of bollards on pavement
A council has defended installing dozens of bollards on a pavement saying they were needed to tackle inconsiderate parking outside a school.
Birmingham City Council put up more than 50 black and yellow bollards along a short stretch of the Bristol Road South, Longbridge.

Critics have described the site as an "eyesore".

But the authority said the posts were necessary to tackle parking outside the adjacent Meadows Primary School.

The bollards have been installed in three rows near the entrance of the school following regular complaints from residents about "dangerous" parking on the road, the city council said.

One commentator tweeted: "Wow. How do the blind and wheelchair users cope with this?!?"

Another Twitter user added: "Crikey, can't they plant some trees and flowers instead???"

"Bollards are the key to safe biking in high-traffic areas. Without bollards, bike lanes become suicide lanes," another commented.

A spokesperson for the council said the number of bollards that had been installed demonstrated the "scale of the problem".