The UK risks a shrinking workforce caused by long-term sickness, a new report warns.
Pensions and health consultants Lane, Clark and Peacock (LCP) says there has been a sharp increase in "economic inactivity" - working-age adults who are not in work or looking for jobs.

The figure has risen by 516,000 since Covid hit, and early retirement does not appear to explain it.

The total of long-term sick, meanwhile, has gone up by 353,000, says LCP.

It means there are now nearly 2.5 million adults of working age who are long-term sick, official data from the Labour Force survey reveals.

The report comes at a time of increasing debate about the rise in so-called economic inactivity - totalling 8.9 million people - and what is fuelling it.

Ministers are concerned that it could hold back economic growth. Chancellor Jeremy Hunt has set up a review of policies to reduce inactivity and could make an announcement in the Budget on 15 March.
Bar chart showing change in number of economically inactive people from December 2019 to October 2022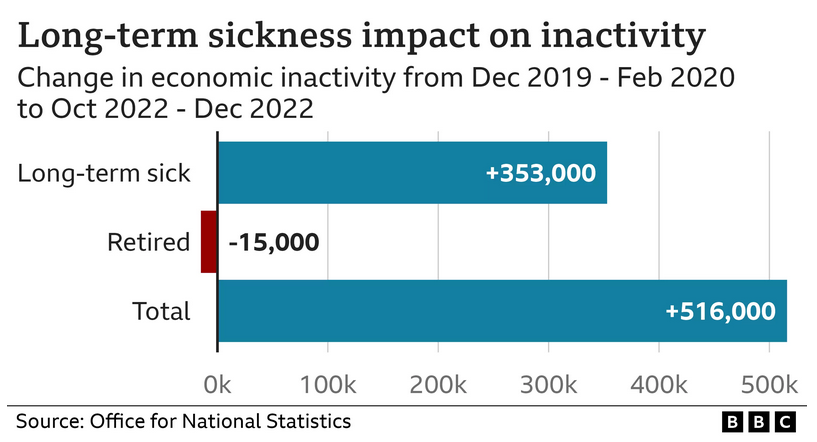 Other categories of economically inactive people who are not listed include students, carers and short-term sick
Some policy experts have talked of a "great retirement" in which more people have left the workforce early, some because they have adequate pensions and do not feel the need to carry on working. Policies to encourage the over-50s back into the workplace have been considered.
But the LCP report takes a different tack - it says pressure on the NHS can account for some of the increase in long-term sickness. Delays getting non-urgent operations and mental health treatment are possible explanations. Others who would otherwise have had a chronic condition better managed may be in poorer health.
One of the report authors, Dr Jonathan Pearson-Stuttard, said: "The pandemic made clear the links between health and economic prosperity, yet policy does not yet invest in health, to keeping living in better health for longer. NHS pressures have led to disruption of patient care which is likely to be impacting on people's ability to work now and in the future."
Co-author Sir Steve Webb, a former pensions minister, added: "There is a real risk of the government 'barking up the wrong tree' when it comes to the growth in economic inactivity. Policy solutions which aim to reduce early retirement or encourage the retired out of retirement are likely to have only limited effect in reversing recent trends. Instead, the policy effort needs to be focused around understanding why flows into long-term sickness have grown."
The report drills further into the Labour Force survey data on economic inactivity among those of working age.
Respondents were asked even if they are not actively looking for work, were they still interested in getting a job. By far the largest group to respond positively were the long-term sick. Of those describing themselves as retired, only a very small number were interested in returning to paid work.
The debate will continue with some experts taking a different stance.
The Institute for Fiscal Studies (IFS) think tank carried out its own research last year. Its associate director Jonathan Cribb said: "The new research from LCP makes a convincing case that rising rates of poor health are a pressing issue for UK society and economy.
"However, our work in the summer of 2022 found that there have also been big spikes in the numbers of people retiring directly from work since the start of the pandemic, with relatively little increase in the number of people in their 50s and 60s leaving work directly into health-related inactivity."
The Department for Work and Pensions is carrying out a review on workforce participation.
A government spokesperson said: "We are considering a range of factors to address inactivity, and further details on this will be set out in due course."
Officials also point out that there is a recovery plan to reduce NHS backlogs in England.