Beer has been banned at World Cup stadiums with FIFA this morning pressured into a sensational late U-turn by their Qatari hosts.
Just 48 hours before the start of the tournament, organisers have backtracked on plans to allow beer to be sold at "activation zones" within the stadiums perimeters, though not within the grounds themselves. It is thought that alcohol will still be available in hospitality suites at the tournament.

Qatar is a strict Muslim country, with alcohol only usually available in specially licensed hotels, and the ban has reportedly come after direct pressure from the state's ruling royal family.

Football's world governing body could now face a legal challenge from Budweiser, one of the tournament's major sponsors, over major breaches of the terms of their $75million partnership. Only last week, organisers insisted that Budweiser-branded tents at stadiums were moved to more discreet locations.

Aside from some hotels, where prices are often extortionate, England fans travelling to Qatar will now only be able to buy beer in Fifa's specially licensed fan parks.
The main Fifa Fan Festival is located in Al Bidda Park on Doha's harbour, where beer will be sold after 6:30pm at a cost of 50 Qatari Riyal (just shy of £12) for 500ml of Budweiser.
Given there is just one beer stand at the park, which has a capacity of up to 40,000, fans face lengthy queues and will only be allowed to purchase four drinks at any one time.
The giant concrete expanse hosted thousands of locals for a concert by a Michael Jackson impersonator on Wednesday night, but it is difficult to see much appeal for fans in arriving in time to watch any of the group stage's 1pm local-time kick-offs.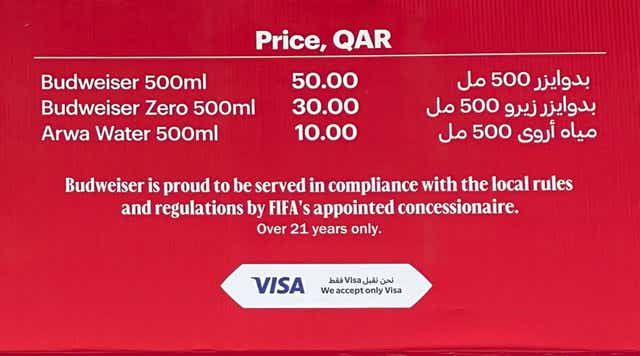 Pricing at a fan park in Doha.
When Argentina play Saudi Arabia on Tuesday in the first of them, for instance, fans will have to brave searing daytime heat of almost 30C degrees, a lack of shade and overpriced food to watch the game on a giant screen. Even on Monday, when England play Iran in a 4pm kick-off, the beer taps will not turn on until well after full-time.
The late expected ban on beer is the latest embarrassing incident for Fifa, who have long since appeared to be at the behest of their hosts when it comes to running this controversial edition of their flagship event. Just 100 days out from the tournament, Fifa accepted a request to bring its start forward by a day to allow Qatar to open the World Cup against Ecuador.