With not one but two TV shows about the one per cent getting away from it all reeling in record viewers, which one comes out on top?
Oh, I know loads of f*cked-up rich people," boasts Jennifer Coolidge's character Tanya in HBO's zinging new social satire The White Lotus. There are indeed a lot of them about, particularly on our TV screens right now. Following in the chaotic wake of Big Little Lies, The Undoing and Succession, we have two new shows mining the rich seam of life as part of the privileged one percent.

In The White Lotus, our ultra-high-net worth individuals are holed up in a secluded five star hotel in Hawaii (think a far more entertainingly dysfunctional Love Island). Meanwhile, on Amazon Prime, Hulu show Nine Perfect Strangers shows a different type of retreat, as the action unfolds in a Californian holistic wellness spa called Tranquillium House (this name is the least ridiculous thing about this show).

This is not pure holiday escapism. For the rich, time off work comes leaden with expectation – will this be the week you paint your masterpiece/get into yoga/find yourself? And what if you fail?

Both shows are glossy, big budget juggernauts. Nine Perfect Strangers is the successor to Big Little Lies – it is also an adaptation of a Liane Moriarty novel starring Nicole Kidman, and has been brought to the screen by David E Kelley (who also wrote and produced The Undoing, keep up, it's a small TV world). It was Hulu's most watched original show on its premiere day. The White Lotus is an HBO production, written by The School of Rock's creator Mike White. But how do the two super-rich dramas measure up?

The set-up

The White Lotus is all action, from the first beat of the theme tune. It is a mix of dark comedy and drama, with a lingering sense of menace in the background. It begins with Shane, a privileged young white man, having a nightmare journey home from his honeymoon. This role is a departure for Jake Lacy, who has previously been known for playing nice guys (who knew Pete from The Office had such a ruthless side?). He tells his intrigued fellow passengers that the body on their plane is the person who was killed at The White Lotus (his wife is conspicuously absent).

It is part of the trend for shows in the Agatha Christie tradition that open with a death and then go back and try to explain it, leading the viewers to concoct their own theories - see also The Undoing and Mare of Easttown.

From the airport, we return to the start of Shane's honeymoon and meet his journalist wife. It is unclear why they married as they seem to have nothing in common - even the other guests can see this. Events are presided over by hotel manager Armond (Murray Bartlett) who is the luxury world's answer to Basil Fawlty, complete with a similar moustache. He can't get anything right and he won't admit it, trying to put a gloss on everything, including the prospect of sharks, saying "there are sharks but they are a lovely little family". To be fair, the sharks are probably friendlier than some of the guests, who Armond tells his staff to treat like each is the "special chosen baby child". These guests include the Mossbachers - a tech millionaire mum who works through the holiday, her chronically beta male husband, her son who won't stop looking at his phone and her performatively right-on daughter, Olivia, and her friend, Paula, who both self-medicate their way through the holiday. Sydney Sweeney and Brittany O'Grady who play them are the most entertainingly bitchy TV duo since Kathryn and Sebastian in Cruel Intentions. They have alternately been compared to the Greek chorus, saying what we really think about their holiday companions and also Macbeth's witches. If you have ever felt that teenage girls are terrifying, constantly judging you, you will quake in fear watching this pair.

This show has been criticised as too of its time, with the characters ticking off topical points in their discussions - the culture wars and white privilege as main ones. It is self-consciously of the moment but it's a credit to the actors and the writing that it never feels too heavy handed and always fits in the context of the characters.

Compared to The White Lotus, Nine Perfect Strangers is a slow burn. A motley crew of sad, rich people arrive, greeted by Nicole Kidman who is both mysterious and ridiculous as Masha, a wellness guru with a dark past, an atrocious Russian accent and impractically long blonde hair that looks a bit like a Gandalf wig. She "mixes and matches her guests like a cocktail" says lovesick Lars (Luke Evans). The most entertaining guest is romantic novelist Frances (played by Meghan Markle's mate Melissa McCarthy), who keeps clashing with straight-talking Tony (Bobby Cannavale). In the novel the show is based on, Frances is described as having a "soft white body [that]… didn't convey much except 52 years of good living and a weakness for chocolate Lindt balls." She fulfils a similar role as Jennifer Coolidge does in The White Lotus, an older woman in crisis who can convey a lot of comedy with one "ooh" or "oof".

The opening is heavy on intrigue and short on plot, condensing it all into the end with an epic twist, which works in the novel but doesn't translate to the screen. Ominous hints are dropped about what might happen - the guests at Tranquillium have to sign consent forms on arrival and Masha does not reveal her process. We do know, however, that she has had death threats so it isn't all smooth-sailing. The show explores questions about why we seek self-improvement and how much we are willing to pay for it without knowing all the details about what self-appointed gurus might do to us.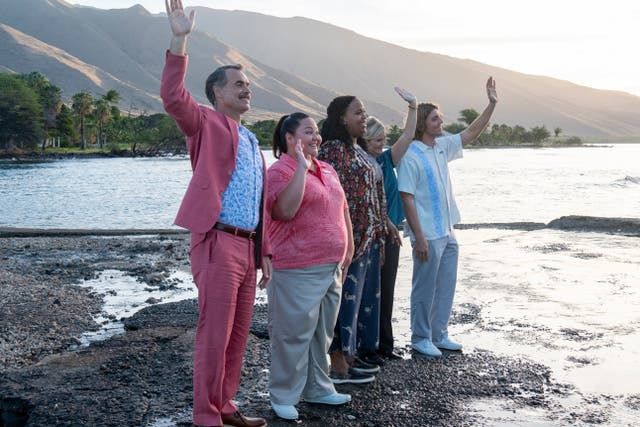 The subservient staff at The White Lotus led by hotel manager Armond
The locations

You wouldn't want to go on either of these trips. Both places look beautiful at first but the tension is palpable. The White Lotus is a claustrophobic resort, where nature always feels like it is about to rear up and attack the guests - the illustrations of jellyfish in the credits set the tone. Armond quotes Alfred Tennyson's poem The Lotos Eaters, about people stuck in a mesmerising but hostile landscape. It was filmed at The Four Seasons Resort Maui at Wailea in Hawaii, which is probably very nice if you aren't stuck with this selection of guests and staff.

The show's creator Mike White is interested in reality TV and has been a contestant on Survivor. Here there is a definite sense that the guests are trapped and not all of them will be able to hack it.

There is also a division between the Hawaiian staff and the guests that feels very Upstairs, Downstairs. Armond tells staff that guests expect friendly blandness from them, "we are asked to disappear behind our masks," he says. "It's tropical Kabuki!" The most likeable character is Belinda, who works in the spa (Natasha Rothwell) and brings warmth to the show, putting up with an admirable amount from the adoring but needy Tanya who is clearly used to buying friendship.

Paula (Brittany O'Grady) is the only non-white guest and she seems to understand the situation far better than anyone else. She and Olivia provide social commentary in their Gen Z monotone, informed by the Marx books they read by the pool. White advised the actors to listen to the Red Scare podcast to prepare for the role and they have the same superior tone.

Over in Nine Perfect Strangers, Tranquillium is far from anywhere and, well, dull if you don't like hiking through arid landscape and gong baths. It was filmed in Byron Bay in New South Wales but the landscape is anonymous - being at Tranquilium means you aren't allowed to go to shops, bars or restaurants so really you could be anywhere. Kidman could also be from anywhere, even though she tried hard at the accent, spending five months in character, speaking like Masha and meeting her co-stars for the first time pretending to be her. "I would walk up, I'd put my hand on their heart," she said.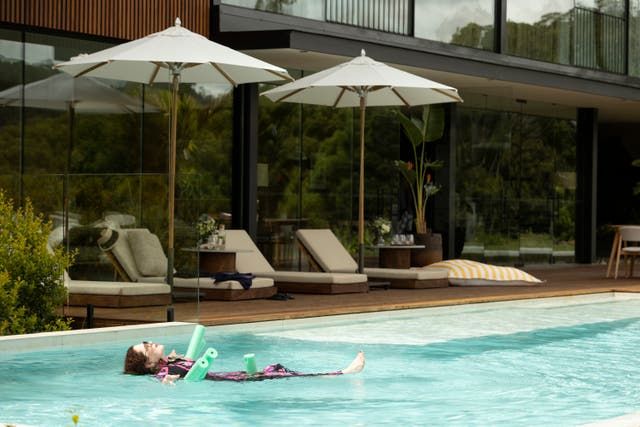 Tranquilium was filmed in Byron Bay, Australia
The aesthetic

The White Lotus's costume designer Alex Bovaird says she wanted to reflect the show's chaotic energy in the clothes. She has form working on programmes about dysfunctional teenagers – including The Perks of Being a Wallflower and Thoroughbreds – and Paula and Olivia's outfits express their personalities. Paula wears a hoodie reading "post hope", which is a nod to the Obama Hope t-shirt and, typically for the girls, it has a double meaning, also referring to post-truth, which rose up with Obama.

The show's draw is in its range of characters and there are also a variety of looks. Tanya's bright, jewelled kaftans are inspired by how people dress at Palm Beach and the Bahamas as well as American Tatler and Hamptons magazine. There is also something of the Melania at Mar-a-lago in her shiny blonde hair, heels and tans. Rachel, Shane's new wife, is also a bit Mar-a-lago, in a selection of flattering bikinis including one in white, which is a bold choice. Shane frequently tells her to "wear something cute" and she is aware that her currency is in her looks (which scares her when she realises how financially dependent she is on Shane).

Rachel and Shane on the honeymoon from hell at The White Lotus

She contrasts with tech billionaire Nicole Mossbacher, who does not need to dress to reel in a man. She has more of a put together Gwyneth Paltrow look – shirts and a few patterned dresses for the day.

Paltrow's presence is also felt in Nine Perfect Strangers. Masha's guru style is very Goop – all white silks and draped cardigans, simple but expensive. Costume designer Alix Friedberg worked with Kidman on Big Little Lies and for this show looked at Kundalini yoga masters.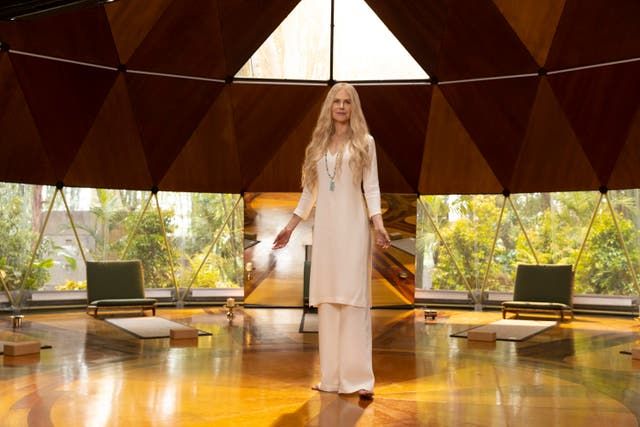 Nicole Kidman as wellness guru Masha in Nine Perfect Strangers

Friedberg enjoyed working with Melissa McCarthy and her wardrobe changes as the show goes on – Frances wears less makeup as she becomes more comfortable. Meanwhile, influencer character Jessica (Samara Weaving) equates clothes with self-worth, which means a lot of designer labels.

The White Lotus is visually thrilling, in glorious technicolour, with clever messages in the clothes. Nine Perfect Strangers is a more muted affair, both in the look and the overall viewing experience. We are yet to hear if there will be a second series, while White Lotus take two is already in the works. Bring on the mayhem.