Spending cuts of about £35bn and plans to raise some £20bn in tax in the coming years are expected to be set out in Thursday's Autumn Statement.
None of Jeremy Hunt's decisions have been officially confirmed, but it is understood most of the extra revenue will come from freezing tax thresholds.

The levy on energy firms is also set to rise and last for another six years.

Independent forecasts are understood to have identified a gap of around £55bn in the public finances.

While the government won't confirm any of the decisions they have made so far, the shape of the building blocks are clear.

We've already heard the chancellor say that in his view filling that hole between tax revenue and government spending is absolutely imperative after the chaos of early autumn.

There is an economic debate about the urgency and necessity for doing so but the position this government takes, that we'll no doubt hear from Mr Hunt when he's on our show this Sunday, is that they have no choice.

And from the moment he became chancellor he has said in sombre tones that would mean tax rises and squeezing spending.

It's always wise not to take a massive bet on any of the decisions until we see documents confirming the sums in black and white.

But after conversations with multiple sources, we can be clear about what to expect.

In order to stick to the Conservatives' manifesto promise not to raise individual taxes the chancellor will instead repeat the trick of his predecessor.

He's expected to freeze the threshold at which you start paying tax. It's got a horrible technical name - "fiscal drag" - and it can have a horrible impact on earners too.

Your wages might go up, but if the government doesn't also increase the level where you start paying tax, more of your cash will go to the taxman.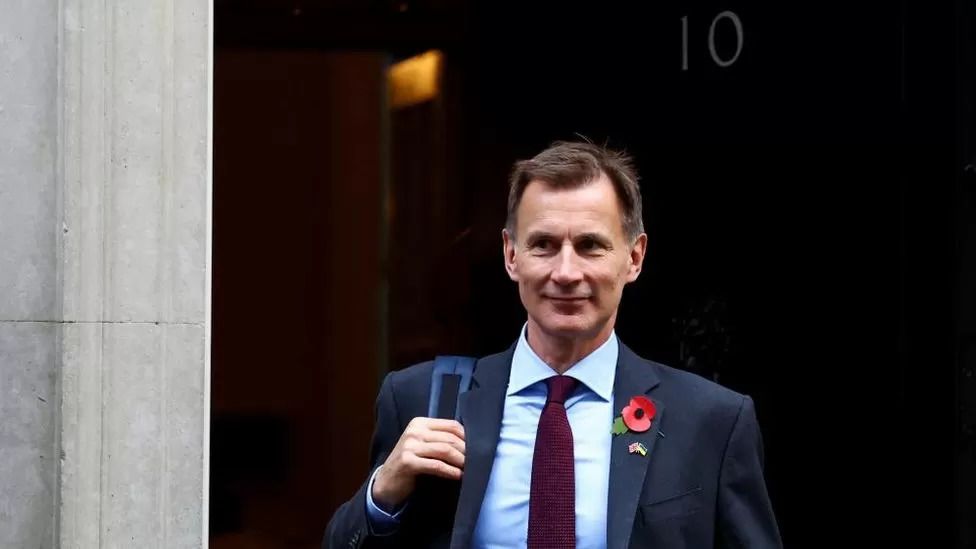 Jeremy Hunt has been having regular meetings with the prime minister about Thursday's statement
Without explicitly hiking taxes the Treasury can raise billions for its coffers. In addition, the very highest earners could start paying the top rate of tax at £125,000 rather than £150,000. And I'm told the freezes on thresholds have been pencilled in to last until 2028.
A higher levy on the profits of energy firms could also run that long - rather than as a one-off windfall tax. The Energy Profits Levy introduced by the government is also expected to increase from 25% to 35% and some electricity generators will have to pay for the first time too.
Those are big decisions that will have big consequences, but the hope in government is raising all that cash will allow them to match rises to benefits and pensions with inflation. One minister told me they'd be "very surprised" if the chancellor didn't give that guarantee this week. There's a huge amount at stake.
Thursday's announcement will have a big impact on public spending too.
Government departments are expected to be told on Thursday that they'll have to stick to the pots of cash they were originally allocated in 2021, to last up until 2025.
So the actual amounts of cash that were doled out then are likely to stay the same - but that was before inflation took off at a rate of knots.
Many departments are wincing at the additional costs they have to cover because of inflation. We all know a pound in 2022 simply doesn't buy what it did in 2021.
So for government departments, sticking with the budget doesn't mean sticking with the same situation. And it won't get easier. The chancellor is likely to announce that beyond 2025, government departments can only expect budgets to rise by 1% every year. That would be a big change in how the government slices up the pie.
There is huge uncertainty in all of this. Economic forecasts, not least by the OBR, are forecasts - like the weather - and subject to change.
Aside from anything else, the implications of these plans are that the Conservatives will go into the next election promising a less generous version of the state. For all Rishi Sunak's instincts, that seems hard to imagine right now.
Yet on Thursday the chancellor will present his choices as an unavoidable reality.
Mr Hunt and Mr Sunak will encounter problems from both sides of their fractious party. One former minister on the right suggested it was a big mistake to increase taxes.
"If we are going into a recession, it's the last thing you want to do," they said, and if things got worse they could "kiss goodbye to the election".
An MP from a different wing worries the Treasury is simply going to its "happy place" of making cuts rather than grappling with the longer-term problem of getting the economy going.
And the Tories are likely to face significant political problems with sections of the public: weariness and wariness of another squeeze on public spending after a promise that the years of austerity were over.
Increasing taxes could hurt at a time when millions are already really finding it hard to make ends meet due to the cost of living.
Yet ministers will make the case that tough choices are imperative, irrespective of the 44-day trauma of the Truss administration, thanks to the pandemic and war in Europe.
One senior minister told me "we have to get people to understand it". This week, the pair now in No 10 and No 11 face a critical few days to try.
Rachel Reeves on UK economy: "We should be doing so much better than this."