About 800 officers from the Independent Commission Against Corruption will be monitoring polling on December 19.
Hong Kong's anti-graft agency will deploy about 800 officers in an unprecedented operation to ensure voting in the Legislative Council election goes ahead smoothly next month.

The officers from the Independent Commission Against Corruption (ICAC) will help man polling and vote-counting stations, monitor the internet for any activity that breaches the election law and staff an inquiry hotline by which people can register complaints about the December 19 balloting.

While the ICAC is responsible for enforcing the election law, the watchdog has never before sent officers to polling stations and the deployment will take up nearly 60 per cent of its staff.

"The Legco election will be the first large-scale election to be held after the improvement of the electoral system," director of community relations Ho Wai-chi said on Wednesday. "Some 4 million voters will elect 90 legislators. We have been stepping up publicity and education since the new changes to the election laws were in place in May."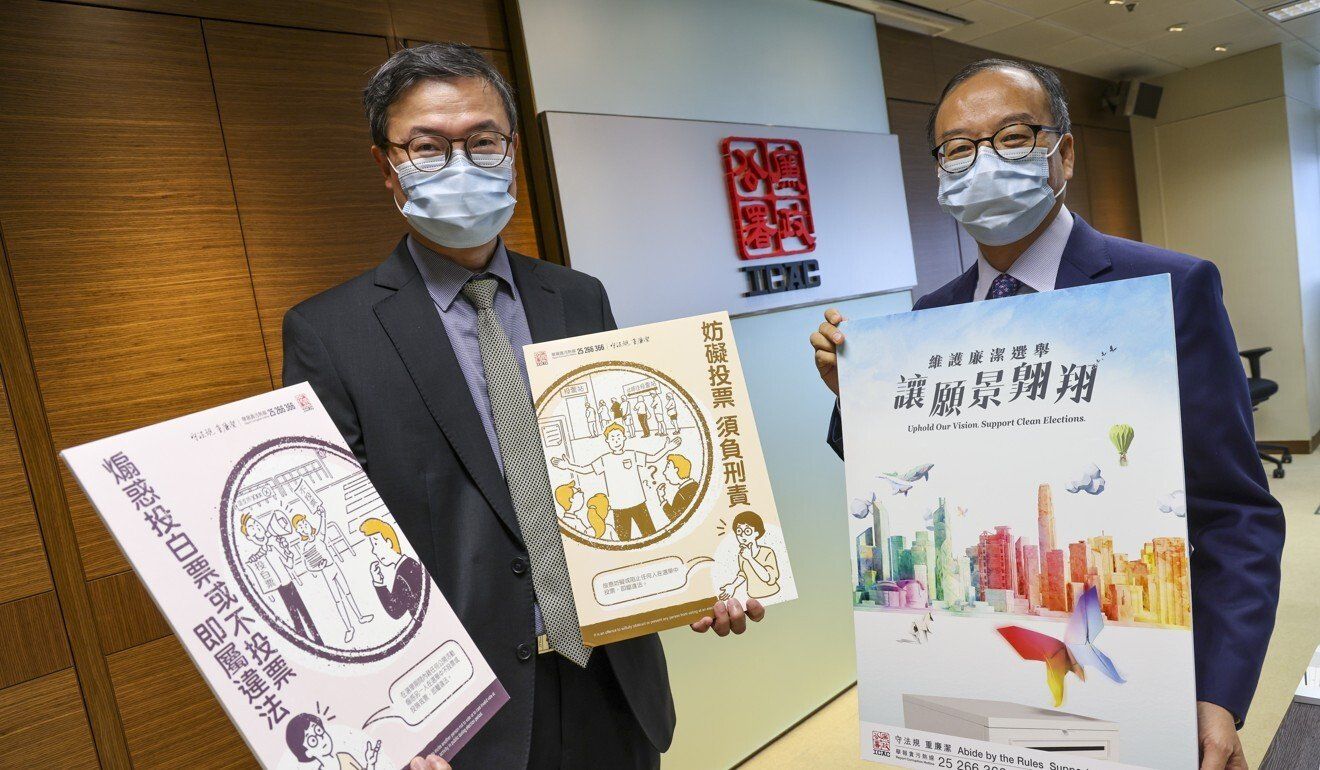 ICAC Clean Elections programme coordinator Franklin Chiu Yue-tat (left) and director of community relations Ho Wai-chi.

Beijing revealed sweeping changes to Hong Kong's electoral system in March to ensure only "patriots" held power, and local lawmakers approved the measures two months later. Another 20 seats were added to Legco's existing 70, while simultaneously reducing the number of lawmakers decided by direct election from half to less than a quarter.

An enlarged Election Committee stacked by Beijing loyalists was given even greater influence over the political process, including returning 40 lawmakers to the legislature.

Major opposition parties have labelled the overhaul a bid to bar any pro-democracy activists from running.

On election day, the ICAC will send at least one officer to each of the more than 600 polling stations across the city to handle any related complaints and take enforcement action if breaches are found.

Ho declined to give additional details about the work of the officers at the stations but said follow-up enforcement actions would be taken if needed.

"They will also give advice to the managers at the polling or vote-counting stations in case possible loopholes that prompt irregularities are found," he said.

Ho noted two major provisions were added to the election law in May and warned it was illegal for people – regardless of whether they were in Hong Kong – to incite others to boycott the polls or to cast invalid votes. It was also an offence to obstruct anyone from voting.

Officers would also monitor online platforms for rumours about the election or candidates, and watch for possible appeals to carry out illegal acts.

Ho said the agency was also offering to brief about 30,000 government workers involved in the election on the relevant laws.

The plan was to deploy about 800 officers, but the agency would not rule out sending out more if needed. The watchdog has about 1,400 staff with 73 per cent working in the operations department.

The ICAC has so far received six complaints about the coming poll, all of which concerned calls to boycott the election or cast blank or invalid votes.

The agency last week arrested two men and a woman for allegedly reposting a message urging people to cast blank votes.

Fugitive former opposition lawmaker Ted Hui Chi-fung, now in Australia, also posted a message on Facebook urging people to cast a blank vote in what he described as a Beijing-manipulated election. Opposition activist Yau Man-chun, who quit his district councillor job in July and left for Britain, made a call on Facebook to boycott the vote.

Ho declined to say whether "liking" such Facebook posts could be illegal, nor would he discuss whether carrying out public opinion polls on boycotting the vote could constitute an offence.

Ho only said it depended on the circumstances of individual cases.