US-style democracy is undermined by high levels of violent crime, drug abuse and racism, John Lee says.
A top Hong Kong official has fired a fresh salvo at the United States, describing the country as "plagued" with social problems that expose its leadership to be "anti-democracy".

Echoing Beijing outrage against Western governments, Chief Secretary John Lee Ka-chiu on Thursday said there was no "one-size-fits-all" standard for democracy and that every jurisdiction would follow its own path based on the actual circumstances.

Mainland Chinese officials began advancing that position weeks ago in the lead up to Washington's "Summit for Democracy" earlier this month, accusing the US of trying to impose its version of democracy on the rest of the world.

The argument was aired again immediately before and after the Monday release of Beijing's latest white paper for Hong Kong in defence of its strategy for developing democracy locally "in line with its realities".

The paper – published the day after Hong Kong's first Legislative Council poll since Beijing drastically overhauled its electoral system to ensure only "patriots" governed – also renewed its pledge to pursue the ultimate goal of electing the city's leader and legislature by universal suffrage.

Speaking at a forum organised by Beijing's liaison office in the city, Lee said that democracy should not just be an "adornment", repeating a phrase used by mainland officials, before he turned his ire on the US.

"America claims it has democracy. Yet it is plagued by all kinds of problems, including security, violent crimes, drug abuse, racism, social polarisation and a huge wealth disparity," said Lee, who was subject to US financial sanctions before becoming chief secretary.

"Despite all sorts of human rights and racism problems at home, the US is still taking pride in imposing its system on others. This bears the hallmark of hegemony, a sense of superiority, speaking in a single channel and anti-democracy."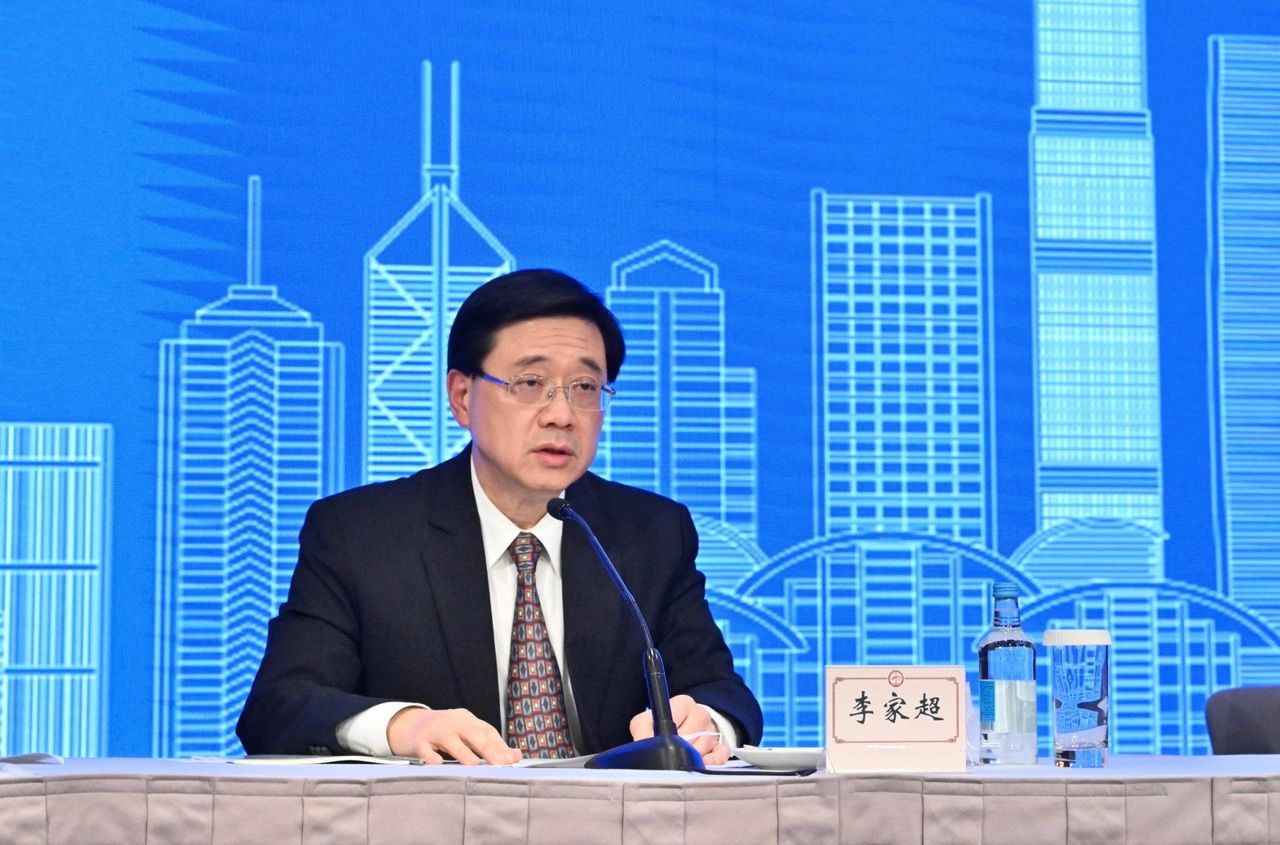 John Lee, Hong Kong's No 2 official.

Chen Dong, deputy director of the liaison office, hit out at the "Five Eyes" intelligence alliance led by the US for weighing in on the city's Legco election, at which the pro-establishment bloc swept to victory in all seats bar one amid record low turnout of 30.2 per cent.

The alliance – also comprising Britain, Canada, Australia and New Zealand – expressed "grave concern" at what it called the erosion of democratic elements in the city.

Chen also blasted Washington's two-day democracy summit, which involved more than 100 countries, as well as the United Kingdom's latest six-monthly report covering Hong Kong.

"They [the Five Eyes] issued a statement to vilify the national security law and electoral system," Chen said.

Liu Guangyuan, commissioner of Beijing's foreign affairs office in Hong Kong, accused the US of being a "black hand" – using a Chinese term for mastermind – and exploiting the city as a pawn to hinder national growth.

He blamed the US for disregarding Beijing sovereignty over Hong Kong, funding political agents to incite chaos, and interfering with the city's judicial independence, as well as forcefully imposing America-style democracy.

A day earlier, Liu had spoken in a similarly ballistic manner at a briefing session for consul generals, foreign business chambers and selected media.

Beijing dedicated much of its latest white paper, titled "Hong Kong Democratic Progress Under the Framework of One Country, Two Systems", to detailing the lack of democracy in Hong Kong when it was under British rule.

That theme was consistently laid out by speakers at the forum, who included heavyweight pro-Beijing figures such as Rita Fan Hsu Lai-tai and newly elected lawmakers such as Regina Ip Lau Suk-yee.

Ip, a government official under British rule, said the then colonial government only sped up progress towards democracy in the years before Hong Kong's return to China in 1997.

Chen on Thursday accused the city's British rulers of discriminatory policies and "sowing troubles for stability for Hong Kong's future". Liu said the white paper set out why Beijing was the "pioneer" of the city's democracy.

Beijing and Hong Kong authorities over the past few days have already issued a slew of statements in response to foreign government criticism of the "patriots-only" shake-up of the local electoral system.

On Wednesday, a spokesman for Beijing's liaison office in Hong Kong accused the US and Britain of depicting themselves as "teachers" in the classroom of democracy and smearing the Legco election.

US-based scholar Hung Ho-fung, from Johns Hopkins University, said it was apparent that Beijing's discourse had shifted from defensive to offensive by arguing that China's political system was a better form of democracy than the West's.

"In the past they did talk about China's standard of human rights (such as the right of development, the right of being well-fed). Now they extend it to China's standard of democracy," he said.